WILD ROSE:
KITTEN GRAYSON ON FLOWERS

July 2023
Photography: Hana Snow and Emma Lewis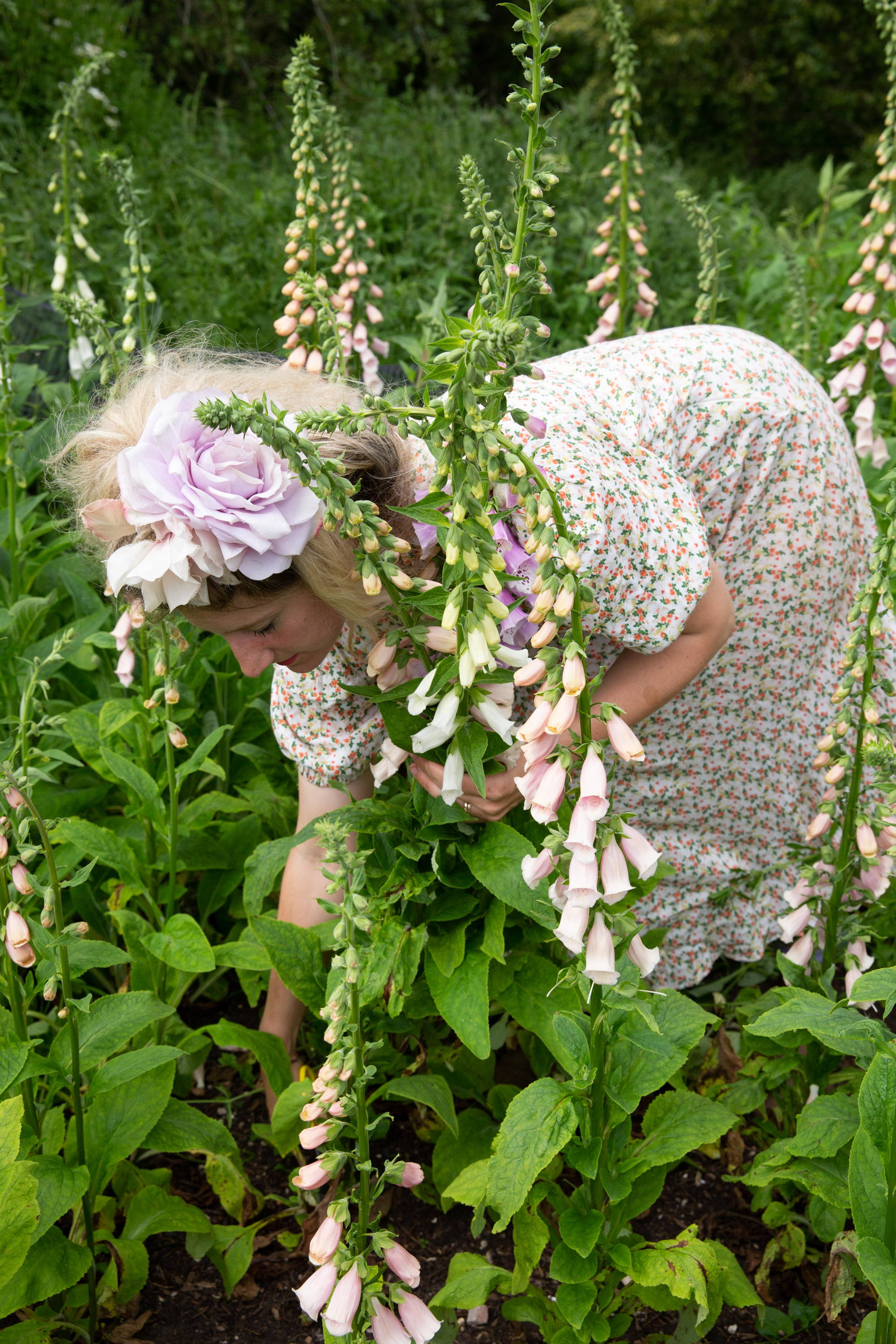 A sepal, petal, and a thorn
Upon a common summer's morn,
A flash of dew, a bee or two,
A breeze
A caper in the trees, —
And I'm a rose! 
-Emily Dickinson
I find the ephemeral beauty of the seasons endlessly inspiring. I think I'm often trying to capture a sense of this transience in my work. I love all the seasons for what they bring. Spring is full of so much promise after a winter of planning. The days become lighter and everything starts to come to life. Delicate snake head fritillary, hellebores, quince blossom, cherry blossom, narcissi and the early clematis, followed by tulips signalling that spring has truly arrived. 
There is such a sweetness to be found in summertime, from the early summer tangle of sweet peas, the unfurling roses, foxgloves, jewelled poppies and cornflowers dotting the meadows. By late summer English flowers are in full bloom, a riot of vibrant colour and petals from towering delphiniums to quintessentially English dahlias, clouds of scented hydrangea.
Autumn is the time when nature's abundance can truly be felt. I love bringing fruits and foraged branches into my arrangements, crab apple, wild grasses and turning beech branches. This is followed by the still beauty of winter, a time of reflection. I often incorporate dried flowers that capture the fleeting moment within the season, preserved in time. Flowers that are transformed by natural drying processes, evolving into new, beautiful forms.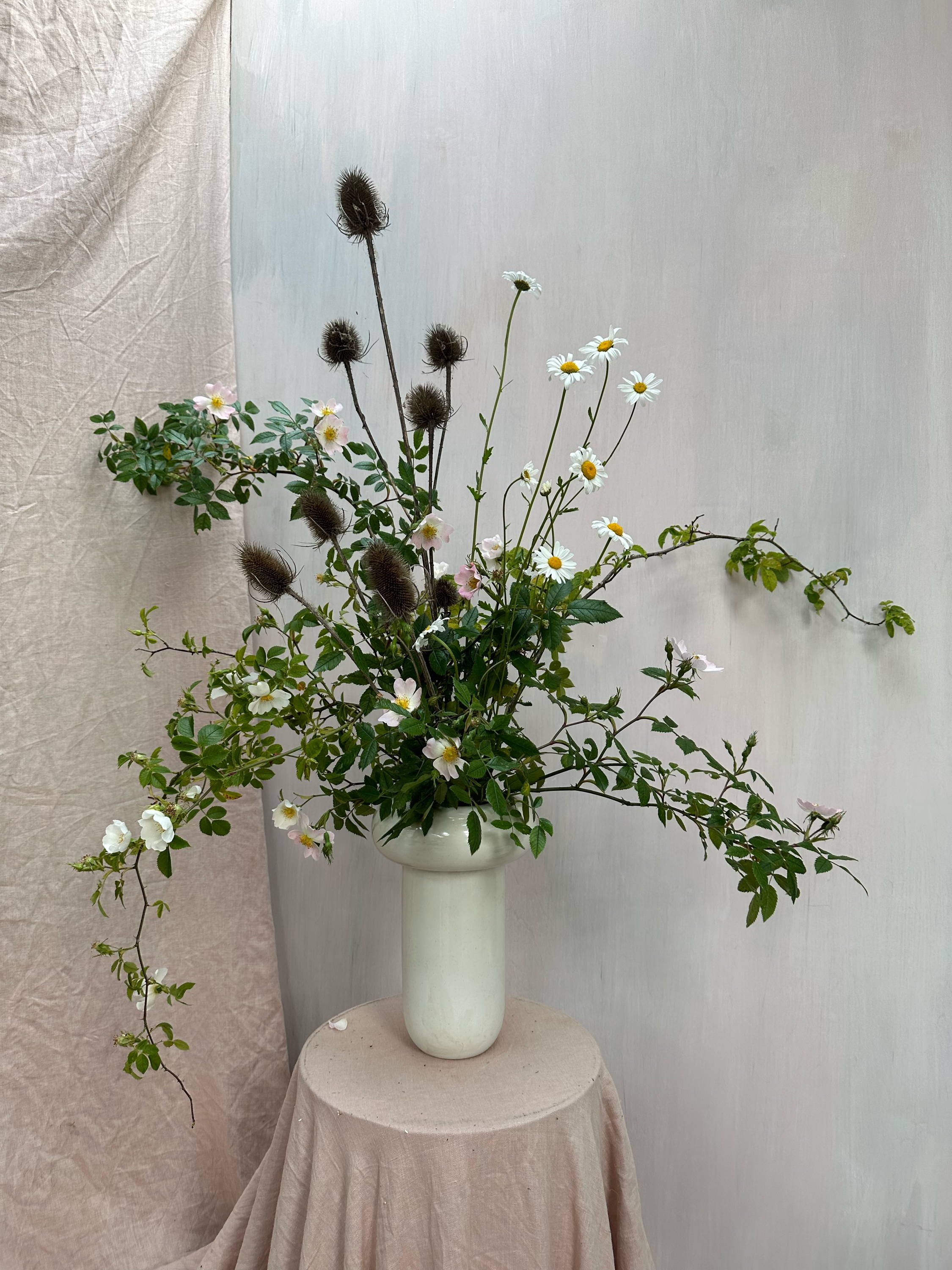 Jasmine and honeysuckle are particularly evocative for me. During my childhood my bedroom was above an old wooden conservatory at our home, covered in climbing jasmine and honeysuckle plants. In the heat of the summer first jasmine would bloom. A variety called 'Starry Starry Summer Night', enveloping everything with its magical heady scent, permeating through the warmed wood of the conservatory. The sweeter, hazy scent of honeysuckle would follow later in the summer. My memory is of drifting into dreams cocooned in these magical scents.
For me, the most special places are wild English landscapes, outside the parameters of traditional gardens. Their diversity and immense beauty is endlessly inspiring, and the biodiversity in number of native species is truly special and important to preserve. These are the places I find the most inspiration. However, locally to me, the gardens at Forde Abbey are really magical. I love the diversity and history of the gardens there. It's evolution over the years can be felt as you walk through its many unique gardens and spaces, each with their own sense of identity.
It was such a joy to put together this arrangement for Toogood. My work is always inspired by connection to the outside world, the changing of the seasons and the wheel of the year with its reliable rhythms. This arrangement aims capture the essence of early summer, featuring wild tall dog rose that grows rampant and freely in the hedgerows. I love their bowing stem of pink flowers together with the teasels.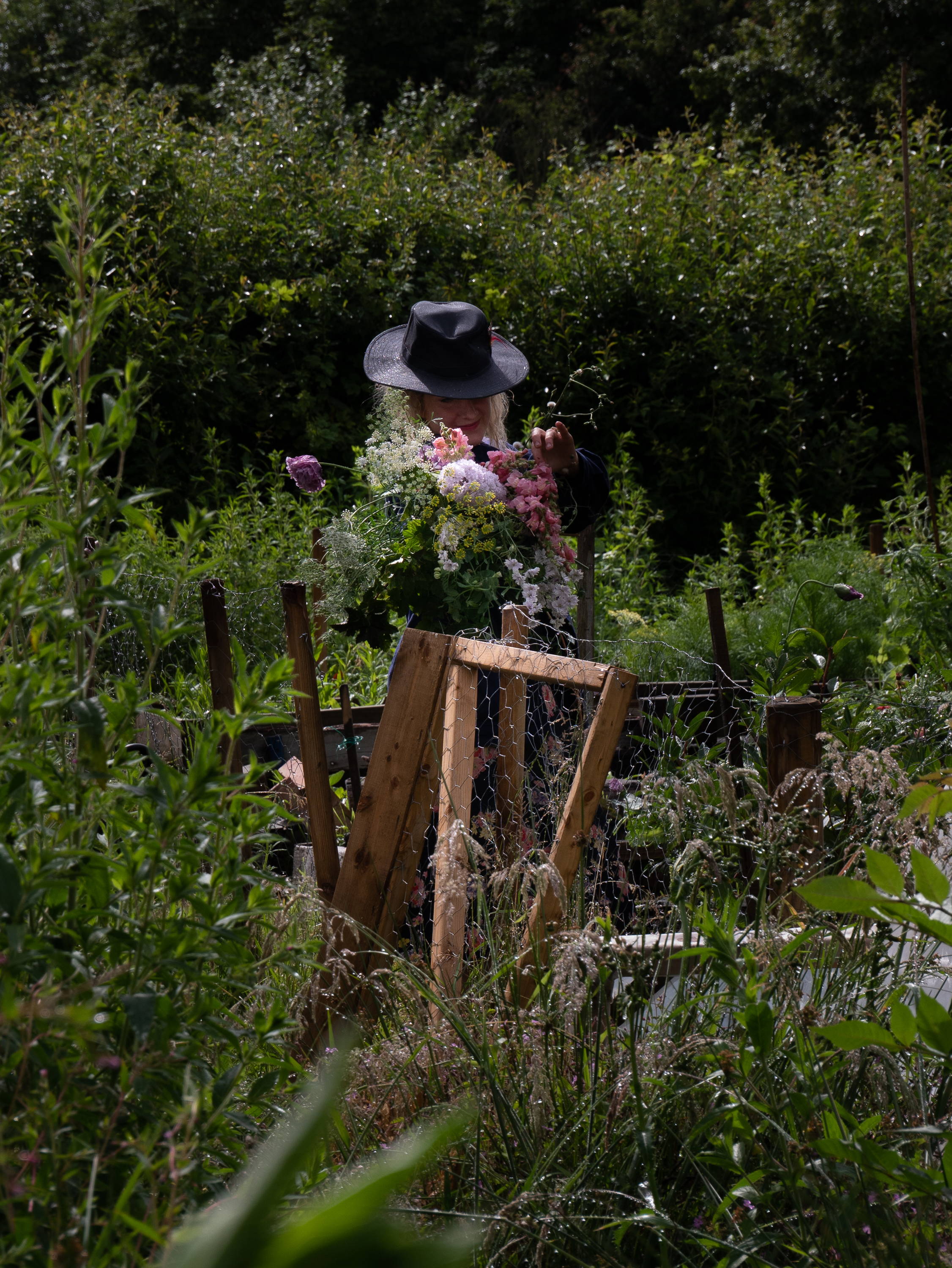 At home I'm often searching for simplicity. I bring in one or two things that have taken me. It might be a beautiful branch with an interesting form or a bunch of peonies with a particularly striking colour. I am also slowly building a large collection of pelargoniums around my home, which has grown steadily over the years. I love the simplicity of them and the bright pop of colour they bring to the home. 
For me, seasonality and sustainability are key. I would encourage people to always buy local and seasonal flowers wherever possible. They will be rewarded not only in the quality but the beauty of the flowers, a true connection to our natural world. 
Secondly, I would say that arranging is a creative and personal process, there's really no 'right' answer as there are endless ways flowers can be arranged to great effect. It's a brilliant way to channel your creativity and explore unexpected combinations of form and colour. There is joy to be found in not always going for the most obvious choice. Personally I love wild, naturalistic arrangements. Flowers designed to emulate how they would naturally grow, looking as though they have magically grown through into the space.
In order to extend the life of flowers in the home, keeping them in cold, fresh water is very important. Water should be changed every couple of days, and topped up daily. Adding a couple of ice cubes into the water can also be helpful at this time of year too.
A couple of stems plucked from the garden can make the perfect floral centrepiece for any dinner table. It is important to give the flowers room to shine, and there is beauty to be found in nature's unique imperfections.
- Kitten Grayson, Florist and Grower