CELEBRATING WOBBLY BEAUTY
A patchwork quilt of coveted scraps. A primitive pot drizzled with golden slip. A wobbly charcoal drawing of a wooden barn. These are the totems of Faye Toogood's family history, that inspired Collection 015. Evoking untutored but passed-down artistic traditions, they celebrate a domestic and vernacular beauty.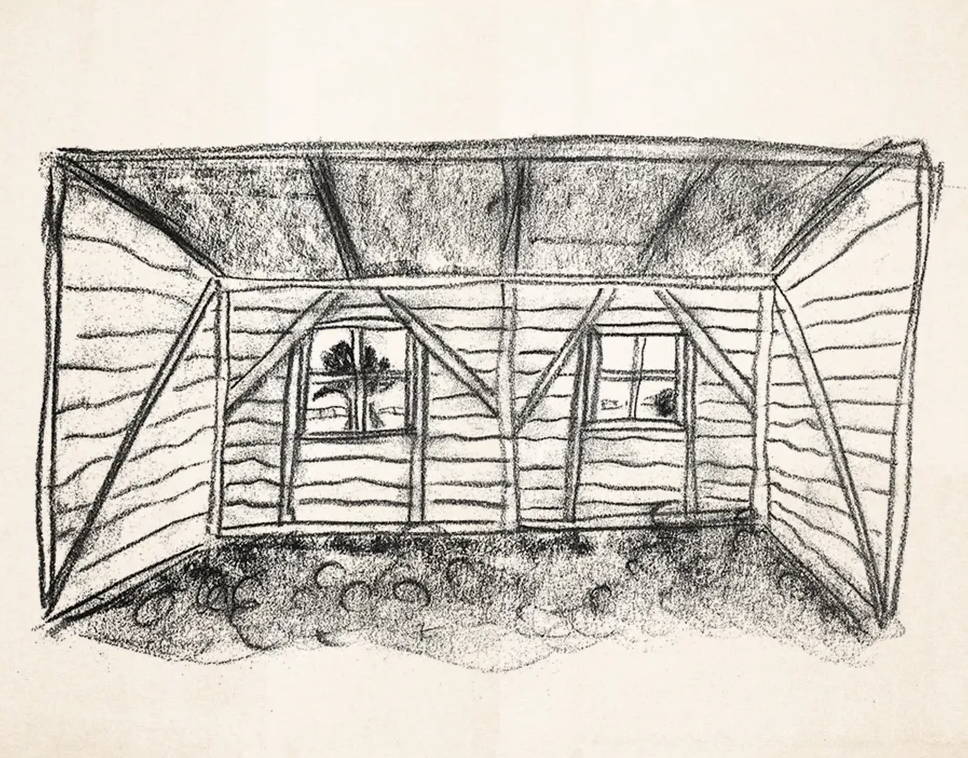 Toogood's original charcoal Barn sketch for Collection 015
A WOBBLY BARN
"I recently moved back to the middle of nowhere and found myself surrounded by barns just like the ones I remember from childhood. Rusted, black, wooden, wobbly barns that look like they could have been drawn by Alfred Wallis or James Castle. When work on Collection 015 began I was inspired to pick up charcoal and start drawing my own naive barns. I'm married to someone that's obsessed with architecture - and architecture is so important in our world - but actually, when it comes down to it, we both just completely drool over a barn." – Faye Toogood.
Alfred Wallis and James Castle both created their own Art Brut: untutored, unaware and unworried by the conventions of the Art Industry. James Castle was born deaf and never learned to sign or read or write, communicating with drawings often made from found paper, spit, soot and a sharpened stick. Alfred Wallis was a Cornish fisherman who like Castle, painted his daily life. Many of his works were made with spare paint from the boat industry, painted on old grocery boxes given to him by shopkeepers.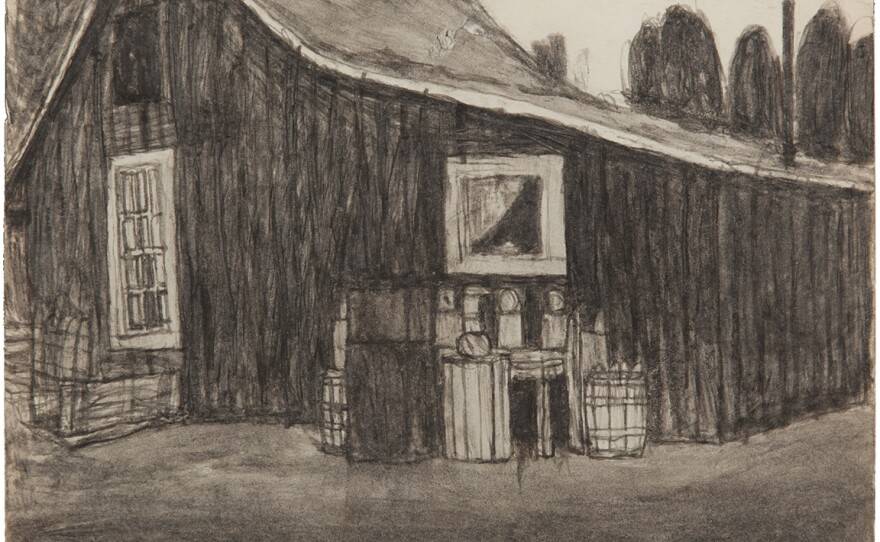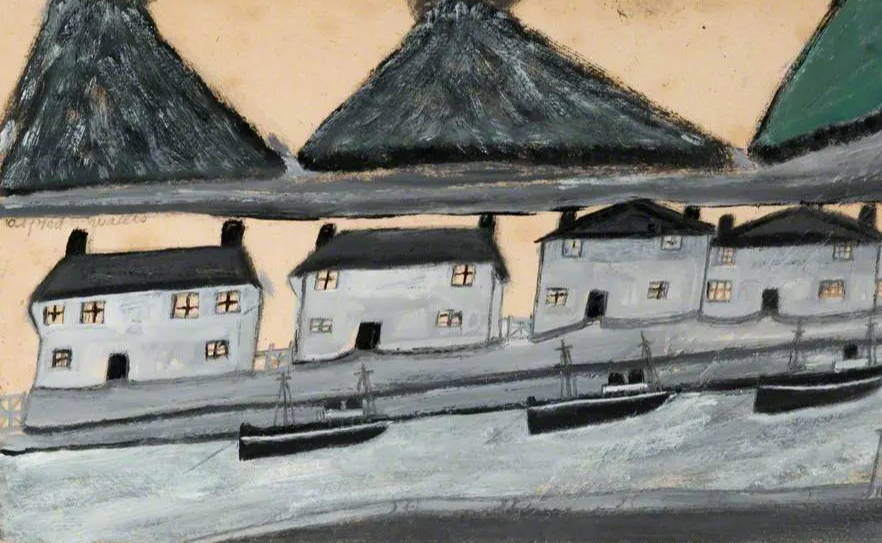 Left: James Castle's 'Untitled (Exterior Barn)' n.d. Right: Alfred Wallis' 'Houses and Kilns' n.d.
In homage to this instinctive art Toogood have created original charcoal illustrations of simple farm buildings. The silk twill Shepherd Scarf and organic cotton Shearer T-shirt feature the exterior of a Rutland barn. The Shepherd Blanket is woven in Ayreshire, South-West Scotland with Begg & Co, who have been manufacturing woollen shawls since the 1860s. The interior of a barn is woven from lambswool and cashmere, finished with traditional blanket stitching and with an exceptionally soft handle. Begg & Co are part of the Sustainable Fibre Alliance and use natural fibres without harmful chemicals, working with a focus on animal welfare.
Left: Toogood's Shepherd Blanket Lambswool Cashmere Long Barn. Right: Toogood's Shearer T-Shirt Organic Jersey Square Barn
A PATCHWORK QUILT
Along with gutsy expressive ceramics and intuitive painting, patchwork and quilting offer important pieces of folk art history. Quilting intricate blankets by hand is a tradition that goes far beyond practical need. Shared female stories, personal narratives, abstract patterns and civil rights histories have all been captured in needlework.
"Our mother was someone who made everything by hand. From the muesli that we ate to the clothes that we wore, to the curtains - everything. I don't think I appreciated that wholesome attitude until I was in my mid-twenties. Erica has inherited our mother and grandmother's sense of making. My aunt, cousins... they're all makers. I have always loved the ritual of saving bits of fabric, preserving scraps. Not giving clothes away and just cutting up the fabric in case you needed it for another time. I have always been more of a collector, a re-arranger. Making sense of things. Creating homes, creating dens, creating still lives. As I write this, I'm eyeing a pile of quilts in the corner that have spent their day being put to den-making-good." – Faye Toogood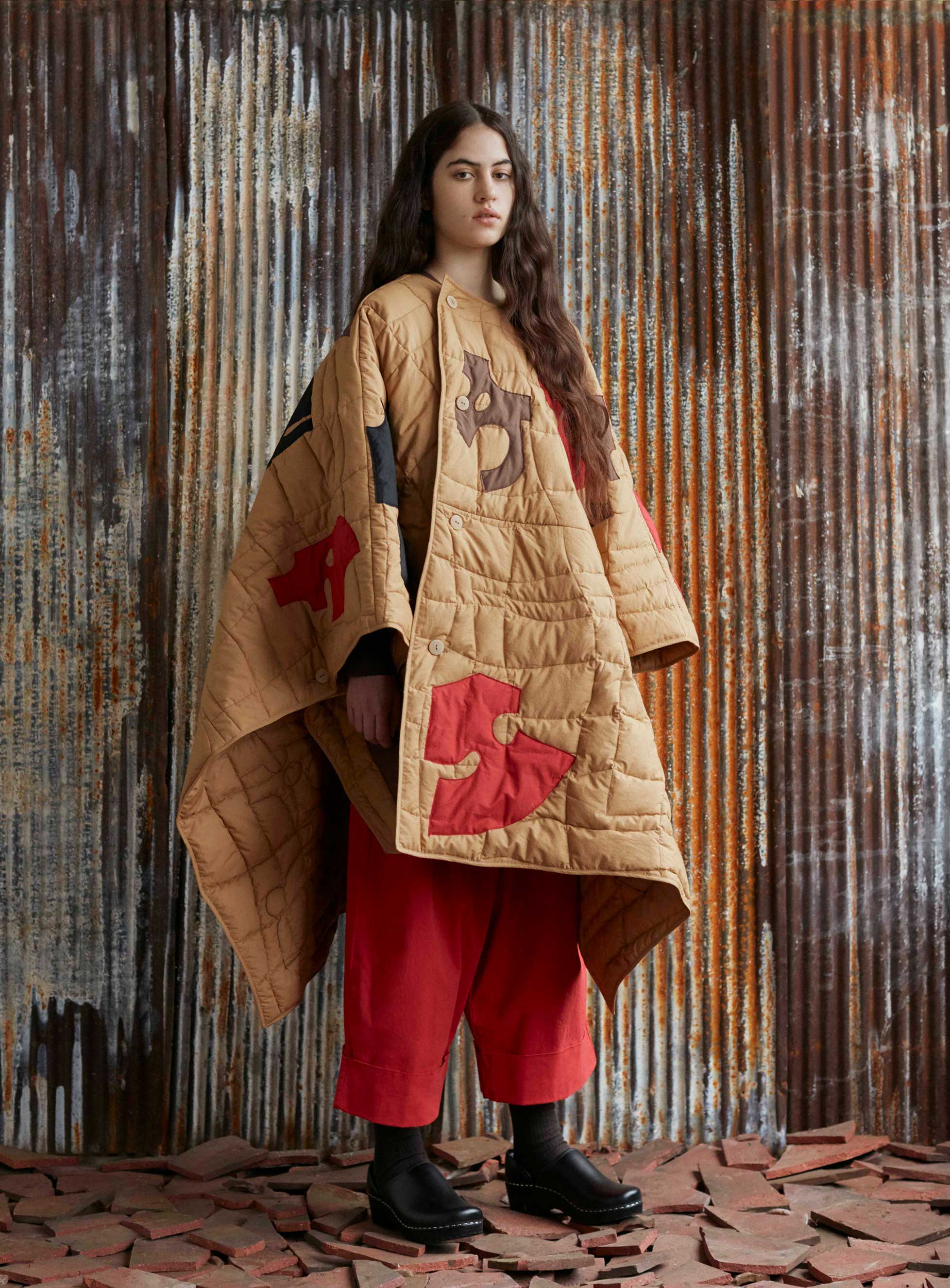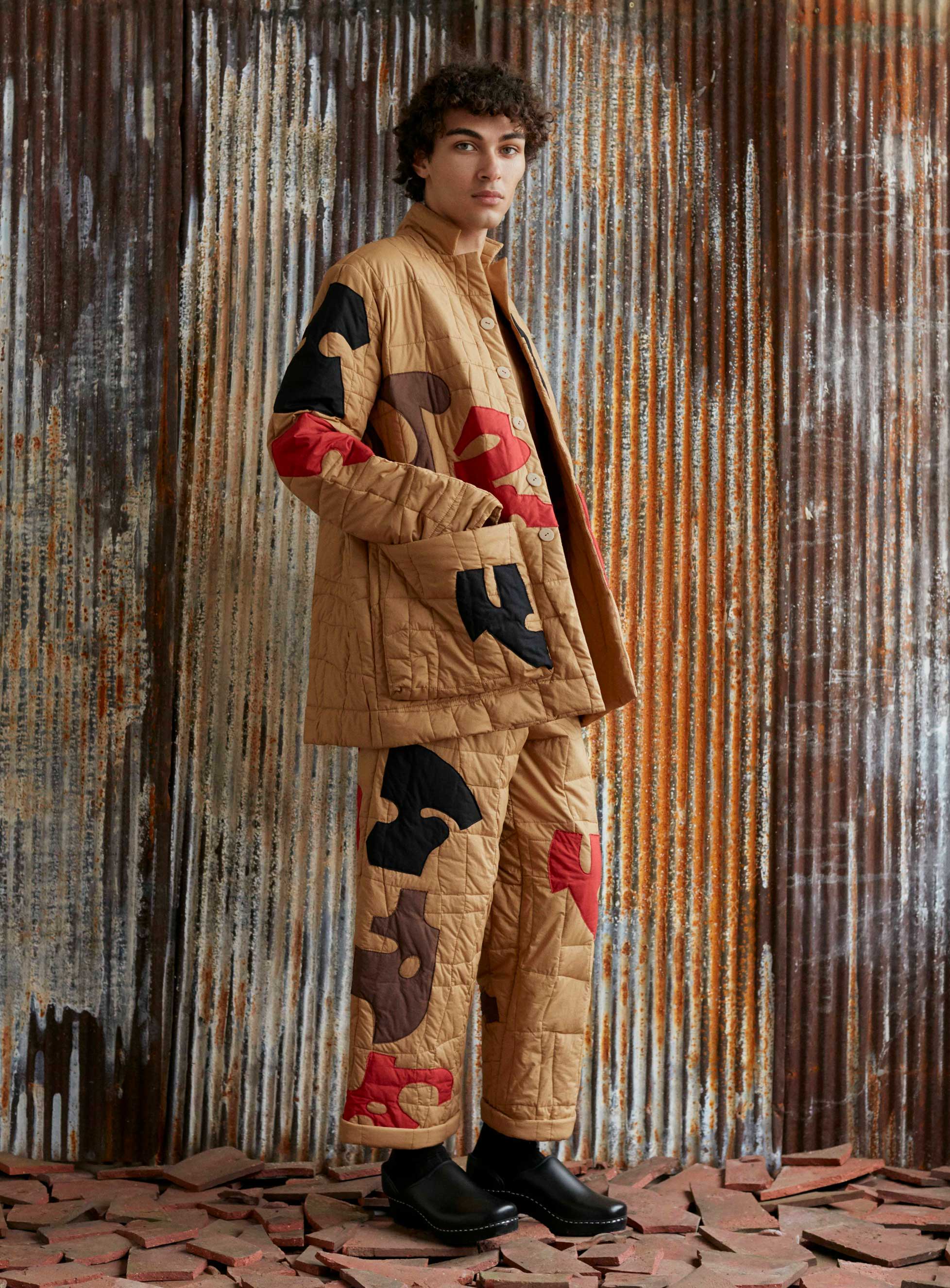 Left: Toogood's Nomad Cape Applique Quilt Thatch. Right: Toogood's Photographer Jacket Applique Quilt Thatch
Toogood honours the traditions of quilting and patchworking with the entirely handmade Limited Edition Applique Quilt. The Toogood logo is deconstructed to create abstract shapes, cut out of washed cottons and hand-pieced back together to create an entirely new version of The Nomad Cape and The Photographer Jacket.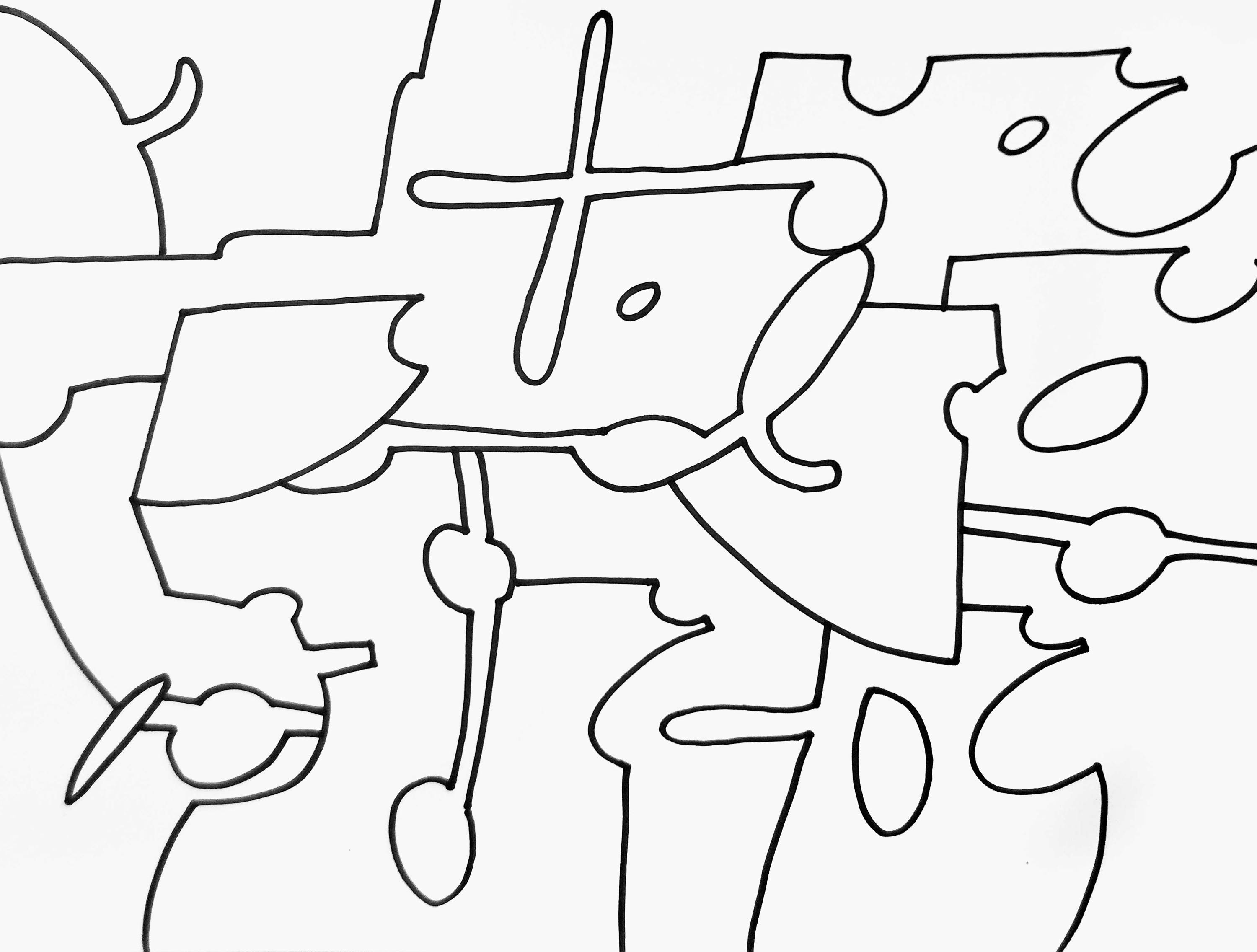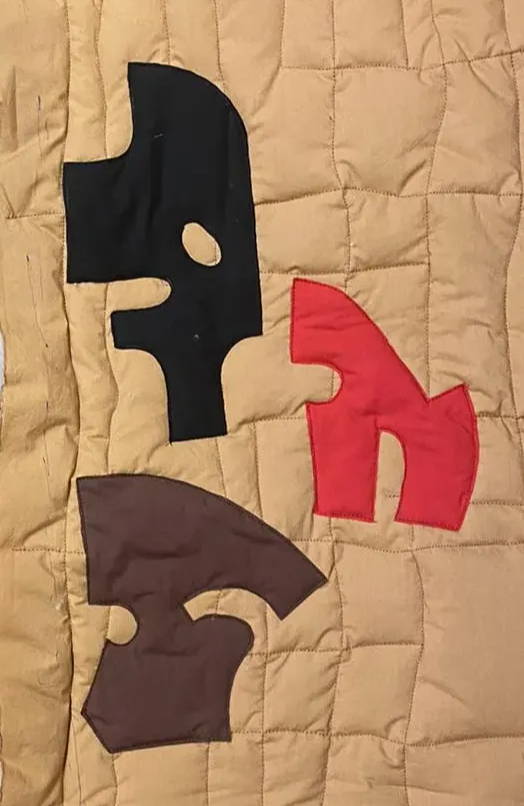 Sketching for the Applique Quilt patches
"Developing the quilted pieces was an exciting challenge: to take the idea of a blanket, but make it something wearable. We tested many types of stitches, patchwork and wadding on the body. I think it is amazing to be able to wear something that's had so much labour dedicated to it. There is the art and beauty of this gorgeous thing you are creating, but also a backdrop of technical obsession. We are troubleshooting and solving problems all the time." – Erica Toogood