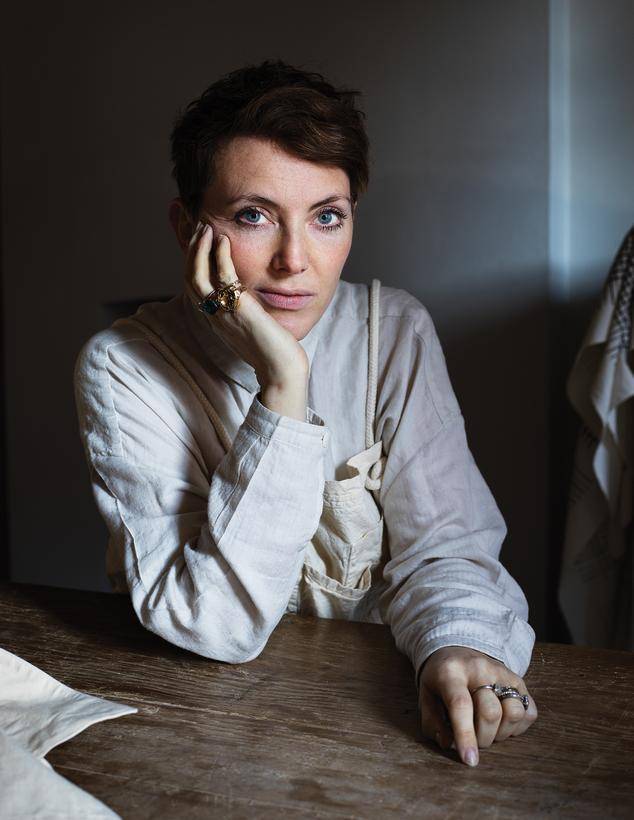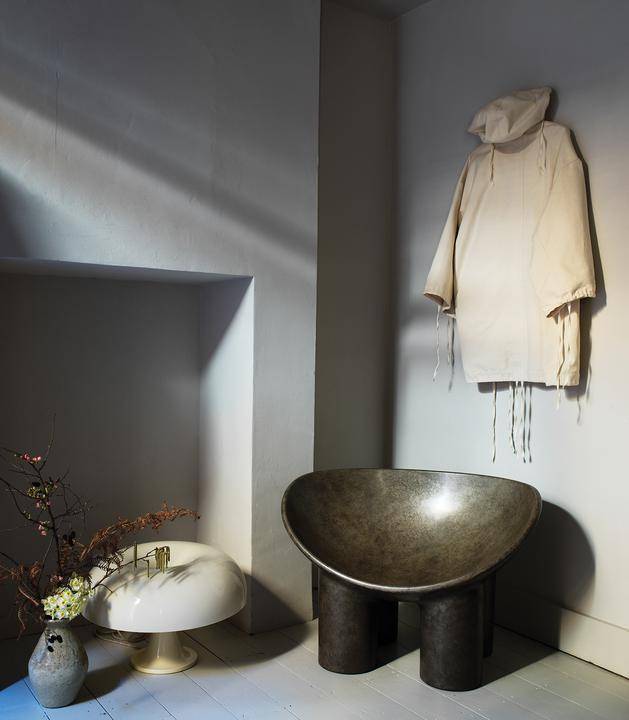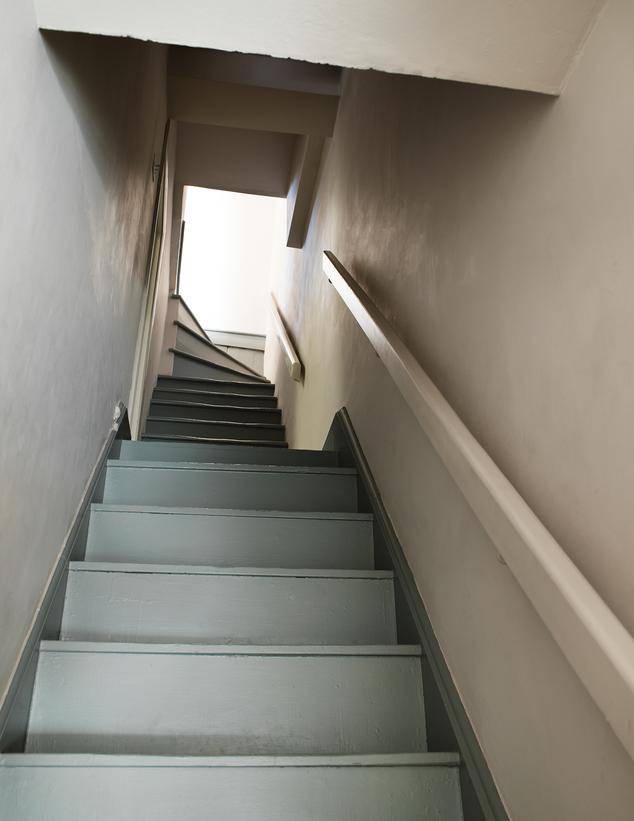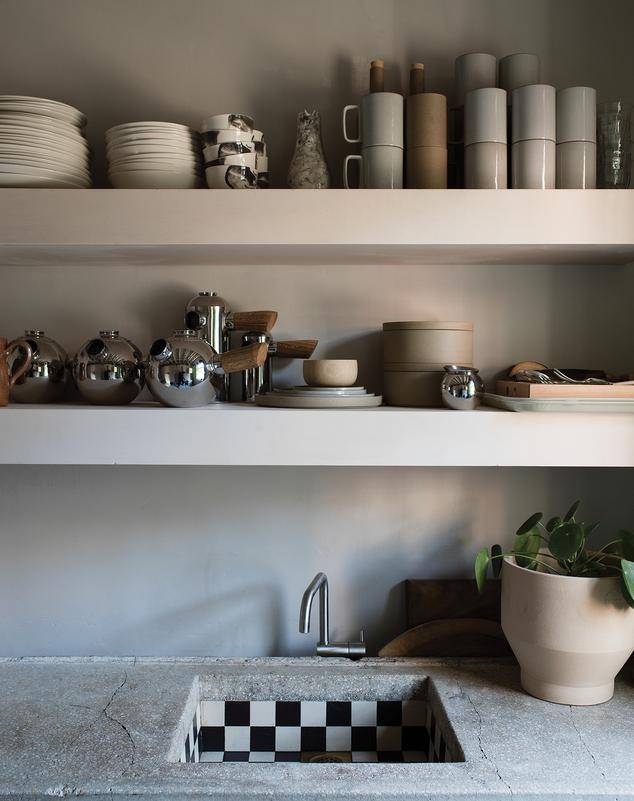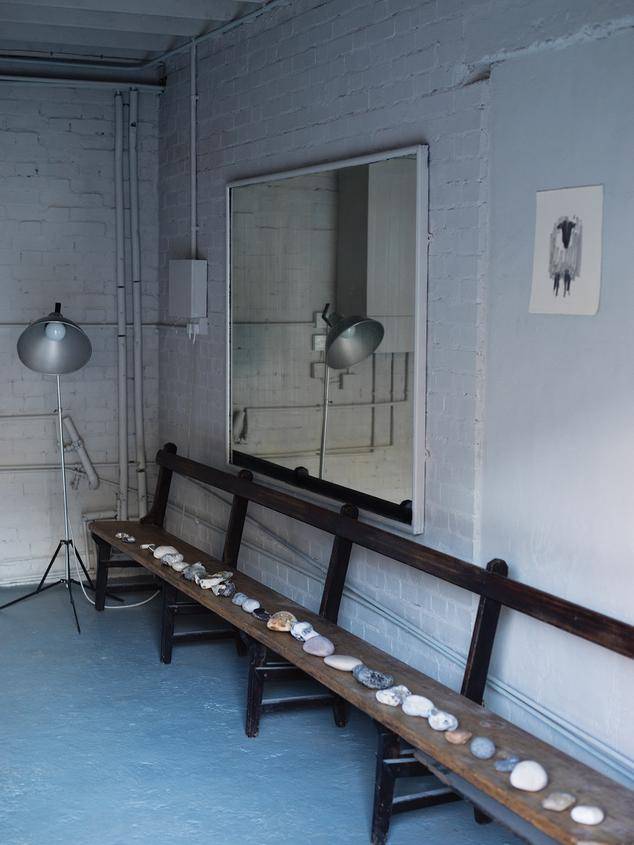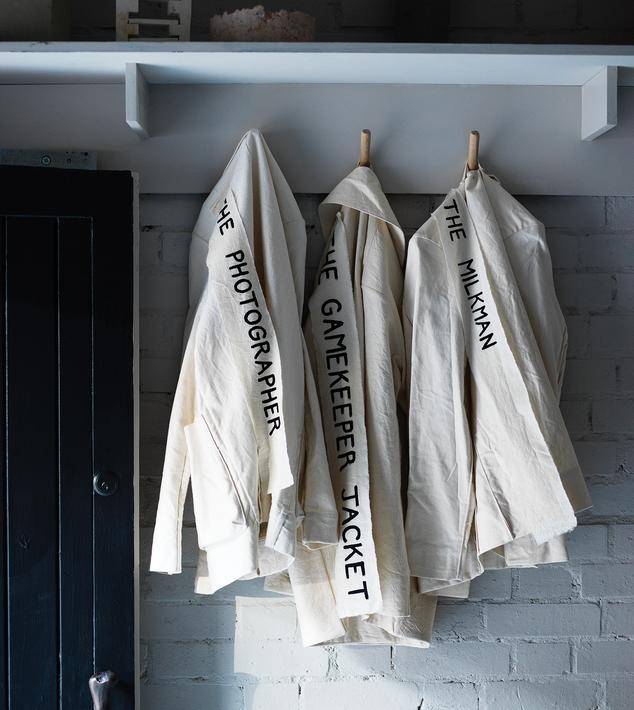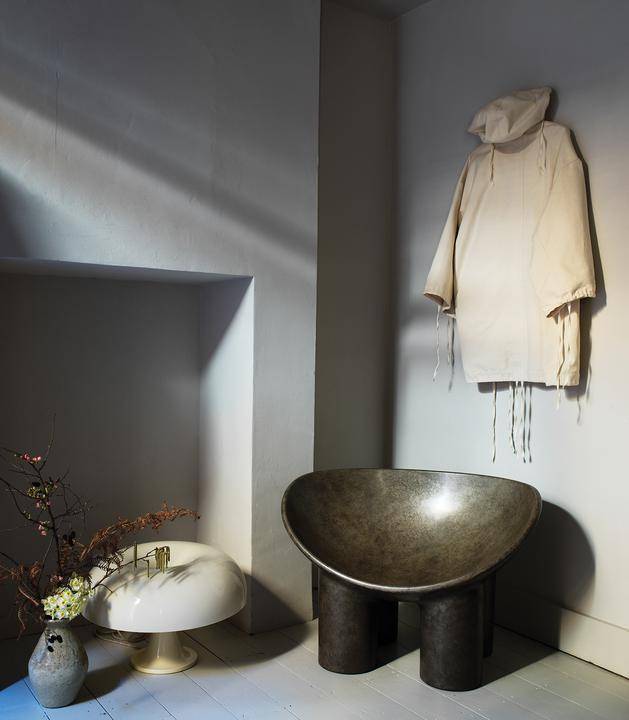 An Exclusive Tour of Faye Toogood's New Studio
By Natalia Rachlin
Photographer Felix Odell
Toogood's eclectic new space illustrates her refusal to be defined by a singular kind of output or as a single kind of artist.
In an old photo of Faye Toogood from 2012, she is gazing rather sternly into the camera, sporting platinum-blond hair and a leopard-print mini-dress. She had just collaborated with Opening Ceremony, creating furniture and interiors for the fashion brand's London pop-up. Some five years later, Toogood is sitting in a chair of her own design, on the second floor of her new atelier, a Victorian townhouse in London's Shoreditch neighborhood, wearing shades of beige: tan, flat-soled boots, sturdy cream trousers and a cream felt coat. Her hair is now its natural brown, and her expressions are softer. "I've created many identities," says Toogood, who turned 40 this January. "There have been multiple haircuts, multiple wardrobes and multiple versions of me. I tend to step into whatever world it is that I am making at the time, and I very much inhabit that construct."
Toogood's latest microcosm—a boxy three-story building of modest proportions, with a dusty-black facade and a floor plan that narrows the higher you go—is of the literal variety. The House of Toogood, as she has dubbed her studio, sits on a corner of Redchurch Street, a hypergentrified six-block stretch of East London. Toogood and her "merry band of misfits" (a 13-person team of recovering architects, liberated industrial designers and art school rescues) spent last fall transforming their new headquarters—which will, as of this spring, occasionally open to the public as a gallery, shop, showroom or workshop—from a state of disrepair into a Gesamtkunstwerk. Characterful vintage finds (an old wooden pew scored on eBay, a kitchen sink reclaimed from a Dutch canal barge) intermingle with the studio's own cre-ations, including the elegant Spade chair with its tool-like handle and chubby stoneware pots made for Tokyo's E&Y showroom. This irreverent mix pro-vides a tactile summary of the burgeoning aesthetic empire that Toogood has forged over the course of the past decade; as much as her tangible products, Toogood's eye and imagination have become her sought-after signatures.
The inner sanctum of the house is on the second floor: a small office that hosts the studio's daily opera-tions and an adjacent parlor where Toogood spends the majority of her workday, in the company of Roly-Poly. Plump and tranquil, this six-piece collection of fiberglass furniture includes the low, charcoal-colored chair upon which Toogood is resting. With a seat that looks like an ice cream scoop and four elephantine legs that one half-expects to move at any moment, it doesn't so much furnish as inhabit the space.
Around the perimeter of this intimate drawing room, slim shelves are piled with archive boxes that contain memorabilia from every project Toogood has worked on, from fantastical installations for clients like Hermès, Kenzo and Commes des Garçons to interi-ors for a crisp Ibizan villa and a moody flat in Mayfair. She has also done ceramics, textiles and door handles, and then there's the growing portfolio of furniture collections. These assemblages, as Toogood calls them, emphasizing the objects' relationship to one another and the space in which they are presented, have seen her experiment with form and material. From one series to the next, the delicate has given way to the monumental, and English sycamore has been traded for metal security mesh.
Though there are threads that run through Toogood's work (a sculptural quality, an appreciation for traditional crafts, a strong sense of narrative), she is known for the scope of her wide-ranging practice rather than for a particular medium. To designate her a designer feels like a shortcut, not least because she wasn't formally trained as one. Marc Benda, of New York's Friedman Benda gallery, which hosted Toogood's first American solo show in February, compares her dexterity to "watch-ing a child draw with both hands." "In the way that she weaves all these disciplines together, I don't see anyone doing anything similar," says Benda. "There's a childlike quality in her approach that I find extremely refreshing."
In fact, according to Toogood, it was her some-what isolated childhood in picturesque Rutland County, in the English countryside—where she spent the majority of her time outdoors—that ignited her imagination. And while many of her contemporaries, including Max Lamb, Martino Gamper and Bethan Laura Wood, passed through the Royal College of Art, Toogood ended up studying art history at the University of Bristol, after an imposing college coun-selor dissuaded her from pursuing a fine arts degree in sculpture. "I've always felt a bit like an outsider in every category I work in. I haven't come through any of the normal routes," Toogood says. Her visual education continued during the eight years she spent at the venerable British shelter magazine World of Interiors, where Toogood began as a stylist and later became decoration editor. "It wasn't about trend or fashion, it was about aesthetics and the way people live," she recalls. "That really stuck with me."
When she left the publication in 2008, there was no grand plan, just a "need to create three-dimensional objects and spaces, more permanent things," she says. With a portfolio composed exclusively of WOI spreads and a relentless work ethic, Toogood set up shop at her kitchen table in North London.
Nearly 10 years later, that table is now the center-piece of the new studio's sizable front room on the ground floor. Lining the pale gray walls are cloth-ing rails heavy with pieces from the spring/summer 2017 collection of Toogood's workwear-inspired fashion label—aptly named Toogood—co-founded with her younger sister, Erica, a pattern cutter, in 2013. The line's voluminous but simple, genderless designs, crafted in luxurious materials, have found a receptive audience, with stockists including Dover Street Market in London, Tokyo and New York and L'Eclaireur in Paris. This year, the sisters are short-listed for the British Fashion Council/Vogue Designer Fashion Fund, a prestigious prize that supports promising young brands.
If Toogood's foray into fashion sounds like a departure from a career built on interiors and their contents, a collarless white blouse and a starched pinafore skirt hung against a bare wall affirm that it is anything but. These garments are as concrete as a good chair, as inhabitable as the House of Toogood itself. "This house is really proof to myself, as much as to anyone else, that what we're wearing, what we're sitting on and the space we're living in, that's all part of the same language," Toogood says.
This month, Toogood's studio is launching several projects during Milan's annual Salone del Mobile furniture fair. Among them are a handcrafted rug collection for CC-Tapis, a fiberglass and aluminum lighting range for Matter and a series of wall cover-ings for Calico Wallpaper. But Toogood herself often feels conflicted about the fair—she even contemplated staying in London this year. "When I go around Milan, I come away feeling like there's no need for me to make more work. There's already so much out there, and so much of it is brilliant," she says. "I'm a great admirer of others, but I have to lock myself away in order to be able to feel OK about creating."
Within the confines of her headquarters, Toogood is clearly at ease. Members of her team often shuffle around in socks, further underscoring the comfort—of body, mind and eye—that feels abundant here. The studio has become something beyond a place of work or the showcase of an artistic universe: a home. "My world right now is very much about getting back to the elemental, who we are, what we are and why we're here," says Toogood. "I'm just trying to grasp that and create a small space for that to exist."
See the full article in-situ here.