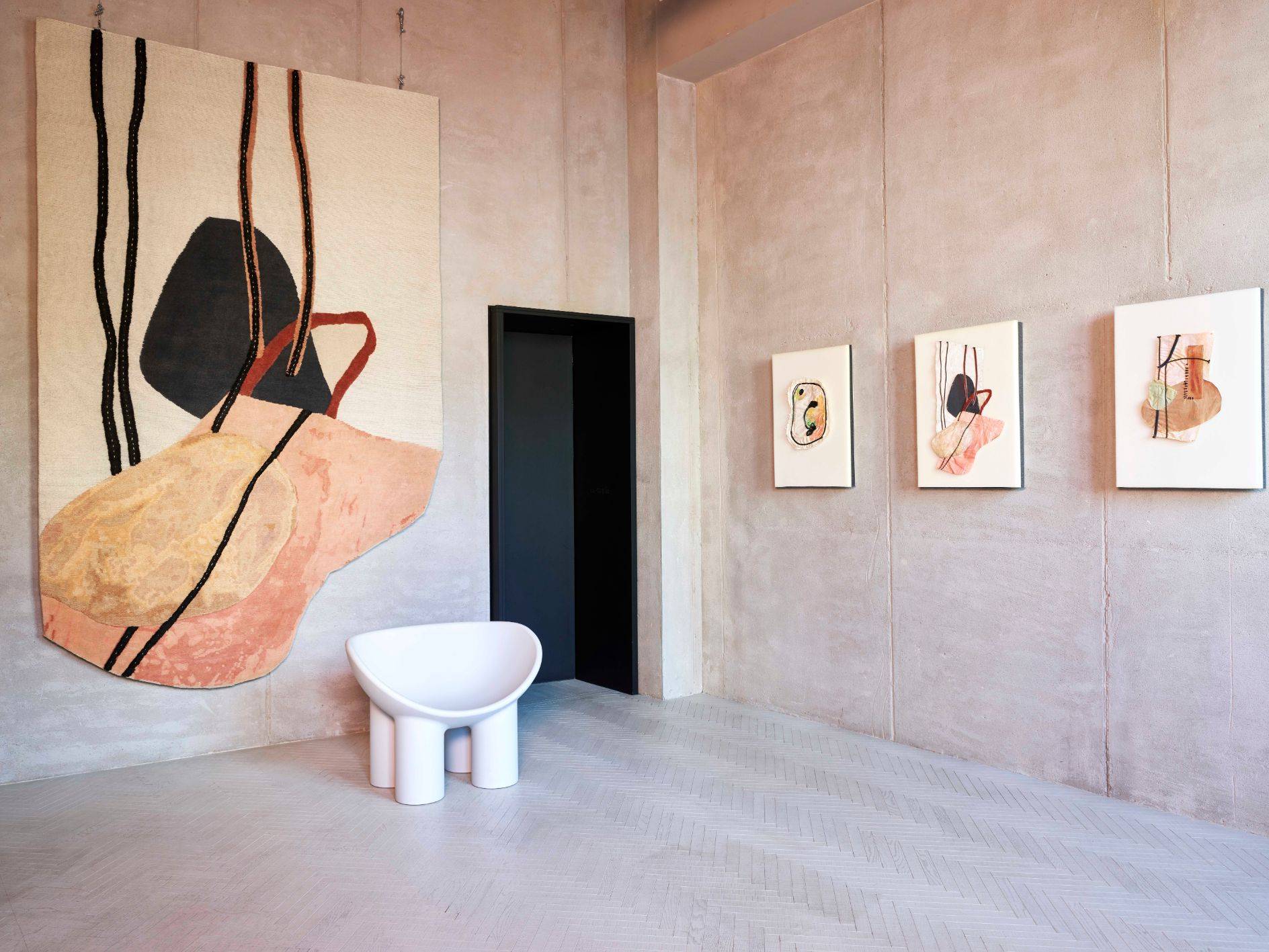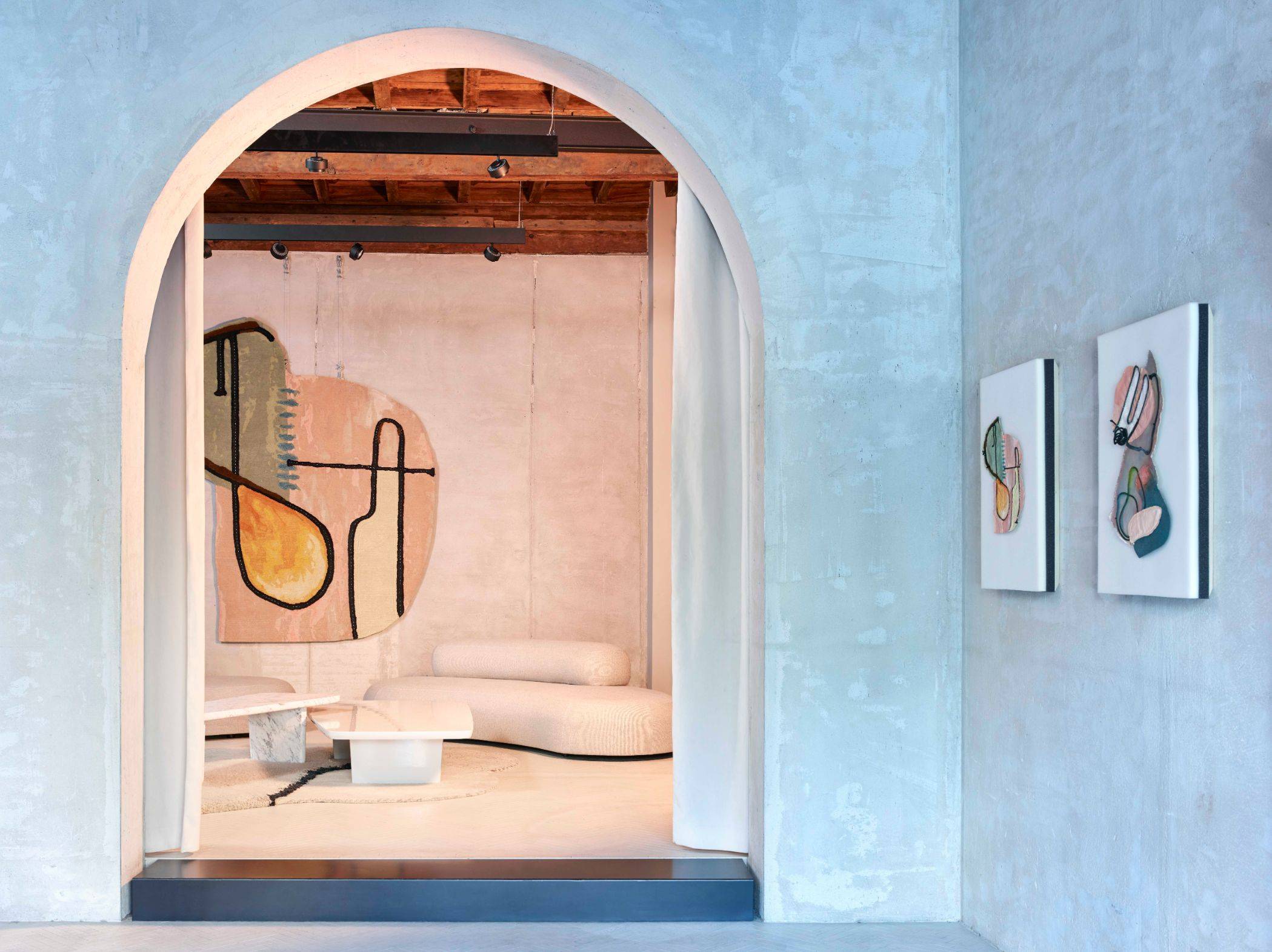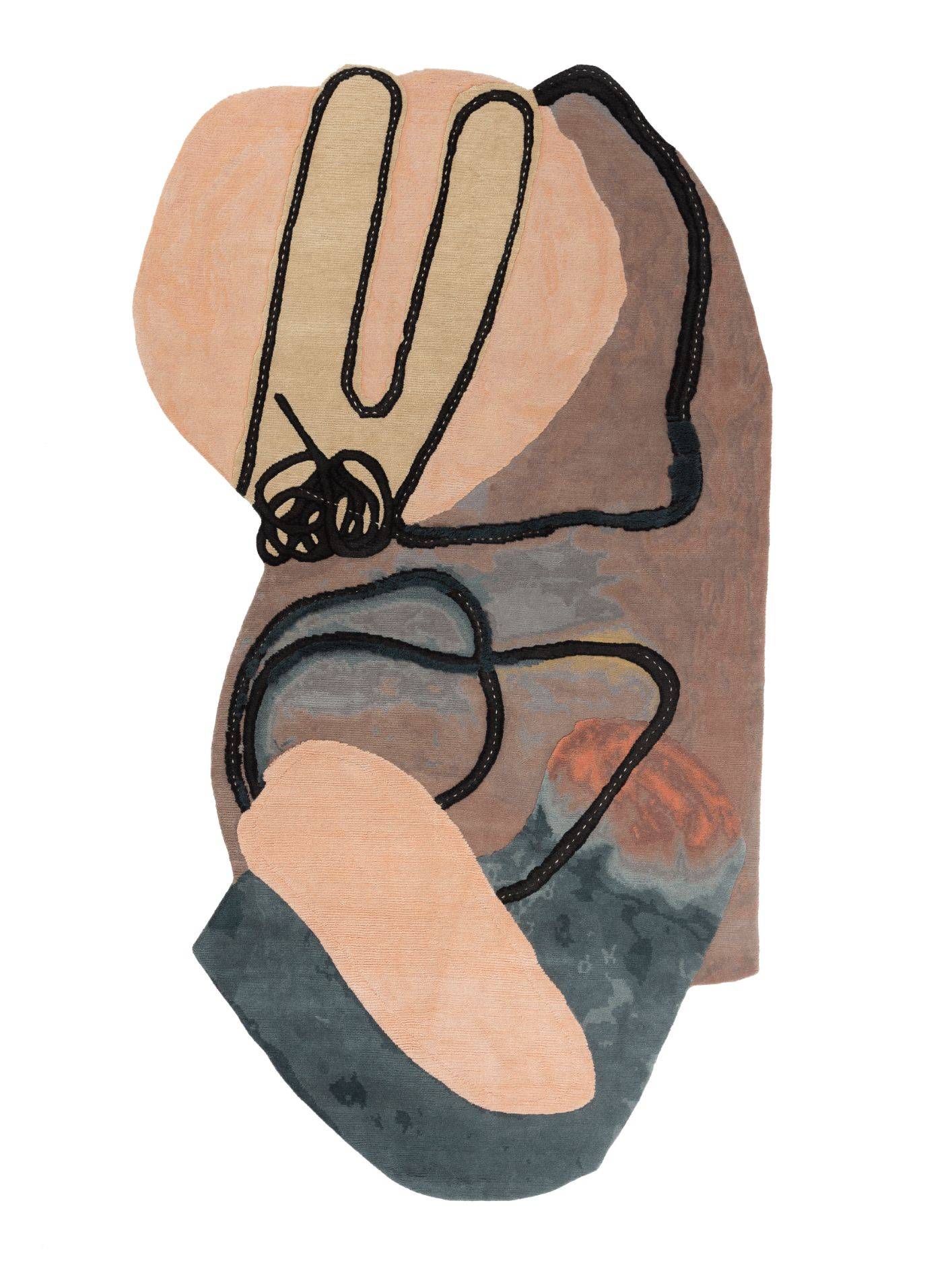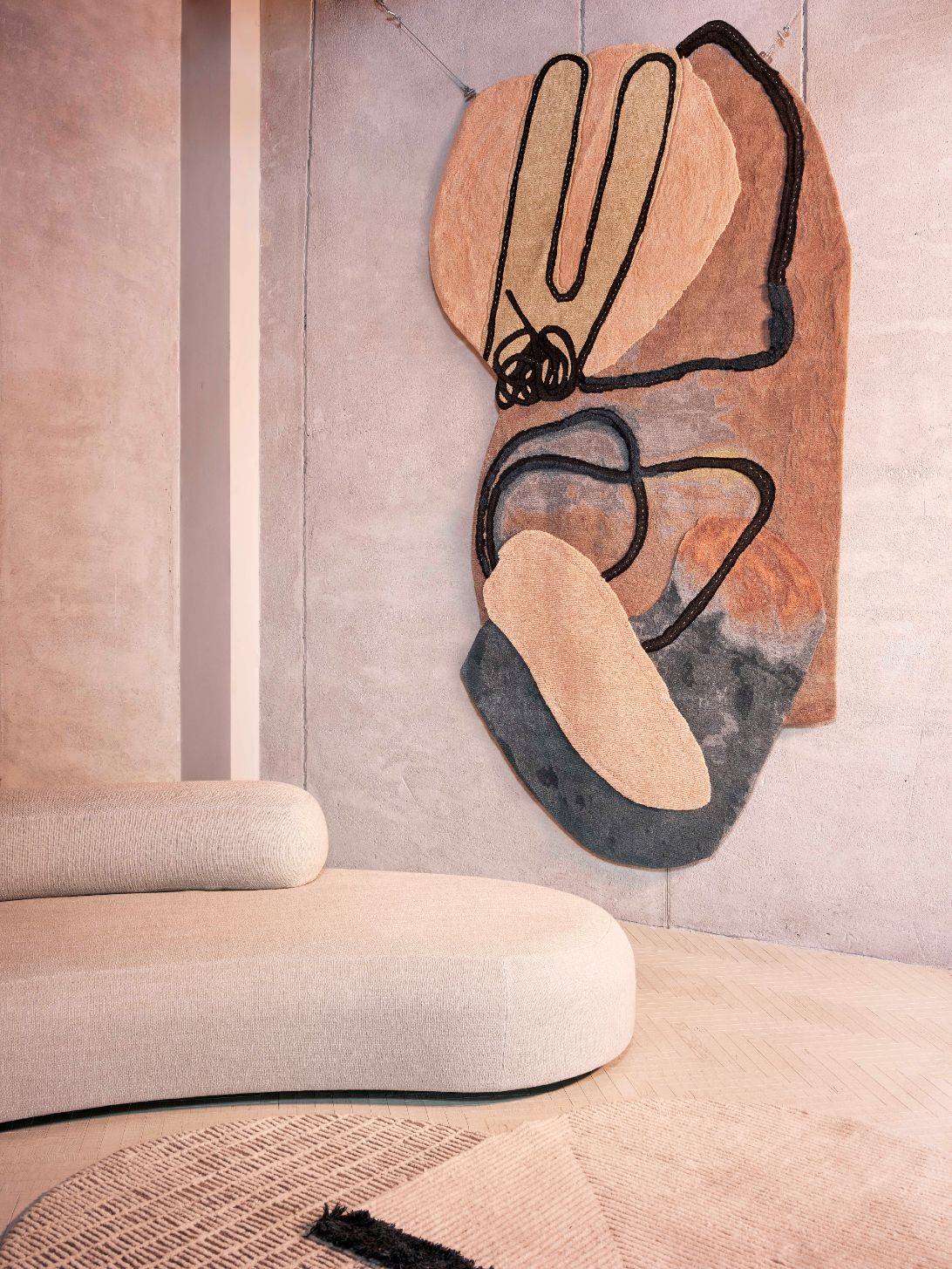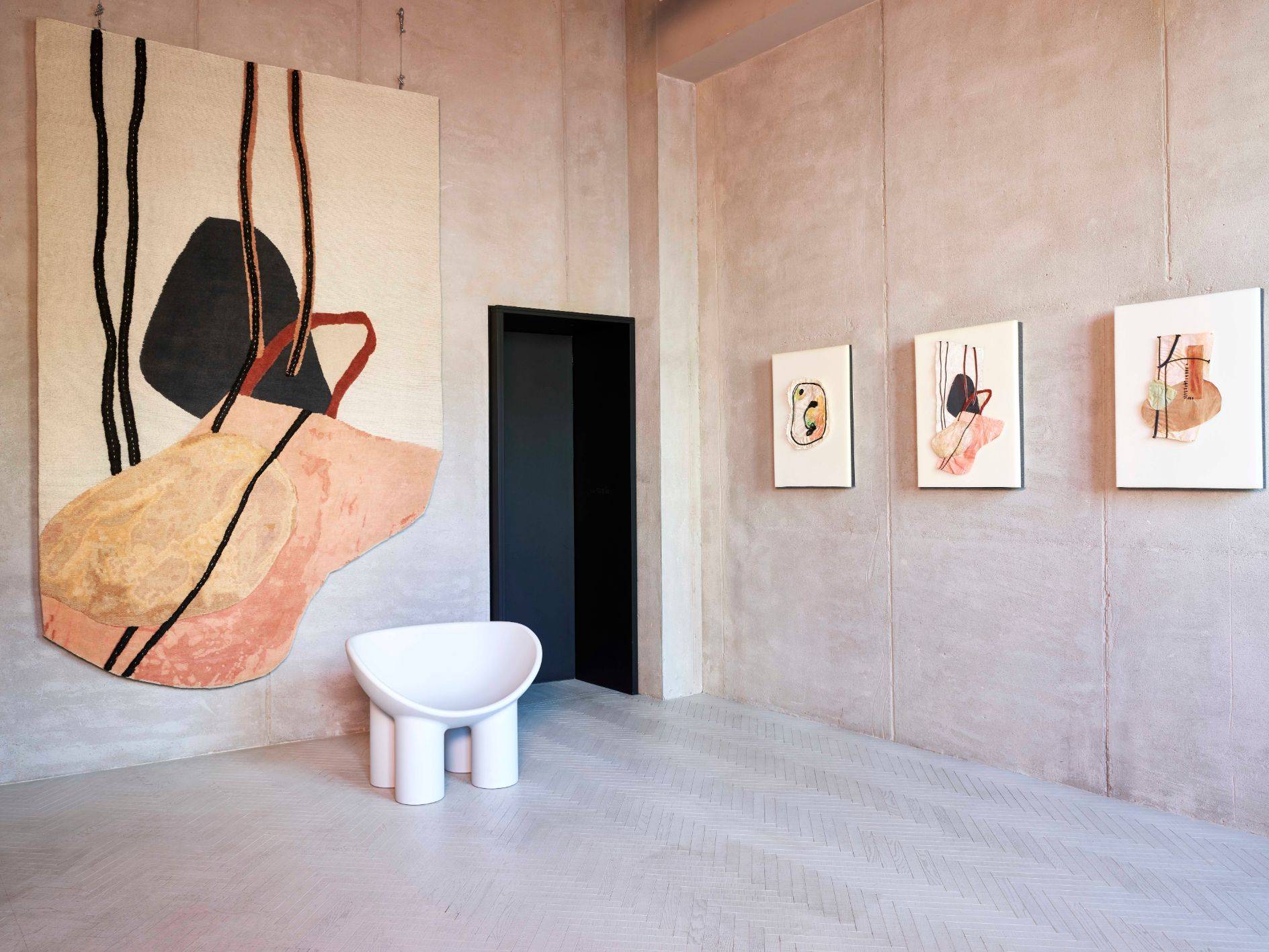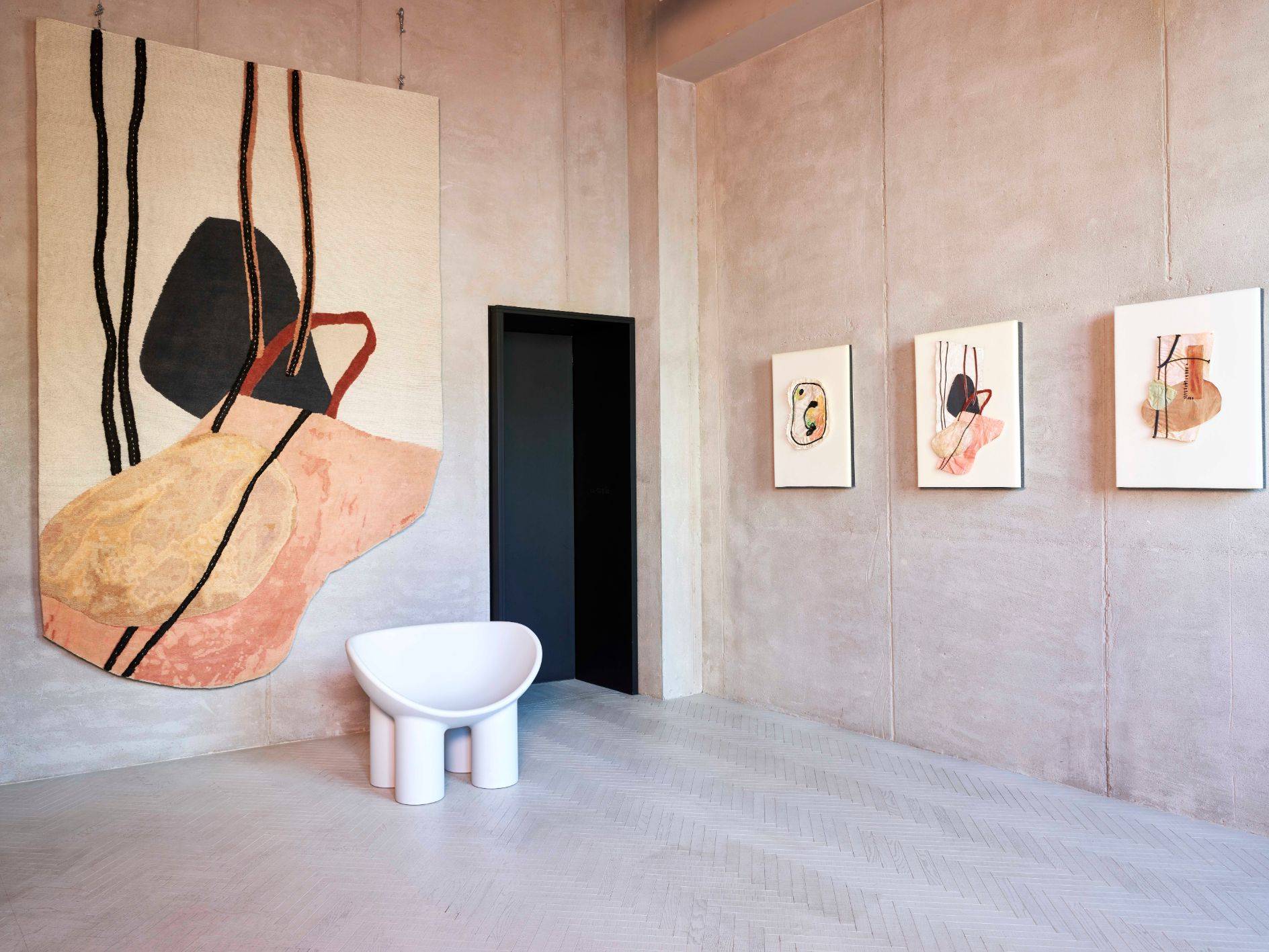 Words: Laura May Todd
Photography: Omar Sartor
Faye Toogood's latest rug collection is inspired by absent-minded 'Doodles'
The British designer realises a colourful new rug collection with cc-tapis
'I didn't sit down and make a rug collection,' announces London-based designer Faye Toogood, somewhat ironically considering the occasion. Despite the declaration, she's in Italy to launch her latest collaboration with Milanese rug-maker cc-tapis. Entitled 'Doodles', the exuberant collection is based on a series of Toogood's textile collages: watercolour-drenched assemblages of canvas, fabric scraps and string, which now hang pride-of-place in the brand's showroom alongside their full-size simulacrums.
'Over the last year and a half, I've been doing nothing but creating models, maquettes, drawings and paintings to generate new work,' she clarifies, explaining that the collection is the wider result of the designer's new line of artistic inquiry, 'at the moment I'm quite obsessed with it, trying to find my new language in terms of geometry, colours and materials.'
Indeed, the colourful collages represent a departure from the earthy neutral tones Toogood has become known for, but process-wise they reveal glimpses into her newly percolating creative path. 'I've just had loads of children and I wanted to capture some of that naivety,' she jokes, referring to her six-year-old daughter and twin girls that were born in 2017, 'to rid myself of references, which is almost impossible.'
'Doodles' is Toogood 'trying to reach a state where it's as pure as you can make it in terms of creative language… to reach that stage where whatever's inside is coming out without a filter.' Like the absented-minded marks we make while waiting on hold, 'the doodle is almost like a distraction,' she continues, 'it's taking yourself away from where you are in the present.'
As an added twist, Toogood named the rugs in the style of Impressionist paintings — 'Interior With Table', 'Reclining Figure', 'Seated Nude' — a nod to her days studying the history of art. 'They're doodles, so the title makes them sound more grandiose than they are,' she points out.
'Over the last year and a half, I've been doing nothing but creating models, maquettes, drawings and paintings to generate new work'
The final products are curiously intimate gestures of colour and form. Vast fields of pale shades piled atop one another, slashed with squiggly dark lines and subtle stitching. Predictably, Toogood's detailed models presented cc-tapis' team with the complicated challenge of translating their soft gradations of colour and texture into hand-knotted wool. 'Our intention was not to create photocopies of the original artworks,' explains creative director Daniele Lora, 'but rather, we wanted to try capture the materiality and richness of each piece, we wanted to translate Faye's expression created through the delicate use of colour and shading.'
To achieve the diaphanous watercolour effect, Toogood's maquettes were shipped from her London studio to cc-tapis' Nepal atelier, where technicians hand-dyed yarn into a palette of over 70 shades. From pale peach to sun-bleached turquoise, raspberry, rose and what appears as a million variations of beige that ooze into one another like melting ice cream. From there, the team experimented with varying densities of yarn and pile height, which further enhances the rugs' textural qualities. 'I wanted to get out of the parameter of a rectangle,' Toogood notes, recalling her previous, much simpler collaboration with the brand, 'to get the kind of three-dimensional quality that I knew cc-tapis had started to develop.'
Going forward, Toogood will continue working in miniature, with plans to present an entirely new furniture collection based on the maquette concept in New York next May. Each piece, much like the 'Doodles' rugs, will be derived from a smaller model fashioned by hand in her studio, recreating every minuscule feature at an exploded scale. 'It's the idea of taking that very first moment of creation and being absolutely dogged in retaining it all the way through,' she explains of the idea. 'Every single little detail has to be translated.'