Faye Toogood: Drawing, Sculpture. Material. Landscape
FAYE TOOGOOD: DRAWING, MATERIAL, SCULPTURE, LANDSCAPE

June 2022
Photography: Genevieve Lutkin
Faye Toogood's new book, published by Phaidon, launches in the UK.
This new monograph is the first in-depth look at all aspects of Faye Toogood's work, from clothes and furniture, to installations and interior design. Written by Alistair O'Neill, the book explores Toogood's unique approach to design through the studio's guiding principles: drawing, material, sculpture and landscape.
The title not only showcases Toogood's work, but also reveals the creative process behind her design and illustrates the interconnectedness across a range of practices, together with the poetry that flows throughout.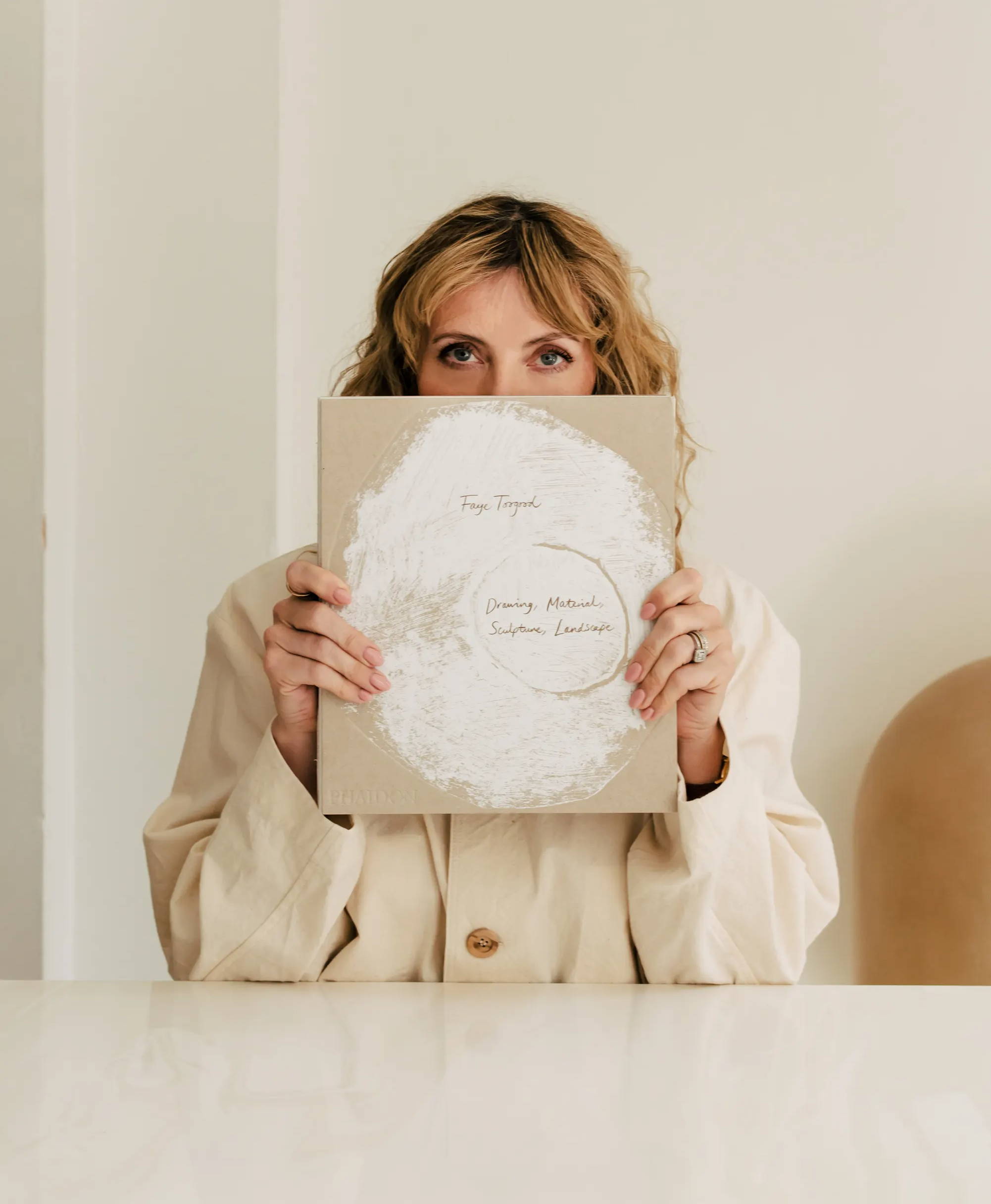 Each of the four guiding principles is illustrated by way of examples, such as, Toogood's built installations for Ikea, Selfridges and Dover Street Market; retail spaces designed for Mulberry, Hermès and Carhartt WIP in London as well as private homes and collaborations with Birkenstock and Calico Wallpaper.
The title includes two essays: Toogood's limited edition Assemblages of furniture, are investigated via an illuminating essay by curator and writer Dr Glenn Adamson. Sarah Scheuning, Senior Curator of Decorative Arts and Design at the Dallas Museum of Art, discusses Faye's exhibition Downtime at the NGV Triennial 2020 as a culminative articulation of all four principal themes – drawing, material, sculpture, landscape.
This tactile book, designed by Studio Small, is a beautiful object in itself, with raw board, debossed covers and exposed binding. It features 275 photographs and illustrations of finished projects, works in progress and archive materials, many of which are shown for the first time.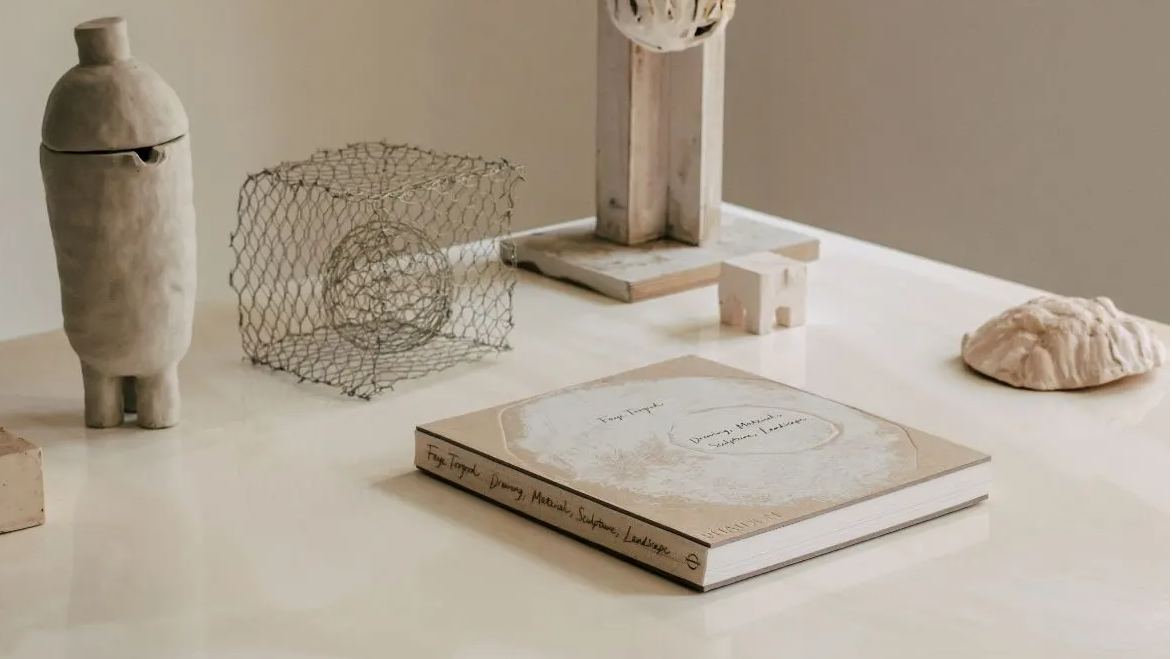 "Her approach to design is intuitive, expressive and partly poetic. It is often organic in form, but is unafraid of combining the natural with the manmade. And although rigorous in execution, there is always a purposeful rawness. For Faye, the surface texture of a design remains as important as its sculptural shape."
Alistair O'Neill, editor of Drawing, Material, Sculpture and Landscape  
Below is an exclusive extract from the book.
Beginnings
Like people, objects also have their own biographies. In material culture studies, the concept of object biography involves tracing the life of an artefact, in order to appreciate how interactions between people and objects create meaning.
Some of Faye Toogood's most treasured possessions are the things she has found, but their significance lies in how they have been woven into her own life story as she has set about making it. The heavily impastoed artist's paintbox that she found in a flea market early in her career is a kind of talisman for her interest in the relationship between surface decoration and the function of an object, and the textures found in the offcuts and scraps generated by making. Like a jewelled freeze-frame of creativity, it lies still; a congealed memory of an idea once had in oil paint. Next to it lies a pressed-glass gun (a junk shop find), which kindled her love of curios, and a pair of Cutler and Gross glasses that she wore when she decided to wear a uniform of only white and cream after the birth of her first child. They demonstrate how objects can perform a sense of self or become a part of it.
Faye was born in 1977 and raised with her sister Erica, in Rutland in the East Midlands of Britain. Their parents instilled in them both a respect for the countryside and for the value of craft. Most evenings after work, their father would make pottery, while their mother cooked homemade dinners served in crockery that bore the imprint of her husband's hands. For her first collection, Assemblage 1, Faye made a bag inspired by her father's love of birdwatching. She sourced vintage leather binocular cases and adapted them with a gold lining, a travelcard pouch patched to the back of each case, and small circular vanity mirrors set into the interior of the lids. As much as the bag was created as a tribute to her father, it also speaks of how things change and how lives are renegotiated through objects. The kitchen utensils Faye later started to collect taught her more about a material history of design that was different from the art history she had studied at the University of Bristol. It's one of the reasons why things that are usually found in a kitchen, as well as a pervasive sense of home, often featured in the editorials that Faye styled in her first job at World of Interiors magazine.
Alistair O'Neill is professor of Fashion History and Theory at Central Saint Martins, University of the Arts London, and writes on contemporary fashion.
You can order your signed copy of Drawing, Material, Sculpture, Landscape, published by Phaidon, here.