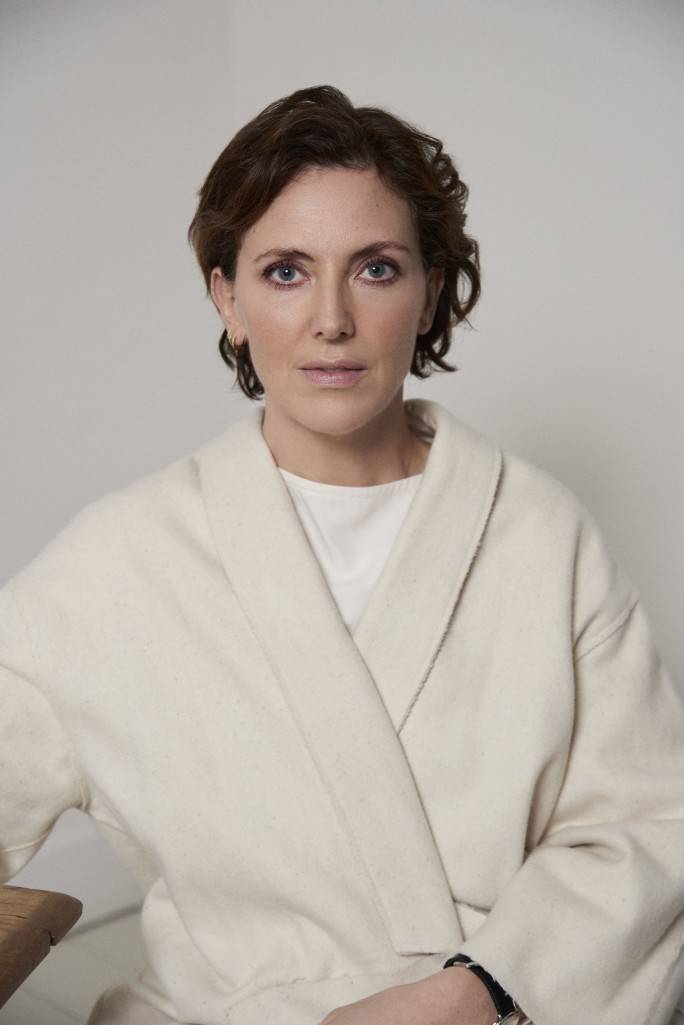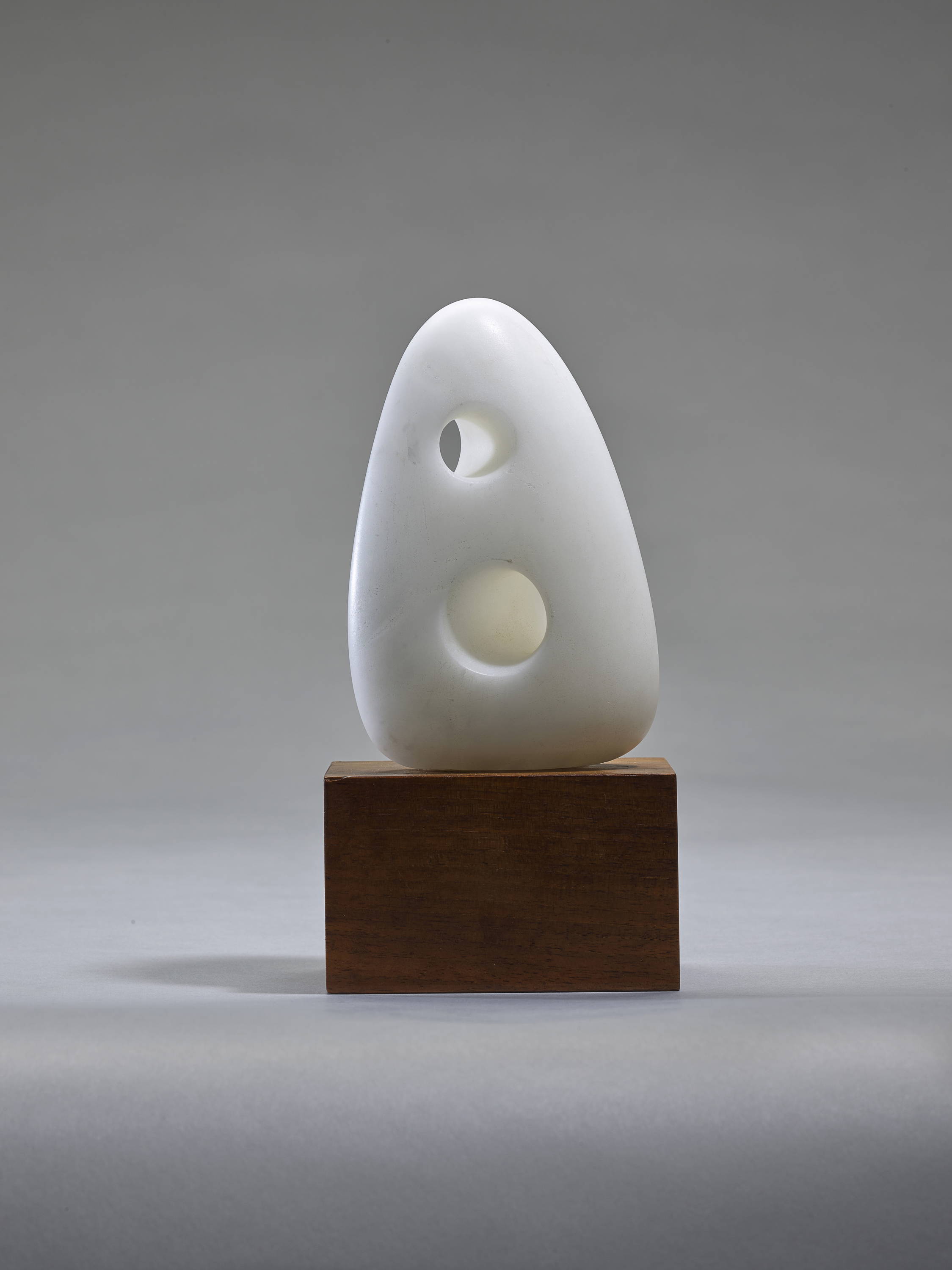 BARBARA HEPWORTH, SMALL FORM (NOVEMBER)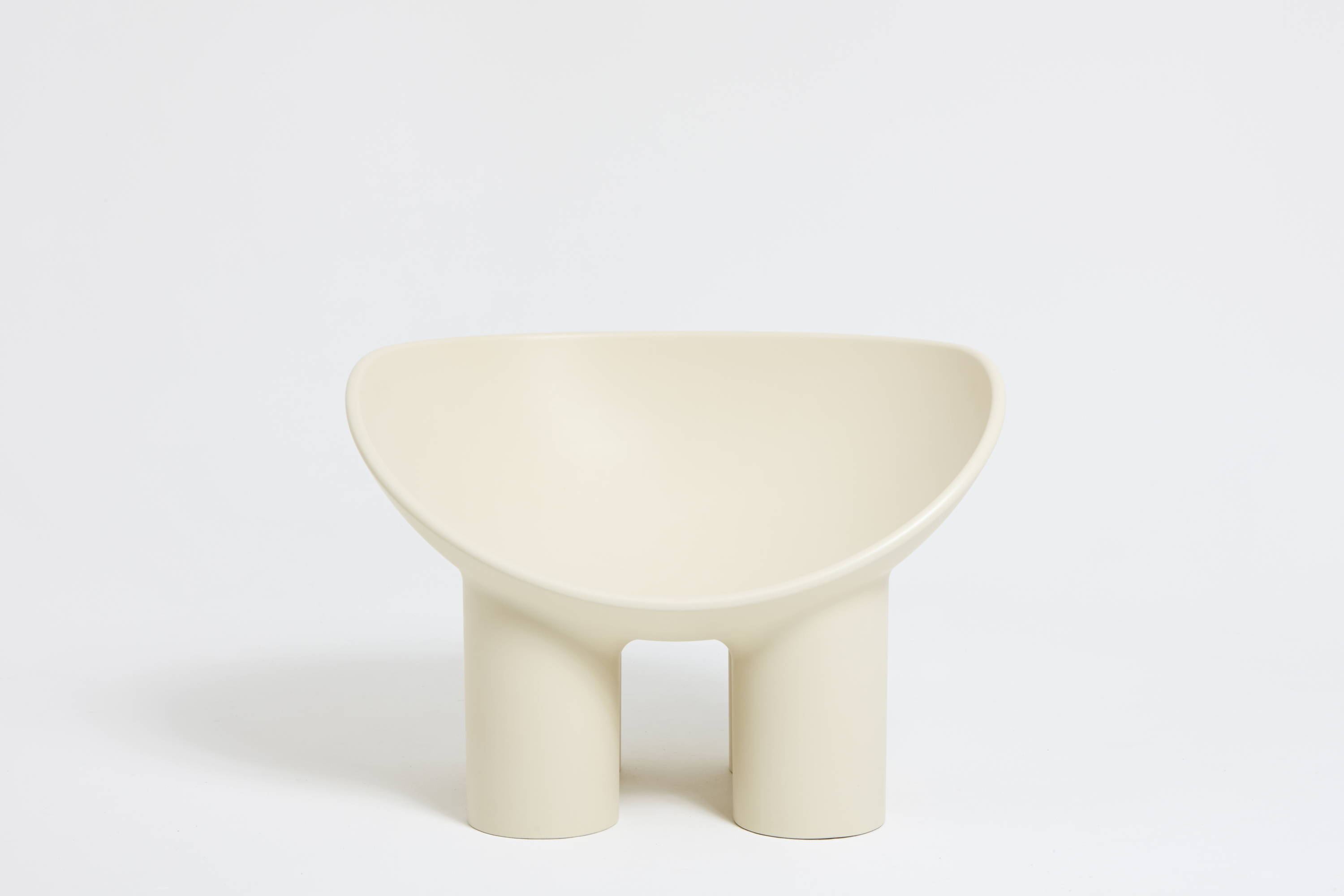 FAYE TOOGOOD, ROLY POLY CHAIR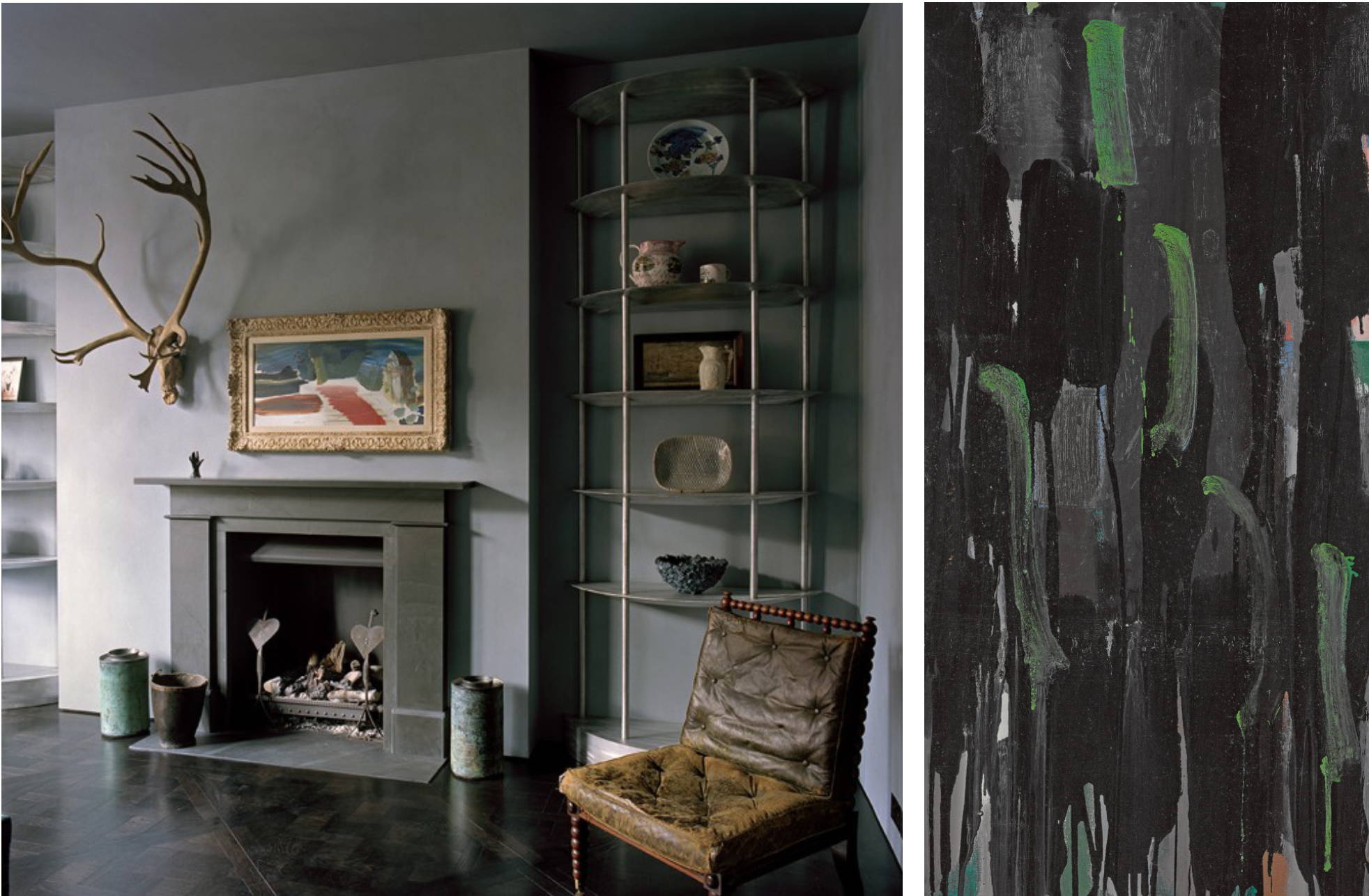 FAYE TOOGOOD, MAYFAIR APARTMENT | PATRICK HERON, GREEN ON BLACKS, 1956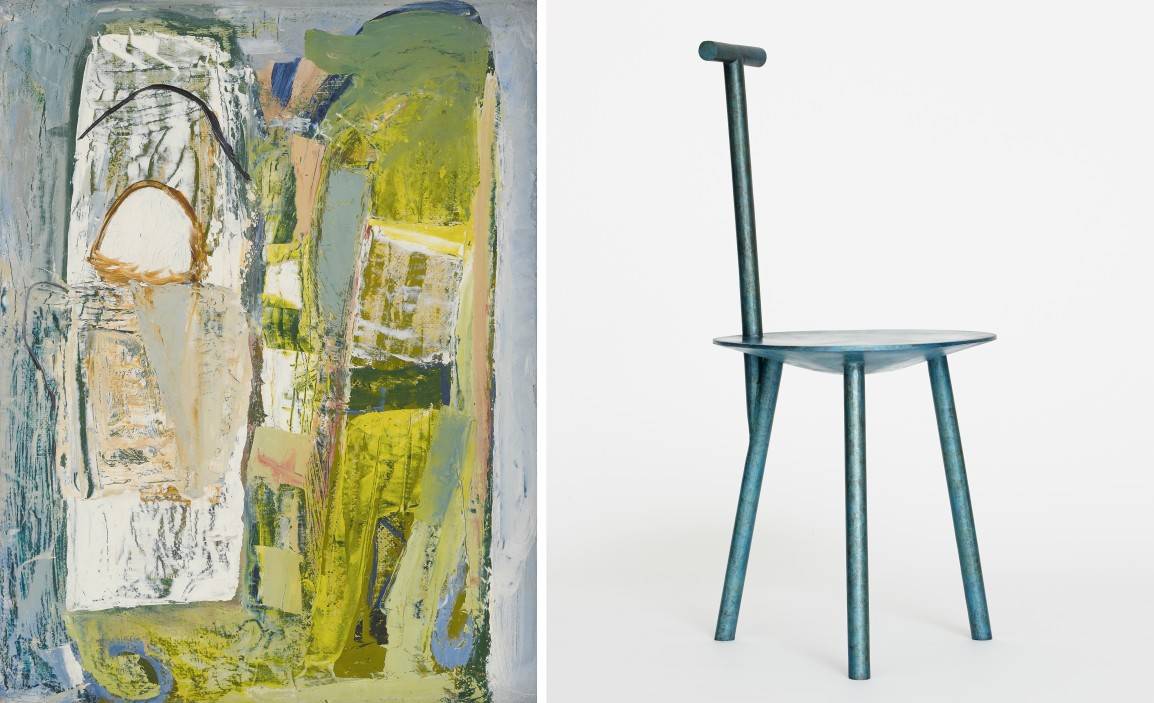 PETER LANYON, GODREVY, 1954 | FAYE TOOGOOD, SPADE CHAIR, BRONZE, IRIDESCENT GREEN PATINA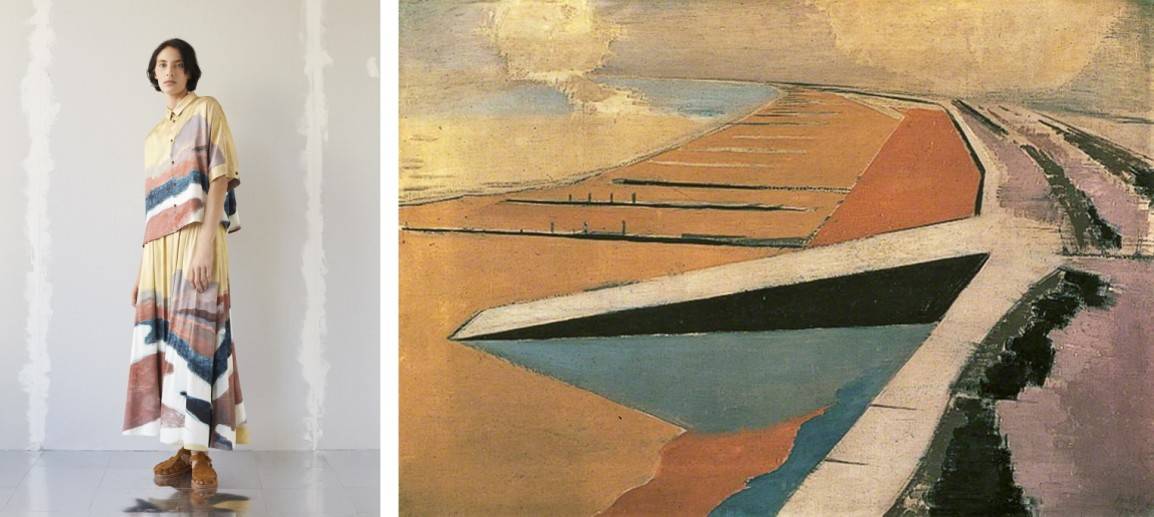 TOOGOOD, SPRING/SUMMER 2021 | PAUL NASH, THE SHORE, 1923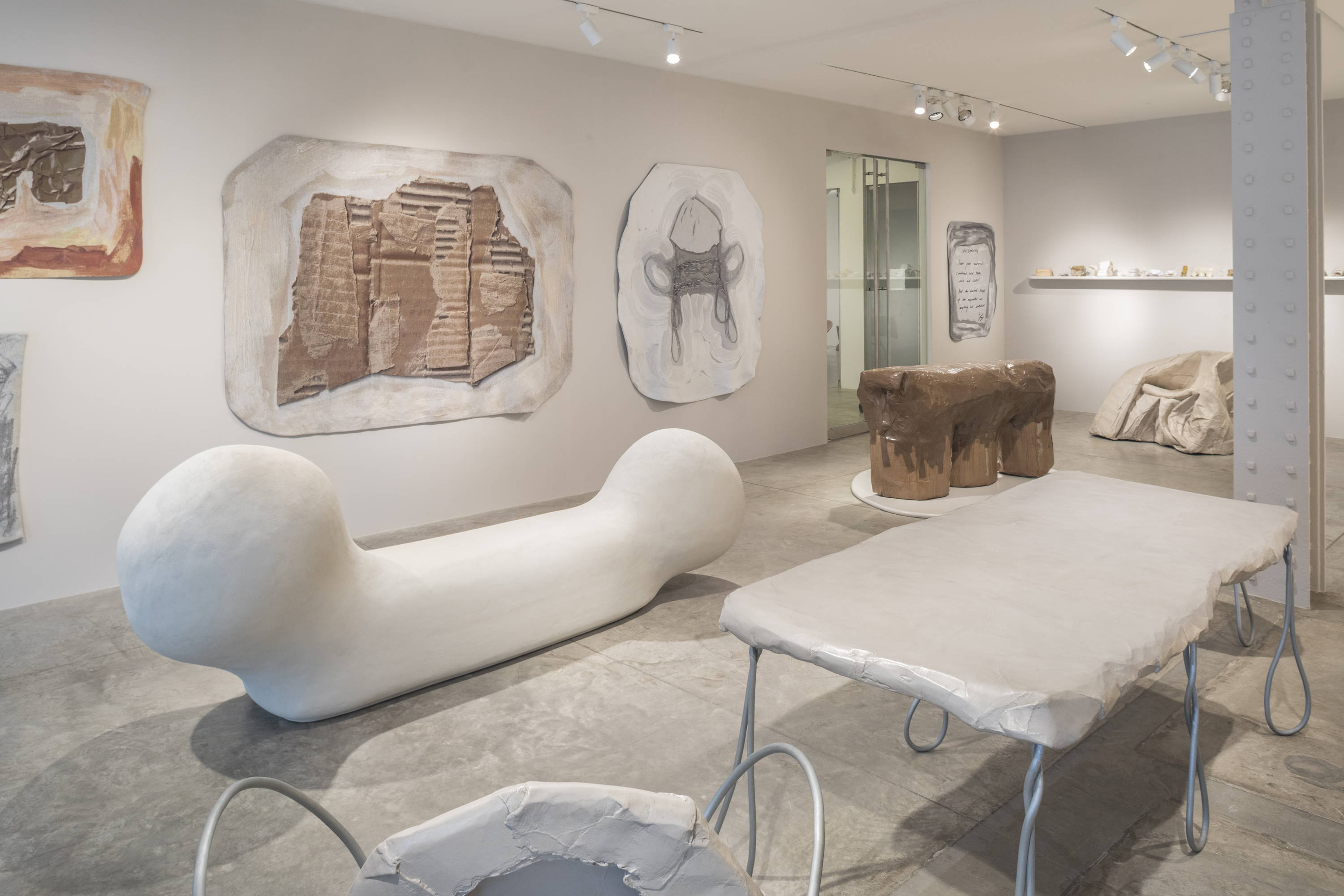 HENRY MOORE, MAQUETTE FOR OVAL WITH POINTS  | FAYE TOOGOOD, ASSEMBLAGE 6: UNLEARNING, FRIEDMAN BENDA, NEW YORK, 10 SEPTEMBER – 17 OCTOBER 2020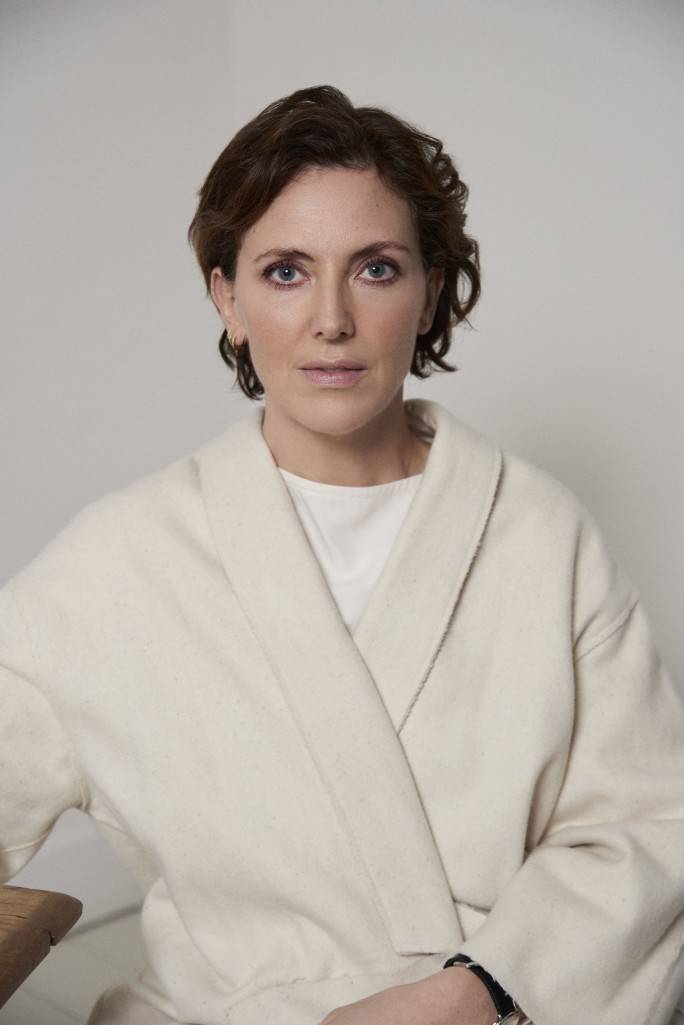 Words: Frances Christie, Senior Director of Sotheby's
Photography: Philip Sinden, Tobias Harvey and Sotheby's
The Sculptor's Eye: Faye Toogood on Barbara Hepworth and the British Landscape
Faye Toogood is a contemporary British artist working across sculpture, furniture and fashion, whose work has been exhibited at Phillips de Pury and the Victoria & Albert Museum in London, the Triennale in Milan, and D Museum in Seoul. Ahead of Sotheby's Scottish Art and Modern & Post-War British Art sales, Senior Director Frances Christie spoke to her about her recent projects, and the ways in which Modern British Artists, and Britain itself, have been an inspiration to her.
Frances Christie: Your most recent fashion collection is inspired by Paul Nash's seminal painting The Shore in 1923 - how did you discover Modern British Art and when did it become an influence for you?
Faye Toogood: From an early age I was very passionate about art. I had a grandmother figure who was really important in my upbringing and she had been educated at Cambridge and had a huge library of art books. She shared them with me at a very early age, probably when I was around seven.
FC: Was there a particular artist who jumped out at you at that age?

FT: When I was eight I went to the Barbara Hepworth studio in St Ives. I remember it so clearly - I saw pictures of her chiseling away at huge pieces of rock and thought that's what I want to do, I want to be like her! It was a very visceral early response to her work. I went on to study Fine Art and History of Art at Bristol and became really passionate about the British Modernist period. Since then, it has been such a big part of my life and we spend lots of time in Cornwall. My husband is also really passionate about that period and his father knew both Hepworth and Nicholson and collected some of their pieces so it's been part of my life in a really great way.
FC: You mention Cornwall, is there a family link there?
FT: It's just a huge draw for my family: we have been pulled to this part of the coast, to the light, to the landscape for many years. It's such an elemental place and I certainly feel at one in this landscape.
FC: Sounds just like Hepworth and Nicholson! Cornwall inspired them in much the same way that you describe and they eventually moved down there at the beginning of WWII. Do you find the same light and landscape influences your work?
FT: Absolutely. Whenever I try and pinpoint any clear threads in my work, it normally comes down to landscape, sculpture in terms of sculptural geometry and form, and materials. It's also those three things that I see so much in that modernist British period of work. They were also concerned with form and geometry, obsession with materials and the palette from the natural landscape. In terms of artists working in Cornwall, the palette from a Patrick Heron is incredible – I've done whole interiors based around his palette. There was an interior I designed in Mayfair for someone who had collected a series of Patrick Herons and every room was inspired by Heron, it was just beautiful.
FC: Do all your projects begin with a work of art?
FT: They often start with materials or a work of art from that Modernist period. Certainly when I look at works by Hepworth, the geometry for me just feels so right, in terms of the curves, the female forms but at the same time the volume and the void, the precious and the raw. I really love the work she did with plaster as well as her work with finer stones. It's the contrasts that I find so compelling, the precious and the raw, the masculine and the feminine.
FC: You mentioned the curves in Hepworth's sculpture and your famous chair, the Roly Poly, does have similarities to the little alabaster carving in our sale - was Hepworth in your mind when you were creating it?
FT: When I saw the carving in the sale, I did think, wow, that is the Roly Poly! I did that collection straight after giving birth to my eldest daughter and that chair in particular, that shape, does draw in many influences. People see many different things it in - something that feels quite pop and 1960s, quite art deco, African, primitive - there are a lot of references there and certainly there is a nod to Hepworth and to the primitive references in her work.
FC: Hepworth also had multiples, triplets in 1934. Like her, how do you balance family life with your three children and producing all your collections and designs.
FT: It is so interesting as a young girl being inspired so early on by someone like Barbara Hepworth. I just remember feeling her force and determination in those photos I saw and I think that's definitely within me. I think the word relentless best describes me, in all its negative as well as its positive forms. I have within me the ability to juggle multiple things and I always need to feel that I am progressing in my own way in my own language.
I didn't study Design I just studied Fine Art and History of Art and yet I'm working in Design. The fact that I didn't study it has allowed me not to have any rules. I think a lot of designers fear opening books pre 1920, at a stretch maybe 1910. But studying History of Art and Fine Art has allowed me to feel quite comfortable going right back and that has definitely influenced my work. Working with no rules and learning on the job; my career has basically been a series of trial and error and experimentation.
FC: How did you move into Design from studying History of Art and Fine Art?
FT: I graduated from Bristol and spent eight years at the World of Interiors magazine as the Interiors Editor. The extraordinary exposure that I had to Fine Art, Antiques and Interiors - and that's anything from a Swedish palace to a mud hut in Mali - was just the most incredible education straight off the back of History of Art. However, after eight years, I felt desperate to work with in three dimensions and had a real desire to make objects and create spaces and to make the objects within those spaces. It started with designing interiors, then the desire to make the things within the interiors then more recently, clothing. A lot of people don't understand the interrelationship between all these disciplines until I put them in the same bracket as the Omega Workshops or the Bloomsbury group. When you apply your sense of materials and your sense of form to clothing and the way you dress, for me, its all part of the same thing, the same language. It's just another form of visual expression. You can completely transform the way someone feels about themselves with a piece of cloth. My sister is a fantastic pattern cutter and so the link between sculpture and creating clothes feels very close.
FC: Your Spring/Summer 2021 fashion collection is inspired by Paul Nash's famous painting of Dymchurch titled The Shore from 1923 - how did that collection come about, had you always loved that picture?
FT: I have always loved it and rediscovered the image in a book. I have always been obsessive about collecting books and regularly return to them. I found the picture again and became completely captivated by it and so it became the genesis of the whole collection.
FC: What is it about Modern British artists that you feel drawn to?
FT: I just feel incredibly connected to them in a very visceral and instinctual way. The colours they use feel right to me, the forms, the shapes, the materials; they all just feel part of me, part of the extended family. I deeply admire some early American Art and Italian art, but they don't feel part of me in the same way. I also feel really connected to the Modernist period; I could have lived in that time and I definitely would have wanted to be friends with all the artists; they seem like my kind of people! There is also a sense of Englishness about artists like Hepworth and Nicholson. A lot of people describe my work as very British which is very hard to pinpoint but often I think it is the combination of a sense of humour together with a particular palette and sense of materiality.
FC: Do you find the same sort of connection with the British landscape?
FT: Yes completely. One of the questions I get asked a lot is what inspires me and it is absolutely the landscape. If I need to come up with a concept or a story or a new design, I don't need to travel across the world to be inspired, I just need to be outside in the middle of nowhere and it will come to me. From an early age I have felt very connected to landscape and it is a very important part of me. We recently moved out of London and I have enjoyed rediscovering the landscape – growing up we lived a very rural existence and rediscovering that connection with the rural landscape has really helped my creativity again.
FC: Once you have found your inspiration, albeit a painting, a sculpture or elements of the landscape, how do you decide what direction you are going to take it? Do you have a rhythm of different collections?

FT: On the fashion side, one of things I quite like about it is that it is quite structured, I am expected to create two collections year and I like that rhythm as it has its own formula to it. But designing furniture is more personal work and the creative process ebbs and flows in a completely different way. This year I had a solo collection in New York based around maquettes but I hadn't had a show for 3 years before that. It really depends on what's going on in my life, what I'm feeling inspired by, what I am relating to and what I am connected to.
I think the collection which I showed in New York was inspired deep down by Henry Moore. I started to create small three dimensional models and over a year created maybe 400 maquettes out of wire, paper, sellotape, masking tape, cardboard, bits of old canvas, anything that was around the studio, just desperately trying to find a new form, a new way of working. We then edited down the maquettes until there were only about 20 which I felt connected to in some way. In creating a collection around them, I was quite adamant that we were not going to develop them too much, we were going to keep the naivety of the maquettes all the way to the end of production. What we have ended up with is chairs that look like wire but they are made of ironwork, with what looks like cardboard folded on to the back of a chair but is actually bronze painted to look like cardboard. This series of pieces honours the maquettes and the beauty of that very first moment of creation. I could certainly see that this idea of truth to materials pre-occupied the sculptors Henry Moore and Barbara Hepworth. As I am working in Design there is a table, a chair, a screen and a sense of function to the pieces but we have tried very hard to keep that naivety and that sense of creativity.
FC: Talking of function, how do you live with objects and with your work in all dimensions?
FT: My wardrobe is filled with our clothes so I do feel I live that part! The last few years we have been waiting to find a house so I have been living quite minimally with everything in storage but now we have just bought a house so over this next year, I am about to bring together all the pieces from my archive and start living with them and I am really quite excited about that. It is quite liberating living with nothing but I am someone that likes objects and likes to feel connected to them.
See the full article in-situ here.