At the heart of Toogood's collections is a library of over 100 traditional trades. The Bricklayer Trouser, The Locksmith Shirt, The Photographer Jacket. As we launch a new edit of classic styles, Erica explores the origin of Toogood's modern working uniform and celebrates the individual who makes it their own.
When I joined Toogood, Faye and I knew what we wanted to achieve with our collections. I brought my sewing machine and my strange objects to the studio. It was like being a new animal in the zoo, the artists and product designers picking up my tracing wheel going, "What's this?"
Faye and I have always worked together. Back when she worked at World of Interiors she would take me and my little Bernina sewing machine on the shoots and I would make things. Her brief to me might be, "Okay. We've got 10 people turning up next week. I don't know whether they're men or women. I don't know what size they are." So there was always a sense of ad hoc making, performing and delivering on the day.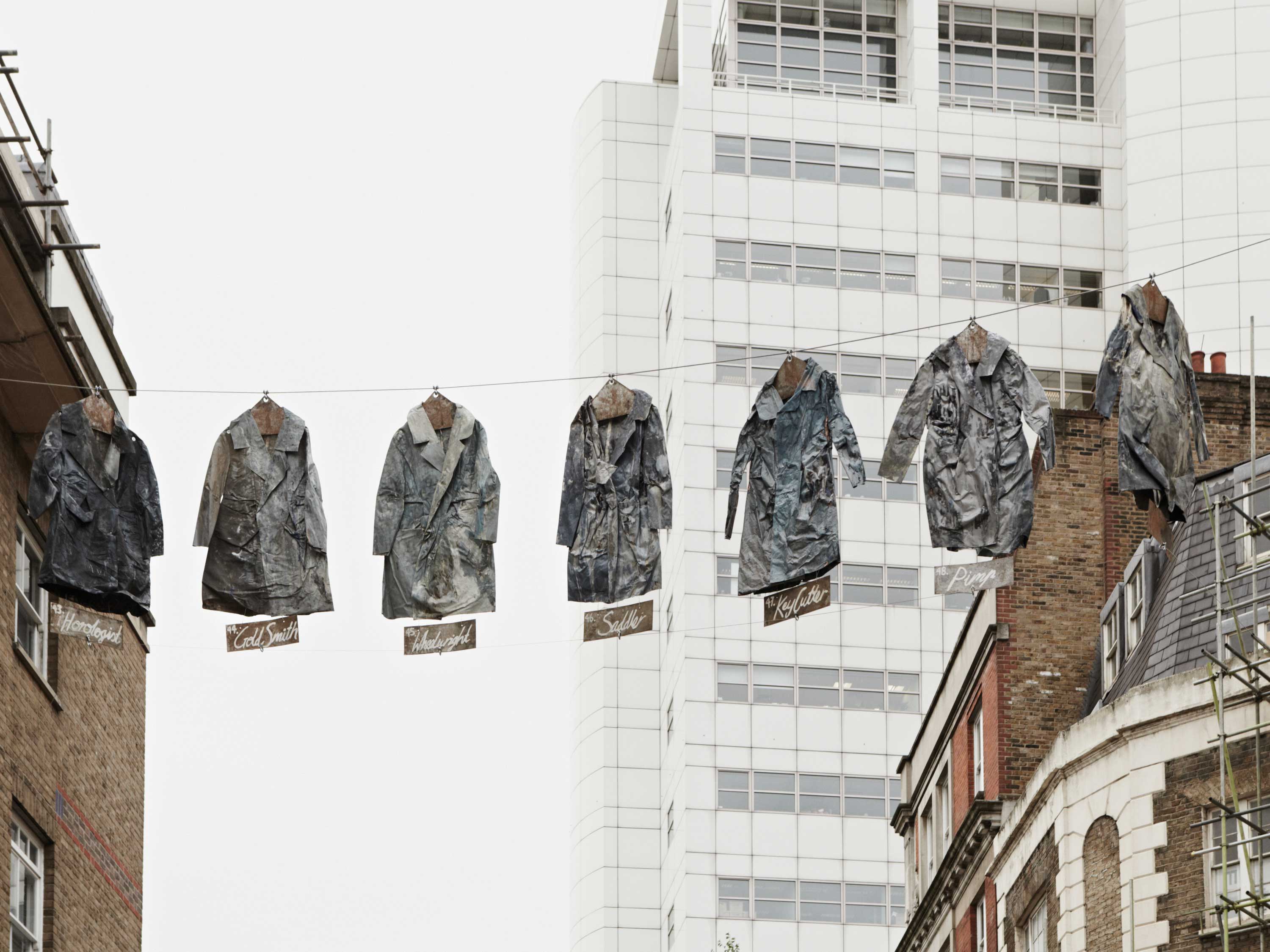 '7 x 7', London Design Festival (2013)
The Toogood collection started with a project for the London Design Festival in 2013. I made 49 gigantic coats for Faye to paint. They were each two metres high and suspended above the streets at Seven Dials. Each coat celebrated a lost London trade, for example The Watchmaker, The Cobbler, The Wheelright. I made them from 100 metres of thick industrial fabric which was intended for bathroom blinds. I cut the coats intentionally with dropped shoulders, creases in the arms, pockets that hung forwards. I liked the sense that they had been worn, worked in. It was such a bold, beautiful project.
From that moment I have been obsessed with cutting around the body. I think sometimes we forget our bodies are round, they move, they work. A piece like The Baker Trousers are the best to just exist in, because they give you so much movement. But then something more structured and buttoned up might give you more confidence. Pieces can take on your mood or they can instruct you of what your mood needs to be. I want you to feel like the volumes I create give your body, and yourself, the space to be how you want to be.
This idea of the individual is very important to me. Each piece has a label or 'passport' that acknowledges all the people involved in the making of the garments - from the designers to the cutter, seamstress, presser and hand finisher. The final space on the passport is left for the wearer to write their own name.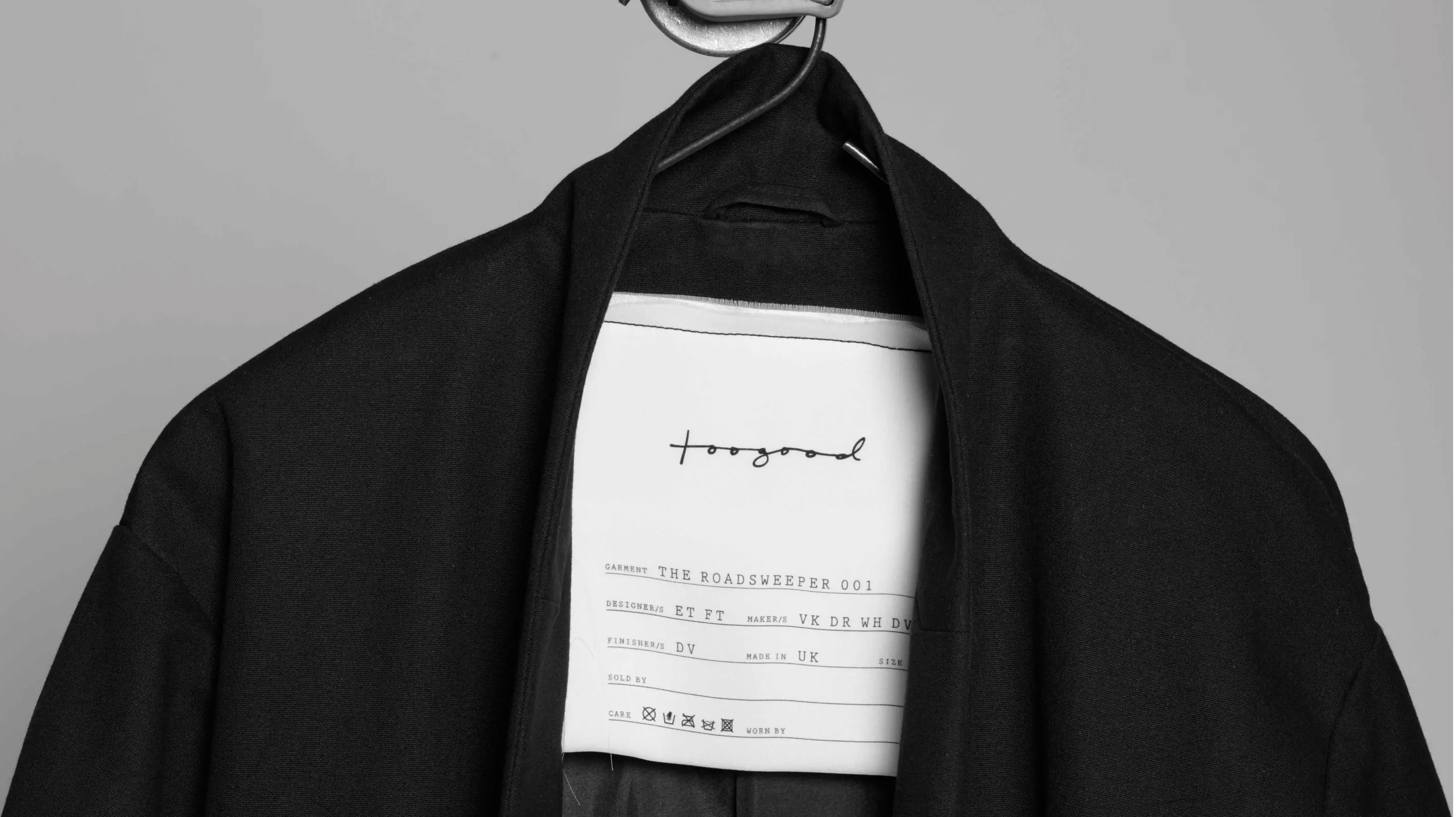 Since the hanging coats we have taken the trades as inspiration to give designs a starting point and intention. For me it gives the pieces a charm and something to lean on when wondering how the garment will develop. For example, in our upcoming Collection 015 we have introduced The Shepherd Dress. Throughout making that piece I was thinking about her in the field, shepherding. What does she need? It's not too literal though, we're not tracing them from the origins, but the trades are something that that allow us to explore older references, compiling, editing, draping and cutting in a flurry of ideas.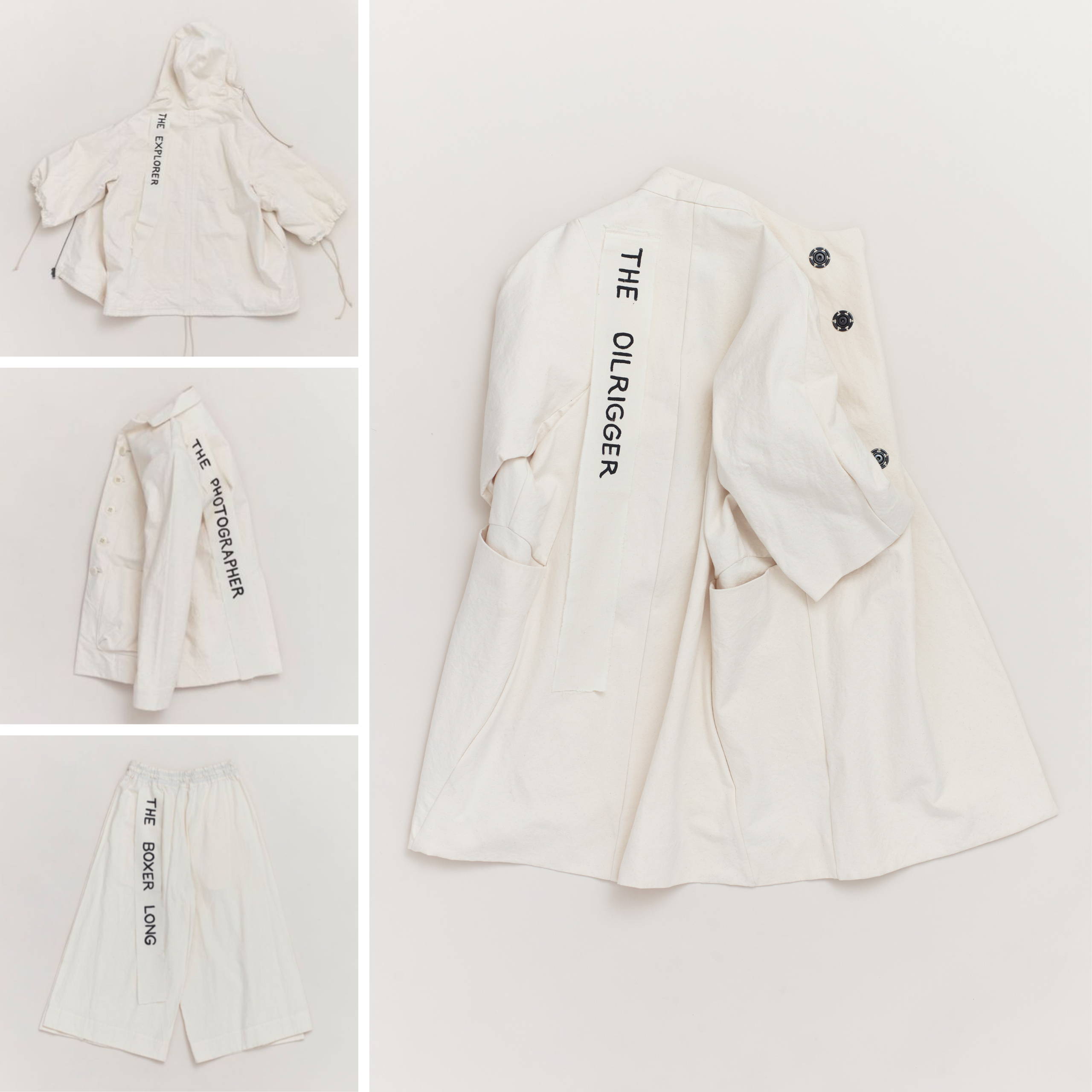 Core Trades, The Explorer, The Oilrigger, The Photographer, The Boxer
Pieces like The Photographer Jacket, The Draughtsman Shirt, The Baker Trouser go back to the first couple of collections, patterns we have tweaked and tweaked. It is so interesting to see them reborn each season in different fabrics and finishes. The Photographer Jacket has been made from wax, felt, velvet, silk. It has even been hand painted. Now we have taken it back to its purest form – organic canvas, the cloth we originally used.
Our Toogood team is a is a body of testers. Here in the studio we all have The Baker Trousers from different seasons. I still wear my pair from Collection 001 that came without ties, just elastic. I added the ties later so people could make them their own, wearing them at huge volume, tied tightly at the waist. We have made these core patterns season after season, so we know how the pressure of the body hits on certain seams. However, we constantly seek better techniques, getting feedback from our seamstresses.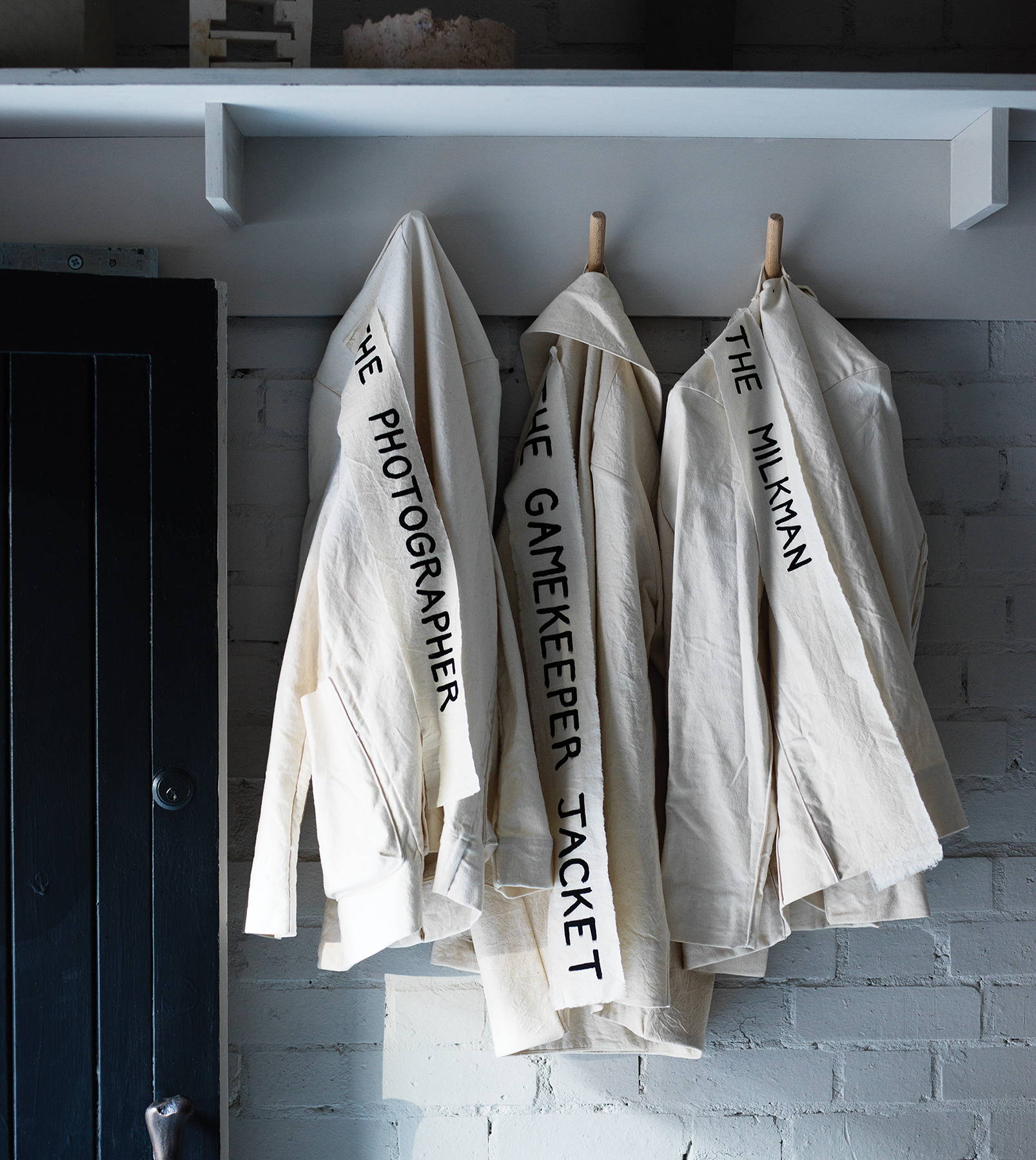 The journey of refinement that each style goes on is very intricate and with each tweak they improve. That feels like an aspect of the story that is talked about less, but it's a complete joy because these garments are our fond friends. Focus on refining rather than solely reinventing is incredibly important to our process. Bringing to life a new collection every six months takes a huge amount of development, so there needs to be a split in our approach: celebrating what we know and trust, and also diving into the styles we want to innovate. Constantly improving shapes, seams and fabrics means you can really perfect a piece and find true longevity. These are long term garments that will always be a part of Toogood."