Mirror Mirror: Reflections On Design At Chatsworth House
MIRROR MIRROR: REFLECTIONS ON DESIGN AT CHATSWORTH HOUSE

March 2023
Photography: Genevieve Lutkin and Angus Mill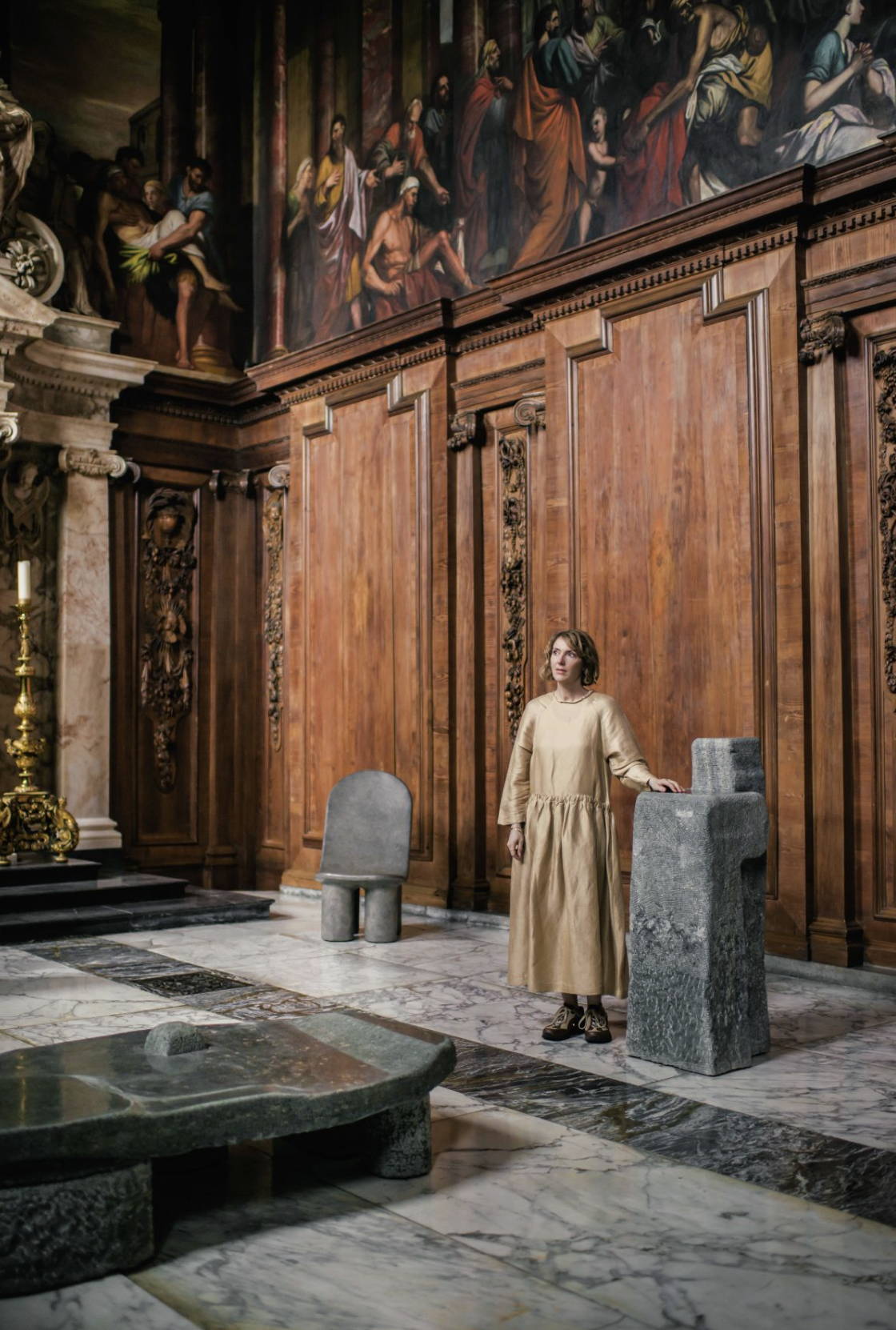 Faye presents two installations of new work, 'Standing Stones' and 'Hoard of Oak' in a group exhibition at Chatsworth House.
18th March - 1st October 2023.
"I was approached by curator Glenn Adamson, who wanted me to respond to one of Chatsworth's incredible rooms. I was immediately drawn to the chapel, which felt to me untouched since its creation by the first Duke. This is connected to the Oak Room - an entirely contrasting space panelled with oak from a monastery in Germany. I heard it was bought at auction on a whim, and I love how all the incongruous Black Forest carved oak gives it the feeling of a grotto.
I was mostly interested in the material and how these two wooden rooms can have such a radically different feeling, because of how the material has been treated, carved, stained, appropriated. One feels calm and spiritual, the other almost bacchanalian.
This commission arrived as I was in the middle of Assemblage 7, my most ambitious work with wood and stone. The shellac stained, polished oak pieces of Assemblage 7 were in part inspired by the refined polished wood found in stately homes like Chatsworth. And the Purbeck marble we were using is normally seen in ecclesiastical buildings. Wonderfully serendipitous.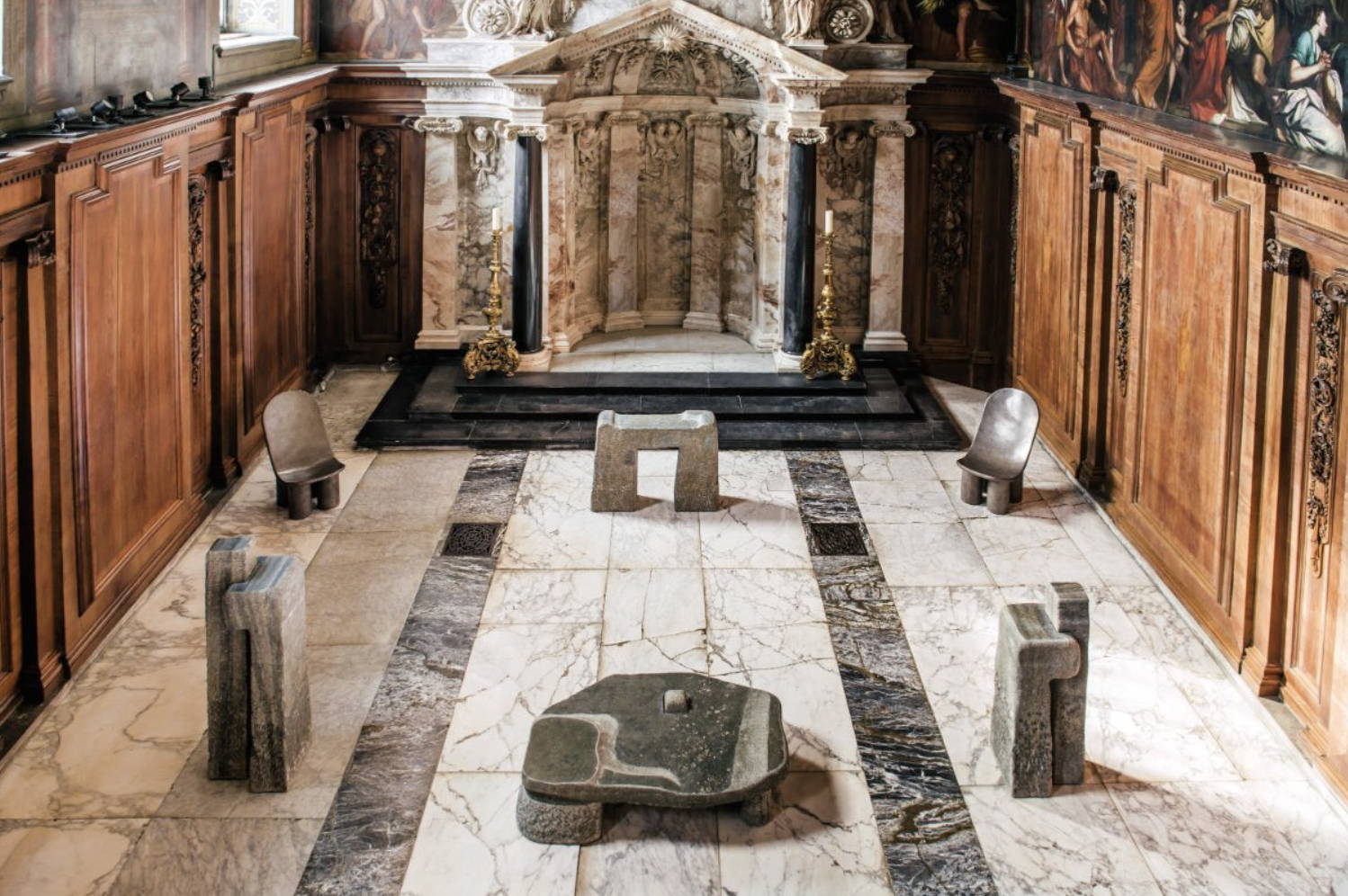 Faye Toogood, 'Standing Stones', 2023. Photography: Genevieve Lutkin
I wanted to retain the quiet, more spiritual feeling within the chapel. It felt like a very fitting space for my pew bench - an older piece, arranged amongst new Purbeck marble works inspired by Assemblage 7. For me it is a place to spend time and reflect. The tall marble plinths are works in themselves - they don't need anything on them.
Not far from Chatsworth you'll find Stanton Moor and a 4000 year old stone circle known as the Nine Ladies. There's a story that they were originally ladies who were turned to stone for dancing on the Sabbath, along with the lone fiddler who provided the music. My installation started as a dialogue with the chapel at Chatsworth House, but I love how it connects with the local history and the landscape that predates the estate by thousands of years.
Faye Toogood, Assemblage 7, Lode and Trove 02, 2023 Photography: Genevieve Lutkin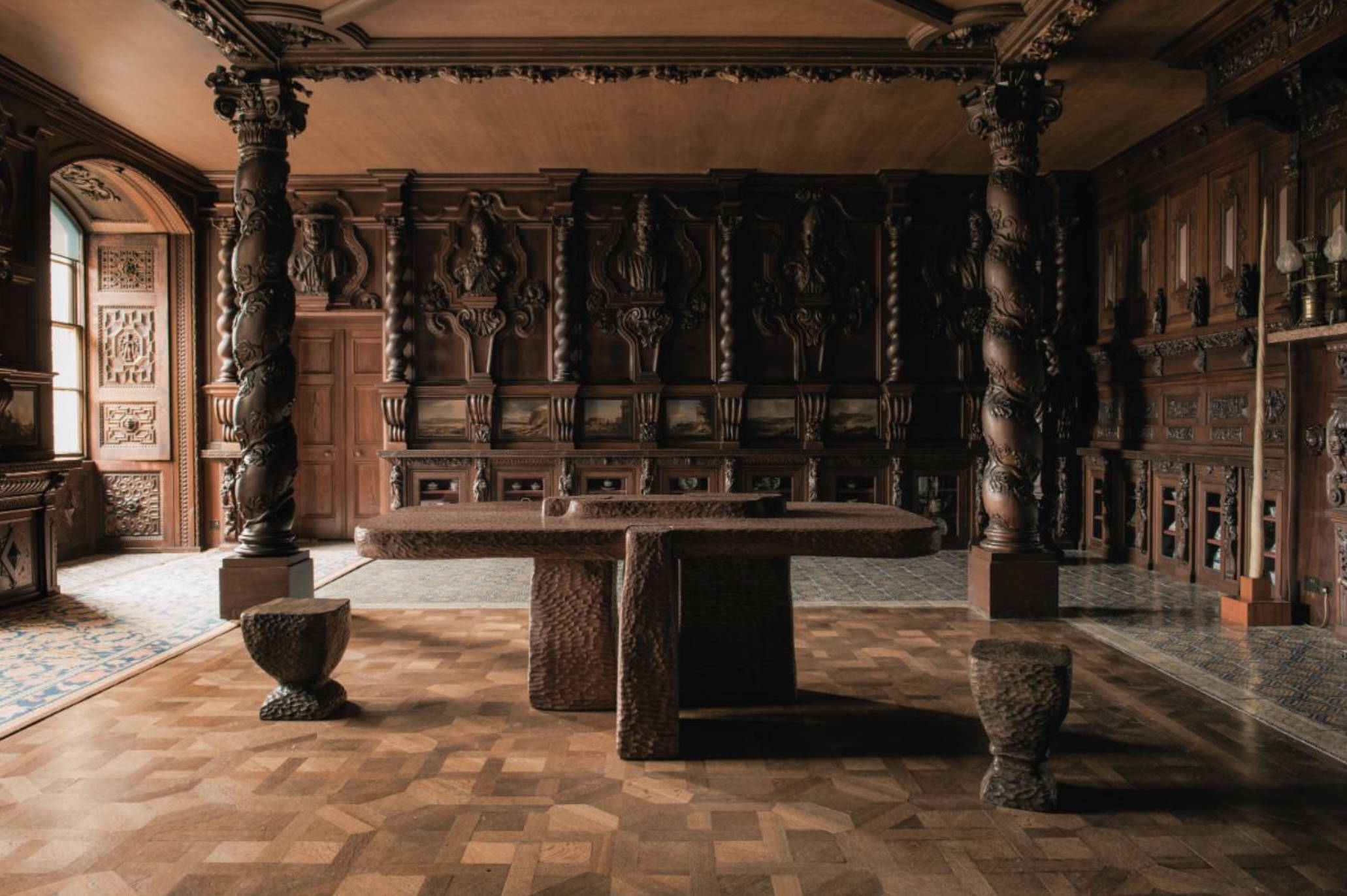 Faye Toogood, Hoard of Oak, 2023. Photography: Genevieve Lutkin
I thought the Oak Room was missing the feast, and so I've created a huge table and series of stools out of bog oak. It's such a precious material - hundreds, sometimes thousands of years old.
The pieces I have made from this wood feel incredible traditional and refined, but also primordial as if the objects have been dredged from the bottom of a peat bog. On one of my trips to Chatsworth I found out the Duke collects treen, and his collection of carved wood inspired the stools."

- Faye Toogood
Mirror Mirror: Reflections on Design at Chatsworth is delivered in partnership with Friedman Benda Gallery and with the support of Salon 94 Design and Adrian Sassoon Galleries.