November 2022
Photography: Genevieve Lutkin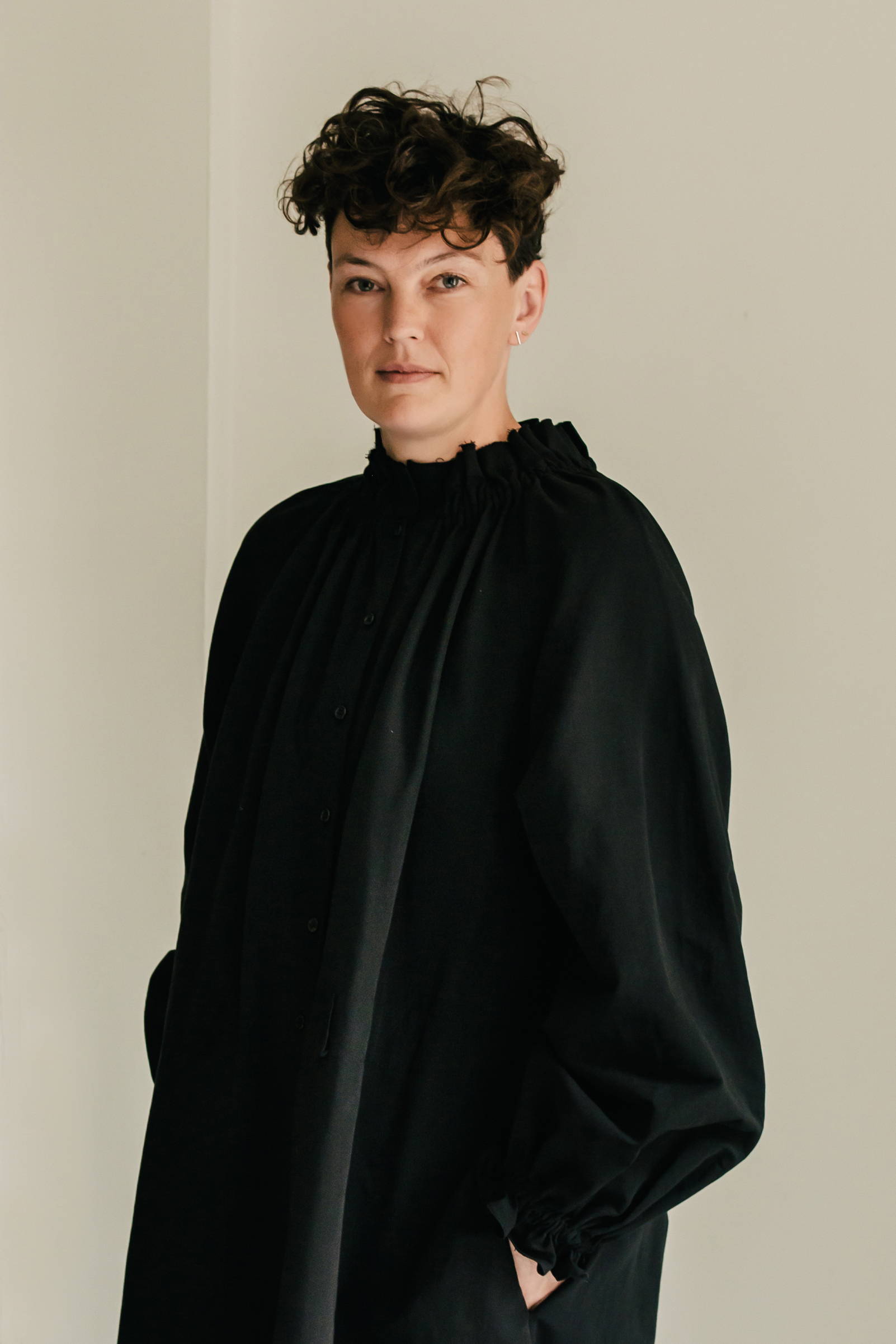 "Perhaps like you, it started with my school dress. As a girl, it's often your introduction to them. You wear dresses because that's what you are supposed to do. At my school none of the girls wore trousers. Your relationship with dresses is forced upon you from quite an early age, in a very uniform and practical sense. And I guess I still see them as that.
I love to layer dresses with trousers. I always make sure there are pockets. This season I created the Muralist which is my take on an apron. It reminds me of playing shopkeeper. When I design (and wear) a dress, I like the mix of the conventional and unconventional. Not too utilitarian, not too dressy, it has to strike a very personal balance."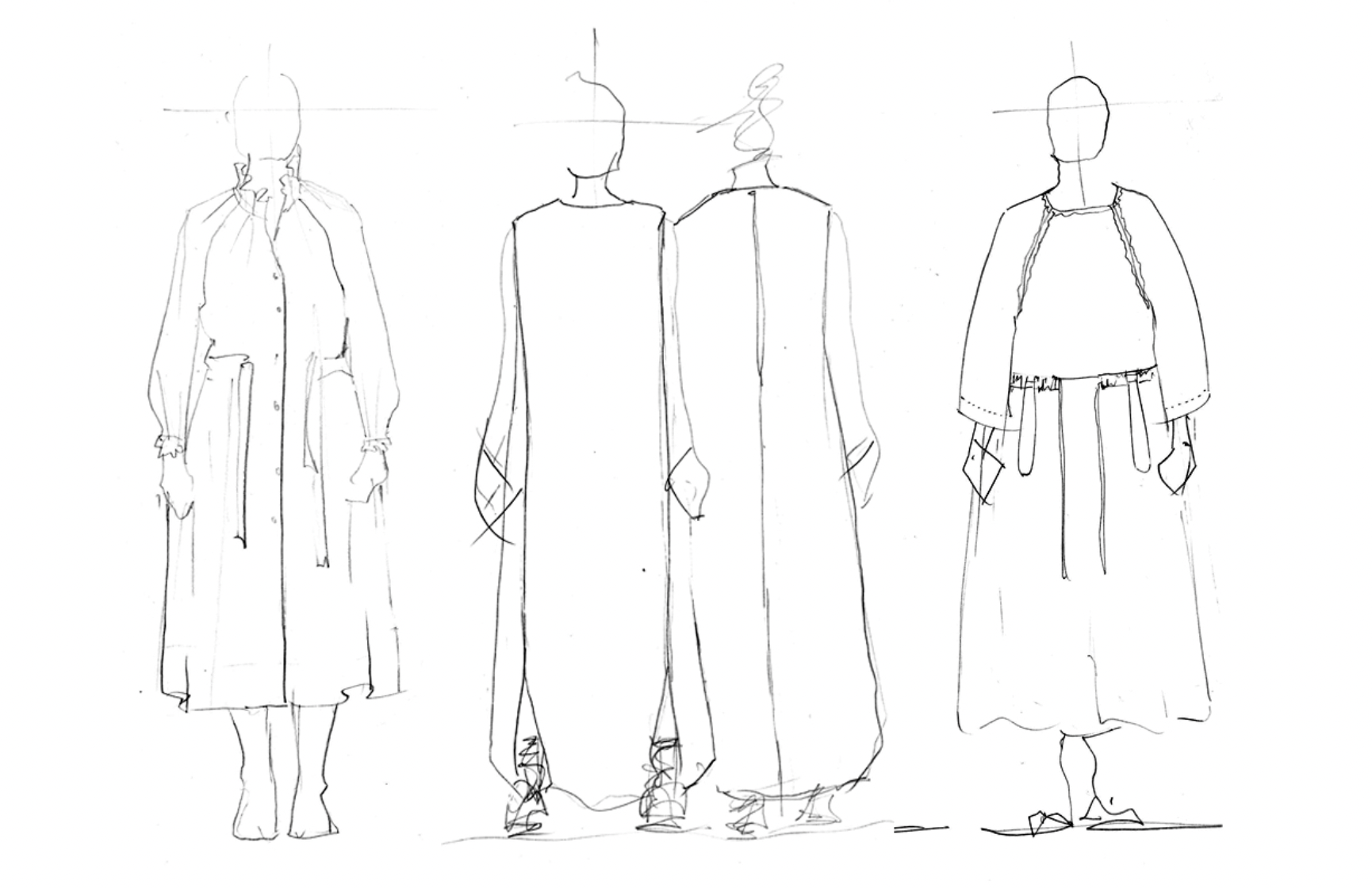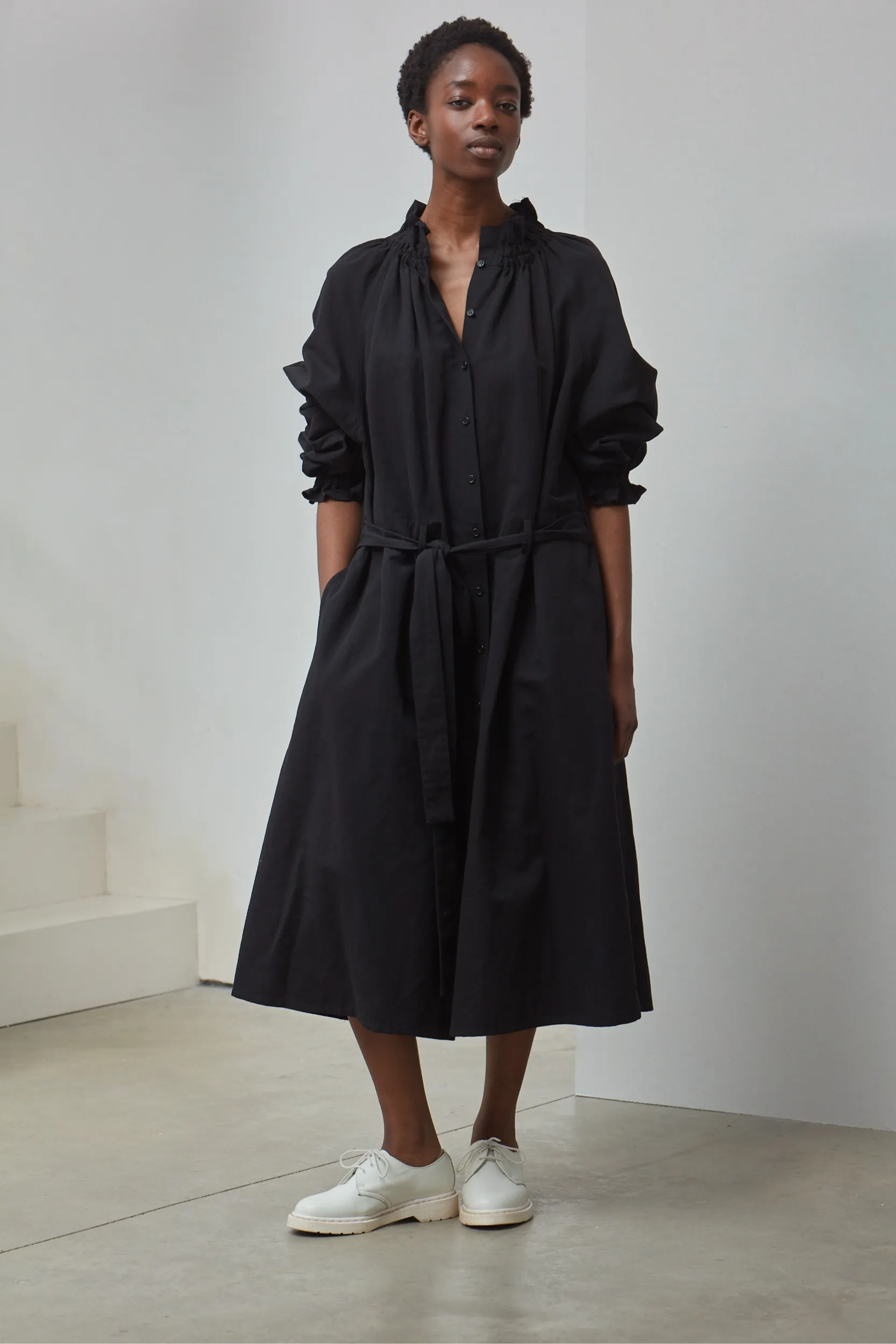 The Haberdasher Dress uses curtain tape at the neckline and cuffs to gather the fabric and give volume.
The inspiration goes back to getting picked for the Christmas play. I was much more of a king than an angel and my makeshift cape was an old pair of brown and orange curtains. Making the Haberdasher Dress with curtain tape around the neck reminds me of dressing up as a child wrapped in this dramatic cloth.
Like all the dresses I develop, this drama translates into something utterly easy to wear.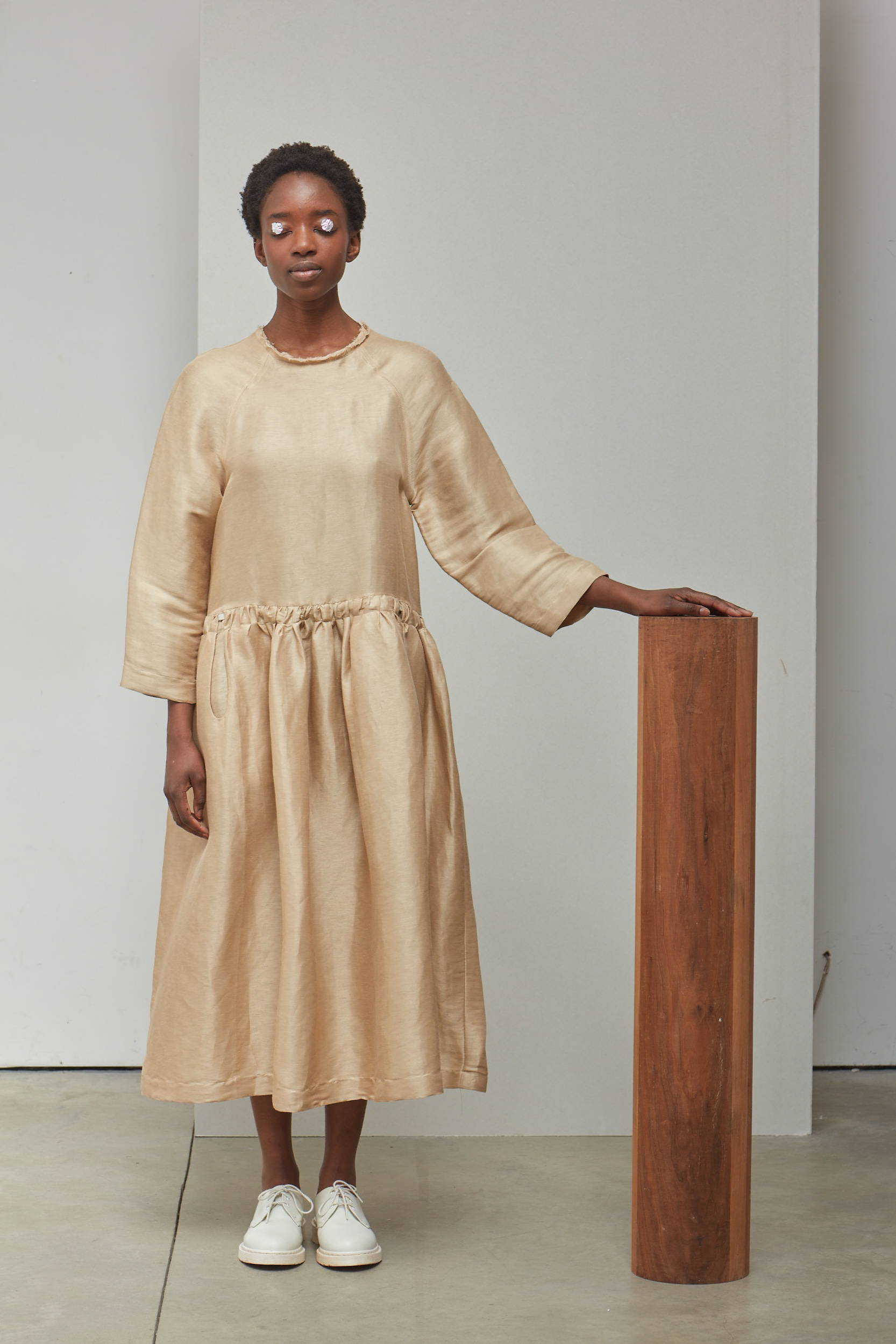 The Spinner Dress has a central circular waistband where the fabric is gathered. I wanted it to feel as if the dress was spinning, something playful, almost acrobatic. You've got a raglan sleeve and a raw edge neckline.
I think leaving the edges raw brings the wearer closer to the natural state of the cloth... like the spinner working with their yarn.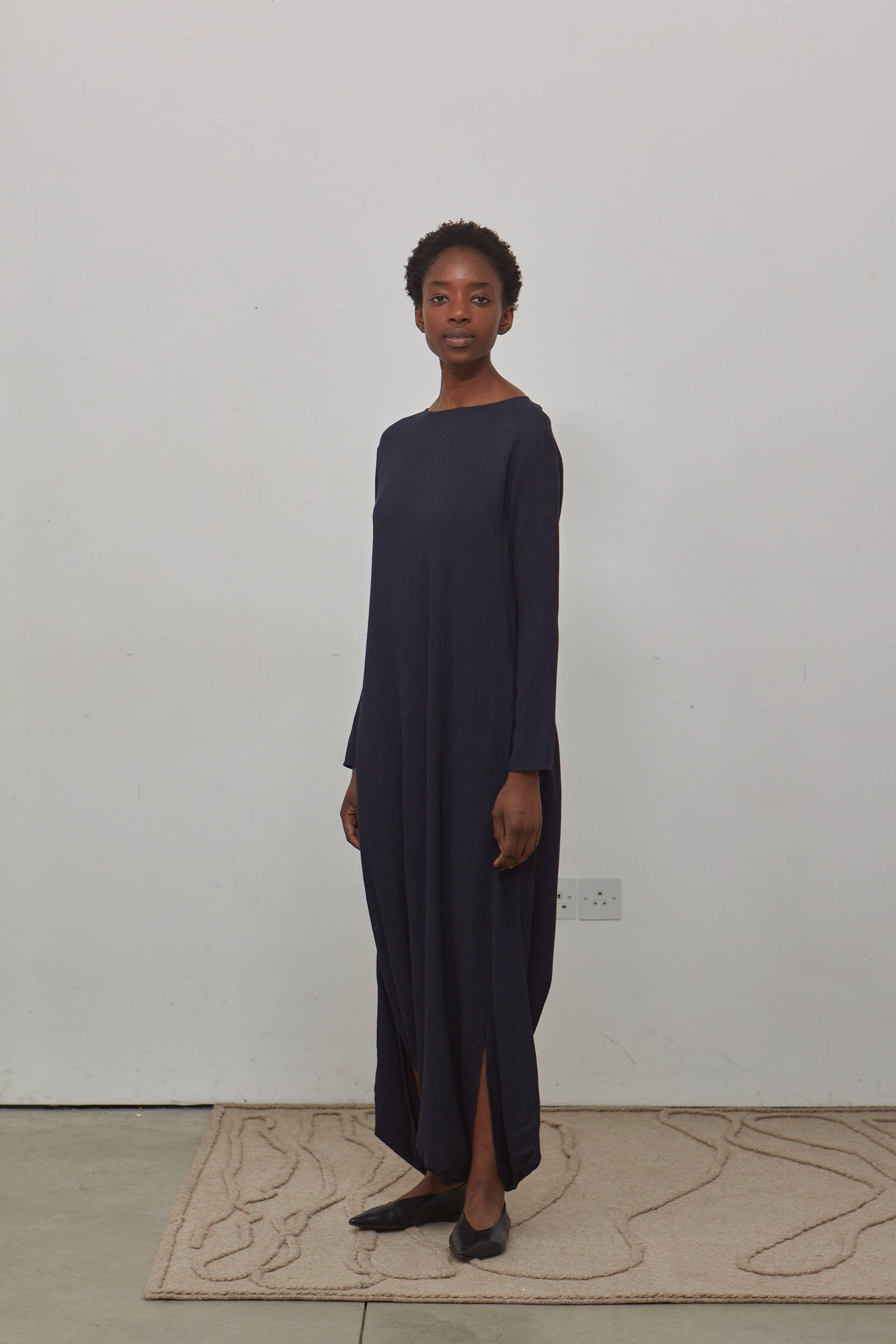 The Pianist is a wonderful hybrid. Somewhere between a dress, a trouser and a jumpsuit.
It's a column with slits for your ankles and is closed between the legs, allowing an elegant, more formal look whilst also feeling totally playful and free of being in a skirt. The Pianist has a split back neck and you step into it like a pair of trousers.
LAYERS OF DRESSING
The Draughtsman Dress is a classic that's been with us since the second collection. The ideal shirt dress. I seem to have so many of them in my wardrobe I'm sure they multiply. My essential for layering: under, in between or on top of! I like to stack them one on top of another. Any season, any occasion.
For Collection 017 I wanted to go back to that classic childhood pinafore. The Muralist is a tabard-inspired dress that you can really play with. Match with a Draughtsman Shirt in the same Fine Stripe in chalk, or wear loose over a knitted jumper. I love wearing the Muralist dress because I can be active and free, whilst still feeling dressed up.
Not too utilitarian, not too dressy... A perfect balance." - Erica Toogood