NEW YORK TIMES - T MAGAZINE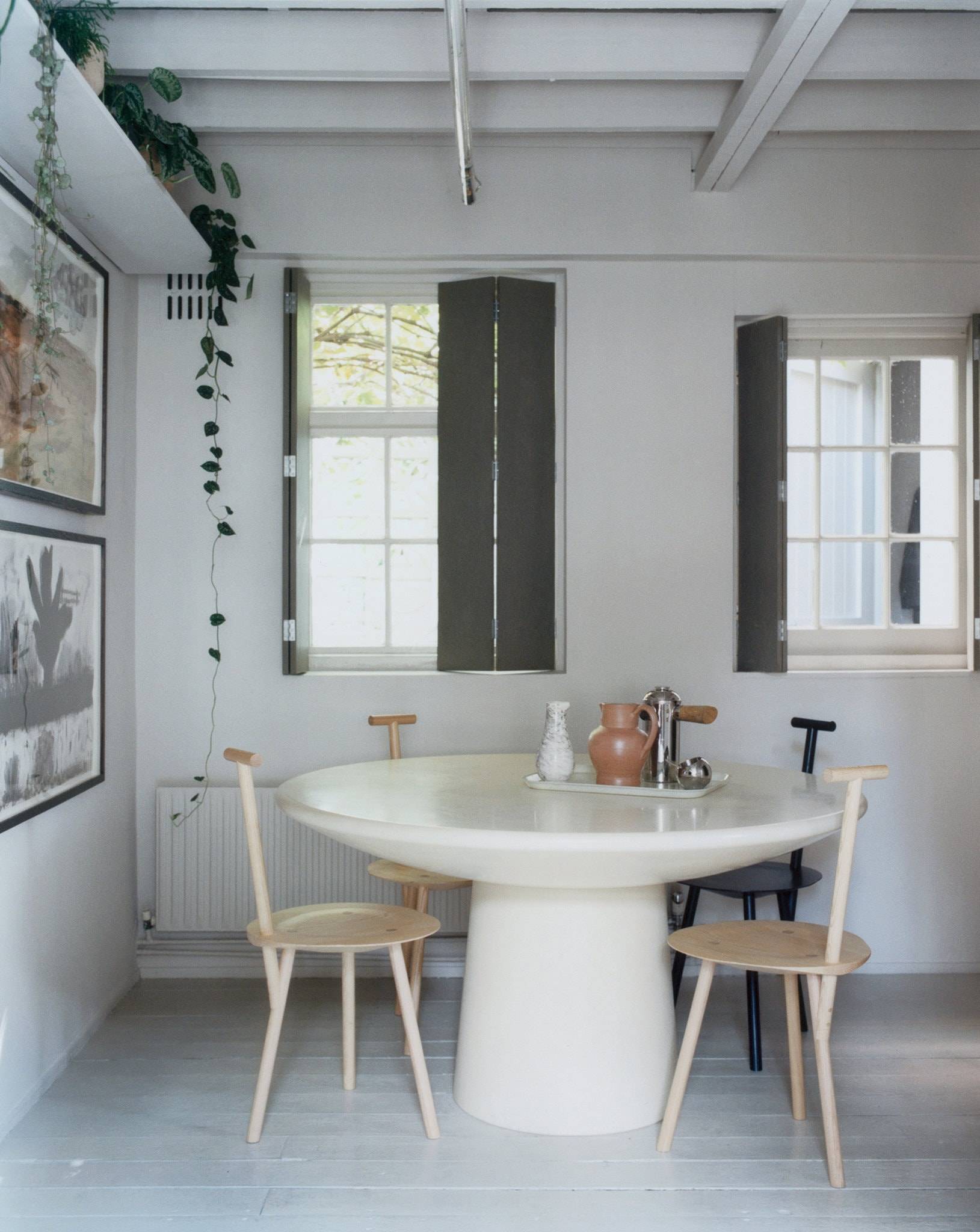 Words: Nancy Hass
Photography: Harry Mitchell
Uncomplicated beauty has never interested the designer Faye Toogood. She doesn't care about what's in fashion; in fact, she would prefer her work make you uneasy, suddenly unsure of what year it is, even what century. Such disorientation is embedded, like an alien fossil, in the oeuvre of the polymathic Toogood, 42, who has for the last decade created objects, furniture, clothing and residential interiors that seem simultaneously futuristic and prehistoric: chairs with backs like the handle of a garden spade; sparsely furnished Georgian homes with murky gray walls and metal cage bookshelves; oversize, genderless garments of boiled wool and ivory canvas. She is widely considered to be the most poetic of contemporary design's minimalists.
Further proof: the London building where she and her staff of 15 have worked since 2016, in the formerly bohemian Shoreditch neighborhood. The vertiginously thin, four-story, 1,800-square-foot Victorian townhouse had been a downtrodden squat; the landlord offered a reduced rent with a four-year lease. Many creative entrepreneurs long for a relatively permanent home to laboriously — and expensively — sculpt into a showroom, but Toogood, who spent nearly a decade as a stylist and editor at The World of Interiors magazine in the 2000s, is untroubled by potential displacement: This is the sixth studio space her company has inhabited in the last eight years. She likes moving — a quirk that may seem paradoxical in someone whose hand-wrought creations are designed to convey permanence. In contrast with the luxurious homes she designs for others, Toogood enjoys the challenge of configuring a welcoming, fertile workplace for her employees virtually overnight. Her last studio was in a loftlike former clothing factory; next time it might be inside a glass office tower. "I like things comfortable," she says, "but not too comfortable."
Despite its ephemerality, this incarnation of Studio Toogood feels like a lingering embrace, with a subtle tinge of otherworldliness. With a few coats of the same shade of off-white paint on both the walls and the uneven wooden floors, along with viny potted plants whose foliage tumbles from high shelves, it resembles the inner sanctum of a nascent civilization arising in the wake of a nuclear winter.
She painted the first floor of the building's exterior chalky black, keeping the rest of the facade its natural brick; the contrast highlights the arched windows that look onto Redchurch Street, a thoroughfare of murals and boutiques. She moved the entrance to the side — through a detached, windowless former garage — to create a wider access to the space, which also helped the facade retain its feeling of a slightly tumbledown private house.
Lined only with a plain wooden bench displaying her fat-handled mugs and chubby bowls made in collaboration with the British ceramist Olivia Fiddes, the sober entry belies the lambent space within. Toogood herself seems to be moving through a similar passage aesthetically, from dark to light. Long inspired by the moody compositions of the contemporary painter and sculptor Anselm Kiefer, her reputation was made with her sludgy interiors and furnishings — a rebuke to British designers striving to brighten things up with shiny surfaces and white walls. But recently, her work has become paler and less stormy, with more rounded, organic shapes. In 2017, she gave birth to twin daughters, Etta and Wren (she and her husband, Matt Gibberd, an architecture writer, also have a 6-year-old daughter named Indigo). And she acknowledges that caring for small children may have given her a more sanguine view of the world. "Whether you like it or not," she says, "you find yourself reverting to a kind of naïveté."
A stone path speckled with ferns in a raised bed connects the entry to the main house. Inside, through thick wooden double doors, the ground floor's two adjoining parlors have been turned into a spare retail space, the first Toogood has operated. Racks made from metal poles embedded in meteorite-like chunks of cement display the garments she makes in the small atelier on the building's top floor with her sister, Erica, a master pattern-cutter. The fabrics change by season — vulcanized rubber, hand-spun alpaca, diaphanous organza — but the genderless shapes, based on preindustrial work wear, with sobriquets including the Beekeeper and the Sculptor, have been constant since the line debuted in 2013. (Its retailers include Dover Street Market in New York, London and Tokyo.) In one corner is a Roly-Poly lounge chair in bronze; her signature seat, it resembles an ice-cream scoop carved from the bottom half of a baby rhino and is made in materials from aluminum to cast glass. Nearby, on a low bench, are stacks of jeans in four styles, origami-like in their stiffness, which the designer has sewn from British denim milled in the north of England.
The room that passes for an office — a 7-by-10-foot book-lined study — is visible while you browse the apparel. Design clients and the occasional shopper are invited for tea in the kitchen a few feet away, where the streamlined electric kettle designed by Denmark's Holmback Nordentoft boils near a black-and-white checkerboard stone sink that Toogood found in a salvage shop. It's installed in the stone counter's nook, cut to fit but not entirely secured to the wall. The floating effect is as visually pleasing as it is practical: Once the lease is up, it can be removed and loaded on a truck bound for the next Studio Toogood.
Climbing the stairs to the workrooms above is precarious: The creaking wooden treads are treacherously narrow, and the building gets smaller, with lower ceilings, as you ascend. One flight up, a handful of designers work on computers in a bedroom-size space, and on the next floor is a room crowded with dollhouse-size plaster maquettes of furniture to be built, its ceiling-high shelves arrayed with tiny samples of Toogood's preferred materials: rough stone, smooth plaster, metal grids. At the top of a final set of rickety stairs, atop a refectory table that takes up virtually all the floor space, Erica and her small staff cut through thick rolls of waxed cotton and tarpaulin for the clothing collection's upcoming season.
As intimate as this version of her studio may be, Toogood confides that, mentally, she has already moved beyond this warm white womb. For the first time, her next collection of furniture and objects will incorporate color, including a reddish purple and — she blushes as she says this — "pink-pink," a shade she calls calamine. "You change, you know?" she says. "The beauty of it is that you go places you never thought you would."
See the full article in-situ here.