Celebrating like-minded creatives and progressive thinkers who, like Toogood, refuse to be labelled. Maya Njie wears pieces from Toogood Collection 015.
In a top-floor sun-soaked studio in East London, Maya Njie is conjuring lost time. The red cedar forests of Västerås. Sunscreen melting on your skin in the Gambian heat. A secret toffee produced from Grandad's tobacco-lined pocket. Sensory stories told entirely through smell, that are so evocative they might be films projected across the simple brick and whitewash walls.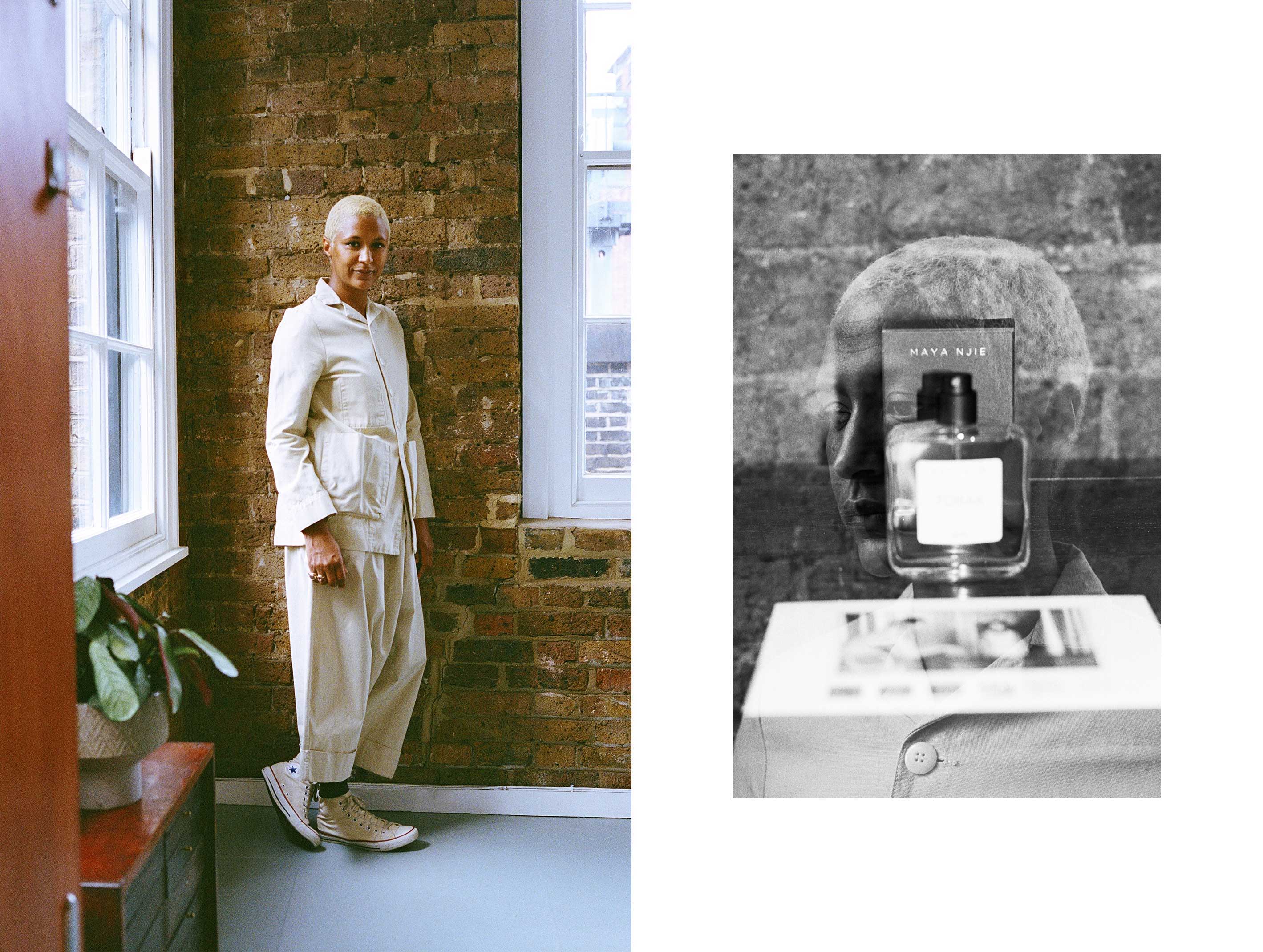 "I think it's to do with synaesthesia" says Maya, spritzing a cloud of Uncle Lars' and Aunt Erene's wedding. "I smell something and I can experience it as colour or a musical note. I have always needed to smell things. Anything new that I see, I have to smell it. A book, a piece of clothing… As a kid I'd spend ages smelling all of the detergents in the supermarket. I loved the smell of soil. Mushrooms. Beetroot. Anything damp that's pulled out of the ground."
Maya Njie is an entirely self-taught perfumer. Although a life-long sniffer, she began to really explore the narrative potential of scent whilst putting together her final degree show. "I studied surface design at University of the Arts. I did a lot of textile printing, traditional photography, bookbinding, wallpaper printing, that kind of thing. And I really loved being in a creative environment. Working visually made a lot of sense to me, and it gave me a lot. But it felt like something was missing."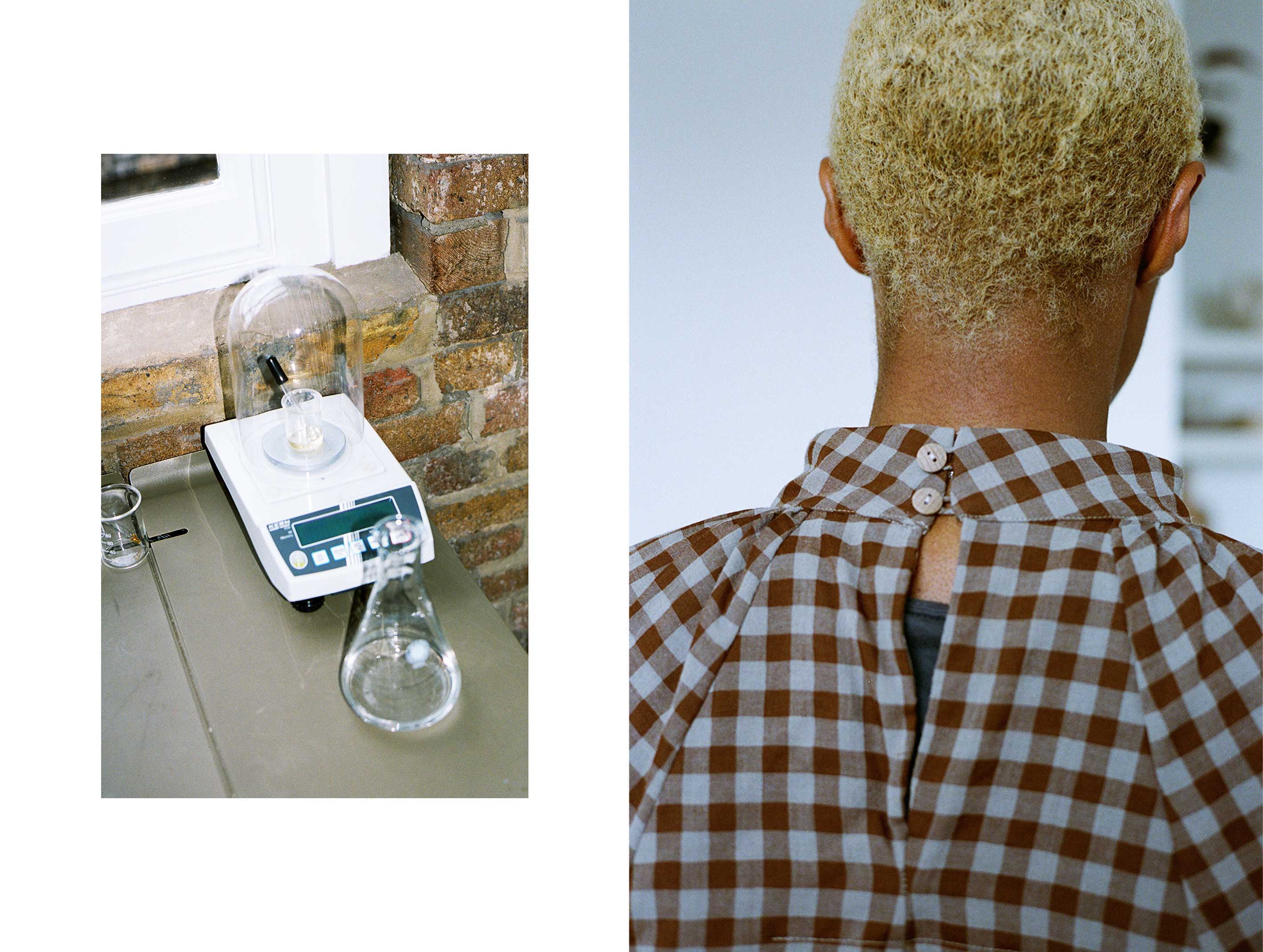 Maya was developing a collection of childrenswear with prints and fabrics inspired by her Swedish and Gambian heritage. The colours for these textiles came from old photographs from her family album. "Being inspired by these images and working with colour and pattern was natural for me, but then I wanted to put a smell to it. It didn't feel like it was complete until I could tell a story through olfaction."  
The family photographs, and their unexpected colours, are still at the heart of her process. Scrolling Maya's Instagram, you'll see 35mm film images underlined with a swatch of carefully extracted hues. One such palette (ginger, olive, salmon and cream) accompanies a photograph of Maya's kitten with the following caption: Who does not love the smell of their own pet? Cats have 9 glands and 'most' of them emit pleasantries, especially ears and paws. Viggo here has a 'scent profile' within the realm of buttered popcorn and fruity sweetness. Felines actually share compounds with blackcurrants. Rather cute (in smaller doses.)
Maya Njie's family photographs – the inspiration for Nordic Cedar (top left), Tropica (top right,) Les Fleurs (bottom left) and Vanilj (bottom right)
The building blocks of Maya's first perfumes were the ingredients. Or rather – the hunt for them. "It's not always that easy to get a hold of ingredients in small quantities. I first found people who would sell me samples, and I would experiment with those. Neal's Yard was also great for building up that first library of scents. Bartering and growing slowly, like all aspects of the business. Each time I've taken on a new shop and made some money, I've reinvested it."
The first fragrance was Nordic Cedar – a celebration of Maya's birthplace Västerås. "I knew that I wanted to work with cardamom. That was like the ultimate ingredient for me. And then I wanted everything else around it or underneath it to be about Sweden and Scandinavia. Cardamom and cedar wood were the cornerstones. And then the patchouli came in, the musk, and the ambergris. It's a woody, spicy fragrance that gives me this feeling of openness, like the kind of the feeling that you get when you're in a big forest."
How, or where in the process can a smell give such a sense of space?
"I think it's to do with memory and the connection that you have. So, if someone grew up where there are lavender fields, maybe smelling lavender will give them that sense of opening. Whereas to me lavender is a bit stuffy, like the day-care room where we used to make lavender bags. I never liked it!"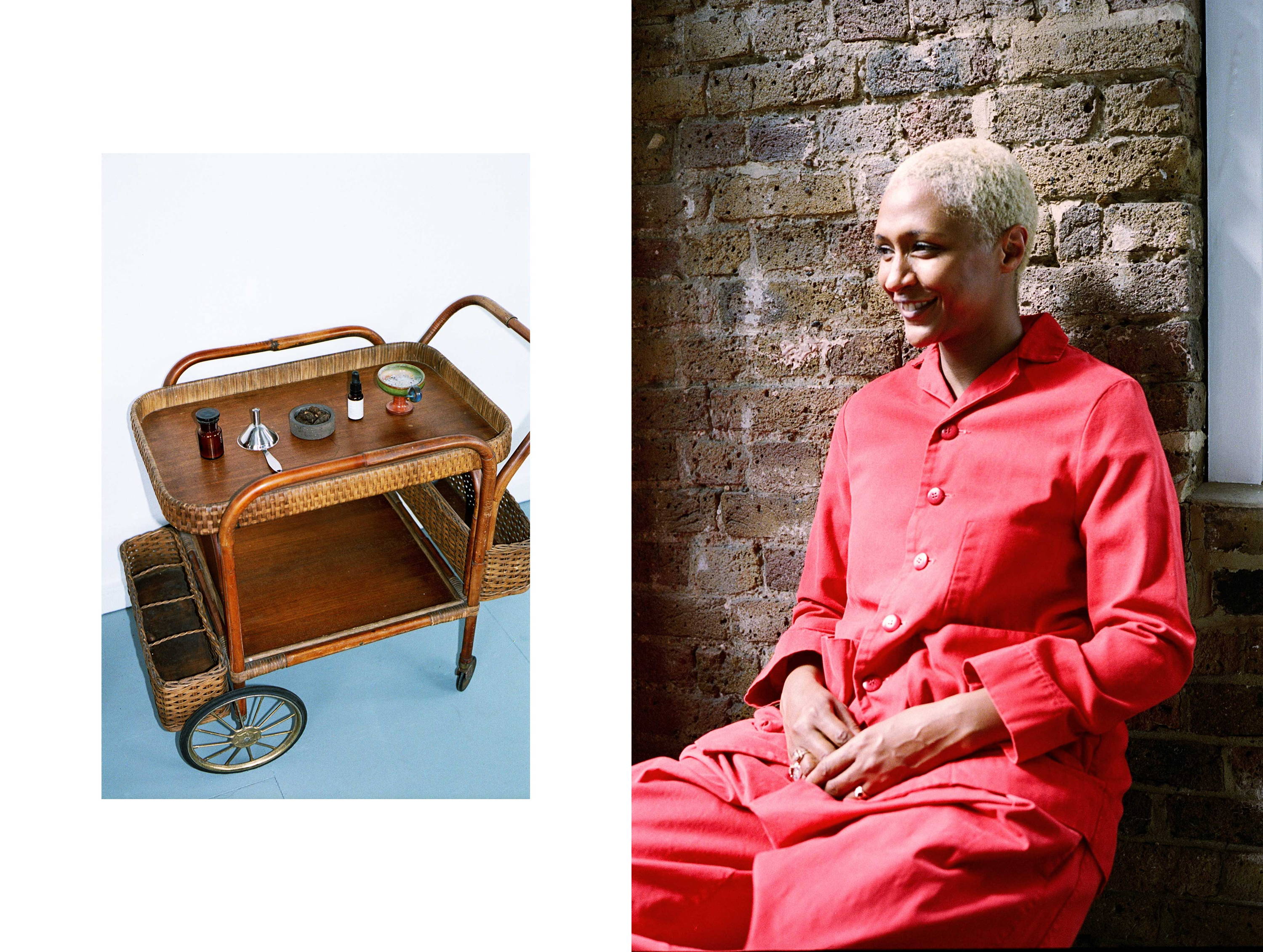 A lot of creativity can unfold when we explore that uncomfortable space between good and bad taste. For Maya, sweet toffee and candy smells are a struggle. "My fragrance Tropica was made with Gambia in mind but essentially it's a sunscreen fragrance with a bit more sophistication behind it. The opening is pineapple and citrus, orange so it's really bright, sparkly and fun – like a fruity pina colada! But then the middle is more about coconut and Mediterranean fig, so that spark mellows down. It's warm coconut with floral nuances. A bit of iris and hints of rhubarb as well. And then the dry-down is a woody, musky, ambergris smell. Tropical landscapes. For me it's Gambia, but for you it might be somewhere different."
Gambia and Sweden are the two roots that snake through all of Maya's creative work, nourishing and endlessly inspiring. There is a brightly coloured Gambian basket on her shelf that she treasures. And at home a huge Husqvarna iron pot that she likes to cook mushrooms in. Maya describes the scent of Gambia hitting her when stepping off the plane. "The best way to describe it is a smell of bonfires, like in the autumn. Farmers burning leaves, preparing the land for harvest."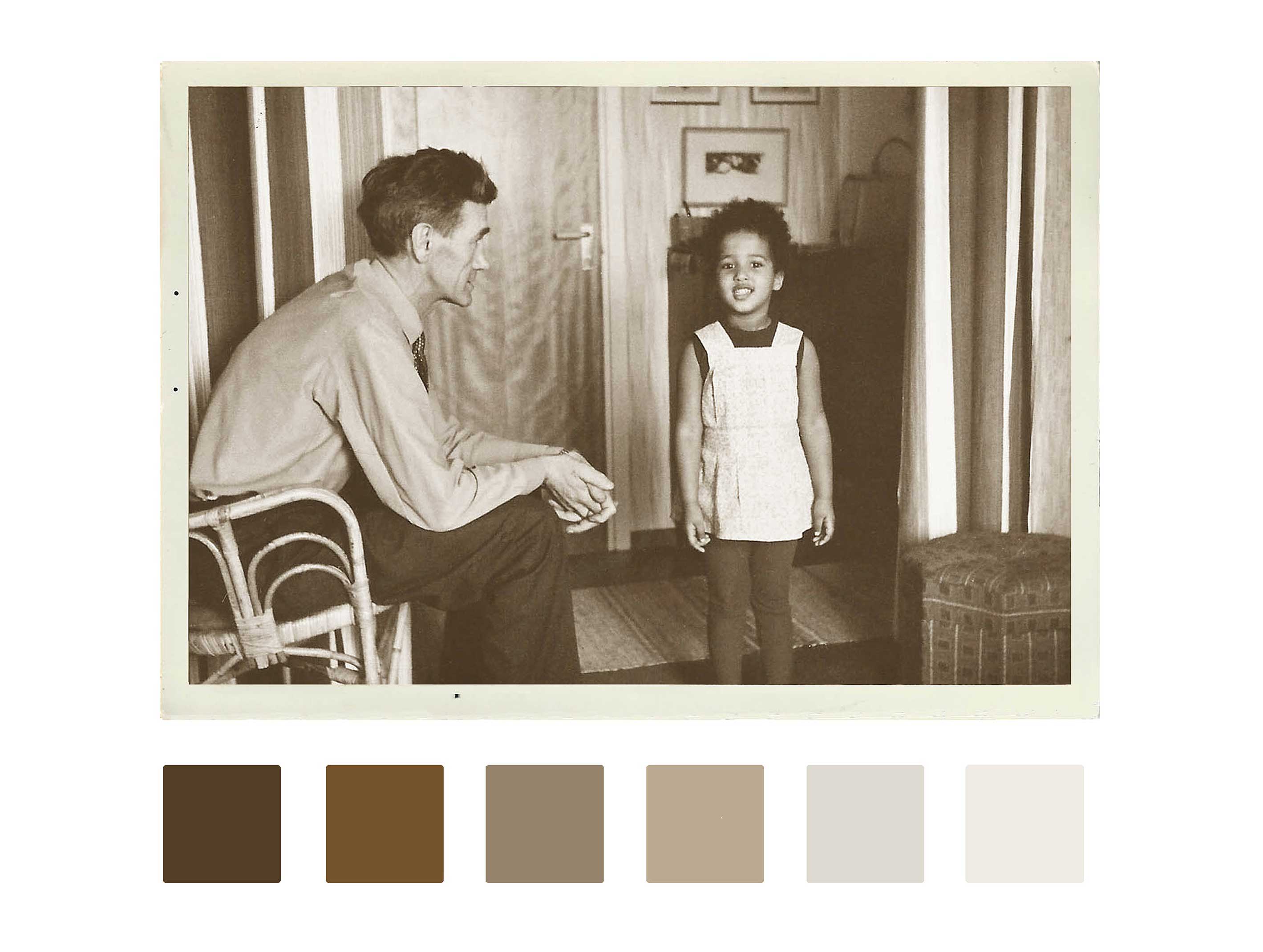 Maya Njie's grandad and sister, the inspiration for Tobak
In the studio is a wicker trolley that Maya bartered from a guy on Brick Lane for 30 pounds, back when her daughter was still in a pram. "I had to take it home, with the pushchair, on the D6 bus back to the Isle of Dogs, bartering again with the bus driver to let me on. It gives me a lot of joy; I love the shapes of it – the bent bamboo and the wood. It looks good anywhere." Maya fetches a handful of marble sized seeds from the trolley. Rolling them between your fingers they have a gentle vetiver scent, which is amplified when they are burnt on coal. "When you buy these in Gambia, you can buy them plain, or you can buy them saturated in fragrances. They come from grass that grows along the Gambian river." They are part of a project Maya is currently working on, along with a vessel for burning them. There is also an unlabelled bottle of work-in-progress that hints of citrus and suede. All developed slowly, organically, in-house and by Maya's own rules. In industry terms, what she does is labelled niche.
"I think there're a lot of brands out there that get categorised within the niche bracket, but are owned by a huge conglomerate. For me niche is independent, creative, maybe boundary-pushing. There are brands that are way more boundary-pushing than I am but maybe I'm niche in the sense that I don't have training and my background is different. I'm a black female in the perfume industry, and I've pushed through without having any kind of big commercial backing. People can be niche for different reasons. For me, niche means many things. I think it means being independent. I think it means being in control over your creativity."