No Labels | Peanut Vendor
NO LABELS
THE PEANUT VENDOR

Celebrating like-minded creatives and progressive thinkers who, like Toogood, refuse to be labelled. Becky Nolan and Barny Read, founders of the retro furniture and design store, The Peanut Vendor, wear pieces from Toogood Collection 015, and talk to Toogood as they embark on designing their new home.
This sunny Sunday morning Becky and Barny got showered 'round the neighbours'. The design magpies have just moved into their first non-rented home and despite a boiler-on-the-blink the mood is optimistic. "We're going to be camping out for a bit" beardy Barny smiles. A temporary coat of white paint offers a blank canvas backdrop for the couples collected treasures: Anonymous vintage ceramics rubbing shoulders with stoneware pots made by Becky. Some 60s modular shelving. An ensemble cast of carefully chosen chairs.
Becky wears the Woodsman Jumper in flint and Barny wears the Explorer Jumper in flint
TALKING SHOP
So where does the name come from?
Becky: The Peanut Vendor? Well at first it was about trying to find something that was…
Barny: Ambiguous.
Becky: Yeah. Ambiguous. It was about 15 years ago when we opened The Peanut Vendor and vintage was very much what was going on at the time. We liked the idea of a curios shop that you walk into, and we wanted a name that drew people in. In Barny's record collection we found a Cuban jazz LP called The Peanut Vendor and we were like, okay, that'll do.
Barny: Sometimes we wish it was a bit more minimal and we'd maybe been a bit cooler.
Becky: What we didn't want to do is be specifically 60s or furniture based.
Barny: At first we were more of a traditional shop, with a shop front. We started in 2008 and had our tiny one-window shop for 8 years. Now we have about ten windows and they cost a lot more money because you're taxed on each one!
Becky: We don't really run it as a shop anymore. It's like our studio. We're turning over much more stock these days, constantly working on stuff, constantly photographing. It can turn into a bit of a storage facility, so it's kind of funny, we've got lots of shop windows and we don't want anyone to look in them - it's a mess!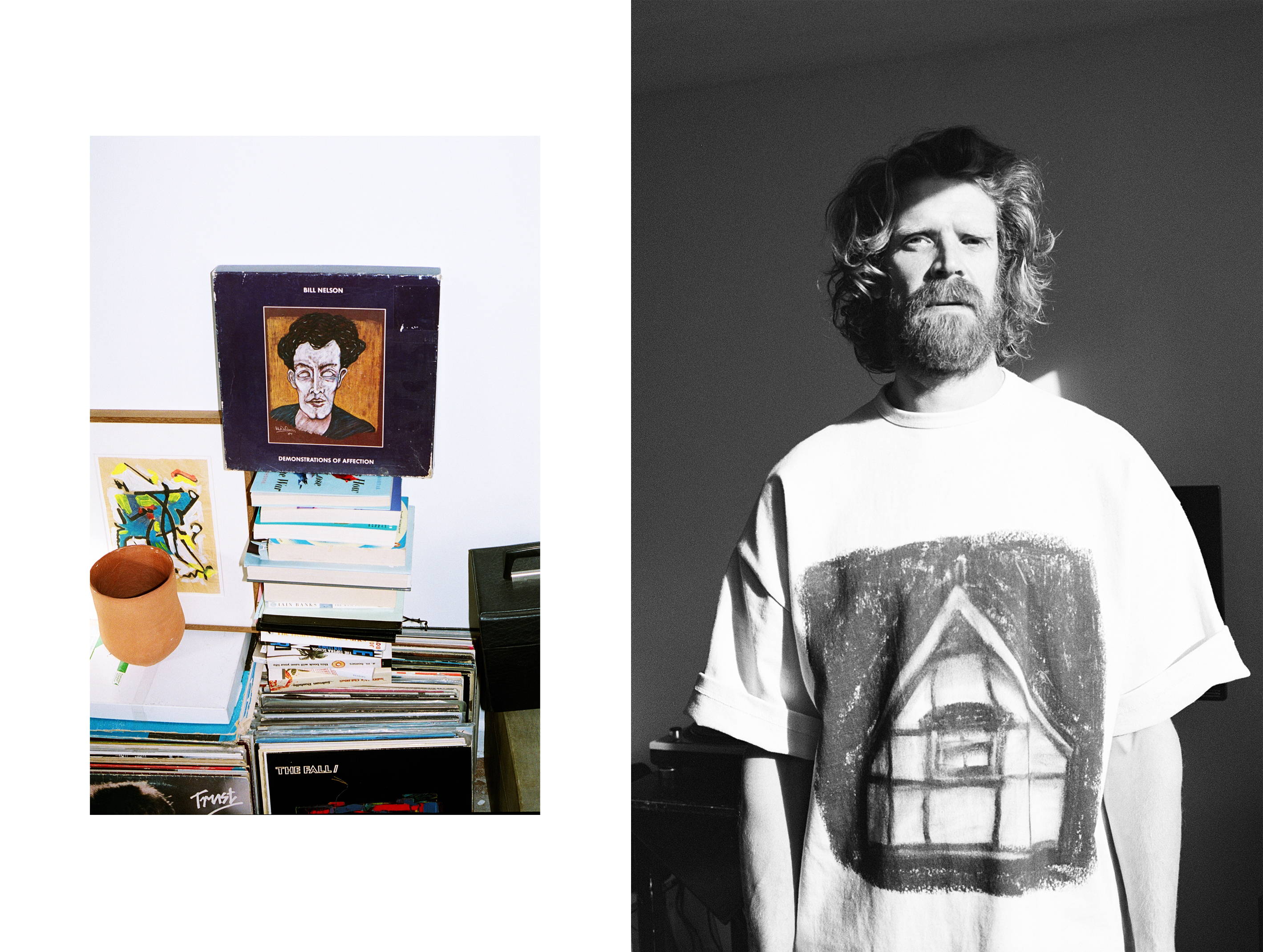 Barny wears the Shearer T-Shirt
What was it that got you both going at the start?  
Barny: The main catalyst, was wanting to do something for ourselves. We were both into furniture. And we both liked design. And we thought let's give that a go.
Becky: You were a record collector. I had like a thing for radiograms.
Barny: For me, records got me on the path of hunting and gathering. There was one particular Bob Dylan record that came with a Milton Glaser print – where the hair kind of spells out Elvis. So we got started with markets, car boots… anywhere you could go and find a bargain. We really put it together on a shoestring and we were definitely learning on the job. Straightaway we wanted to be online and we want our website to be constantly changing and moving. This is something other dealers weren't doing.
Becky: We wanted to keep busy and turn the stock over, we didn't just want to be sat in a shop, waiting for really expensive furniture to never sell. A couple of times a week we would get up at two o'clock in the morning, drive to the other side of the country and do a market, come back at seven o'clock that night. Freezing cold, loads of walking, hardcore rummaging… we loved it!
Vintage Furniture at The Peanut Vendor
Nothing nurtures a collectors soul better than a good rummage.
Barny: Exactly. We still do it now, but in a slightly different way. I feel like we maybe don't do as much research as some of the other dealers out there. I've got to be honest about this man, because it's so true, but I feel like if you know too much about something it can be a bit of a curse! Some of our favourite pieces are things that we don't know who's made them, like this table over here. It's not stamped, it's not by a designer, it just looks great. It's beautiful, it's lovely, it's old. And you know, it's been made by someone with a good eye.
Instinct is so important with any collector. Tastes change.
 Barny: We also get very bored of stuff quite quickly. Early on we were buying a lot of Ercol and it got so popular, it could have been our whole business just selling Ercol. But that wouldn't be exciting for us at all.
What is the other's weakness?
Becky: With Barny I would say it is the bananas, crazy pieces… something quite wacky.
Barny: I definitely like to have a bit of fun in interiors, sometimes it can get a bit serious and a bit too stale. What is your weakness Becky? That's difficult. What're you a sucker for?
Becky: Good quality low price design! [both laugh]


Becky wears the Shepherd Shirt and the Baker Trouser
What's something that you've totally changed your mind on?
Becky: I mean, the 80s was so repulsive to us, wasn't it? A decade and a half ago… and now actually, not so bad.
Barny: Yeah, like the Memphis period. I guess The Peanut Vendor has always has been very eclectic and open to most design really, from most eras. It feels like not much is out of bounds, off the table, in terms of what we put together.
What are you both excited by right now?
Barny: I feel a bit more of an urge for more colour at the moment. Everything went very natural, which I love, don't get me wrong, but everything started to look the same.
Becky: I agree with that. We've been like putting together ideas and designs for this place, and we are, for the first time going to make it colourful. It feels really exciting stepping into colour the world is your oyster with the amount of options you have.
Barny: I think going over to Italy has opened our eyes to a lot of colour. A lot of our buying has been over in France where there's a distinctive look - quite natural, a lot of wood, which is great. But then you get yourself over to Italy and see the 70s and 80s pieces…
Becky: The velvets and plastics and colour and texture. We just did a huge buying trip there, and when we were unloading the van after It was all delivered, oh my god, it's just so loud!
Barny: It did look pretty mental. Willy Wonka's. We then broke it down and put it into little collections, and it was the crazy stuff went first.


Barny wears the Blacksmith Jacket and the Gamekeeper Trouser

HOME MAKING
This place is a blank canvas right now. Have you guys stripped it back?
Barny: Yes.
Becky: My theory is, it has to be unpleasant enough to spur us on to actually get it sorted! Let's take away what we don't like, paint everything else white.
Barny: We donated all the carpets and tore down this crazy wall that was in the middle of the window.
So is there a big plan overall, or is it one thing at a time?
Becky: We'll do upstairs first, the whole upstairs, and then we'll deal with downstairs because that's going to be a bit more expensive. We're in the process of drawing up the plans and getting the materials ready.
Barny: Upstairs we're going to go carpet. A nice luxurious kind of carpet throughout the whole floor, and we've been experimenting with colour. We want to make it warm and cosy up there. We're thinking about keeping most of our artwork upstairs as well and downstairs being quite minimal. Just some sculpture and great lighting to create nice shadows.
Becky: I like the idea of each floor being the same tone, but different materials so you have a mix of textures. Upstairs we are thinking a deep, rich, dark, rusty red. In our last flat, we ripped up the carpet and there was a concrete floor and we put clear epoxy resin on it, which made for a quick, polished concrete look, and it's that uniformity of surface on one level that gives the illusion of lots of space.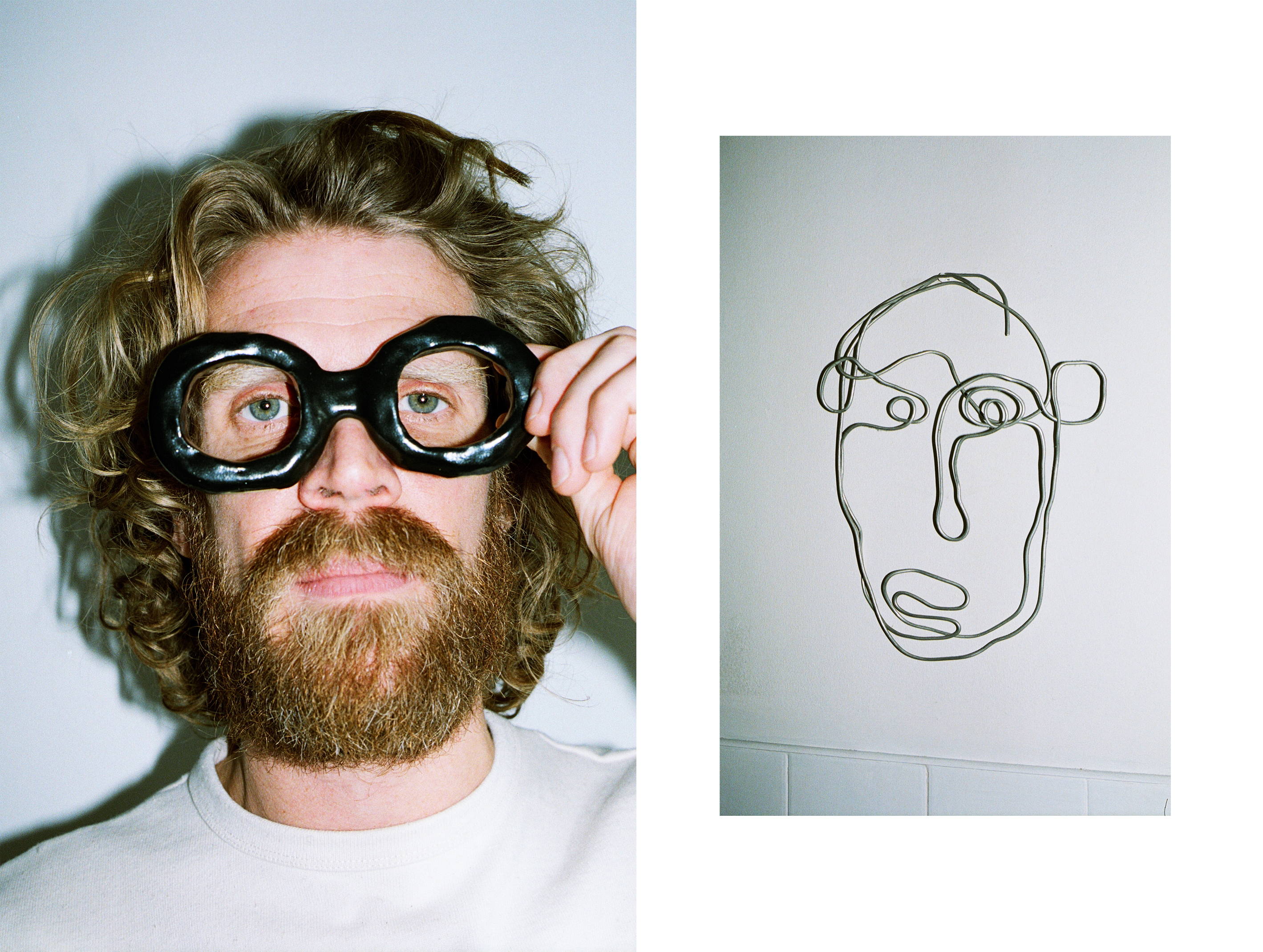 Who is the cook and what is your dream kitchen?
Becky: I'm the cook. Dream kitchen… I've been enjoying having all my pans on hooks so I can just grab something. I want a nice big range with a wok fire in the middle. We are going to have a custom made stainless steel kitchen, so it's off the floor.
Barny what are you most excited about?
Barny: Getting my records all nicely stored away, is going to be good. Wherever we have lived, after a few months you start to realise how the space actually works. Sometimes I think you can make changes too quickly. You realise that oh, yeah, we obviously need somewhere to put shoes and coats when you walk through the front door. As much as we would like to keep things sparse down here, getting home from a dog walk with muddy boots… you need to stuff them away somewhere.
Becky: It's just really exciting - for so many years, we've admired cabinetry and design details that are permanent, that we could never put into a rented property. Now we're going to be able to really express ourselves, which is great fun.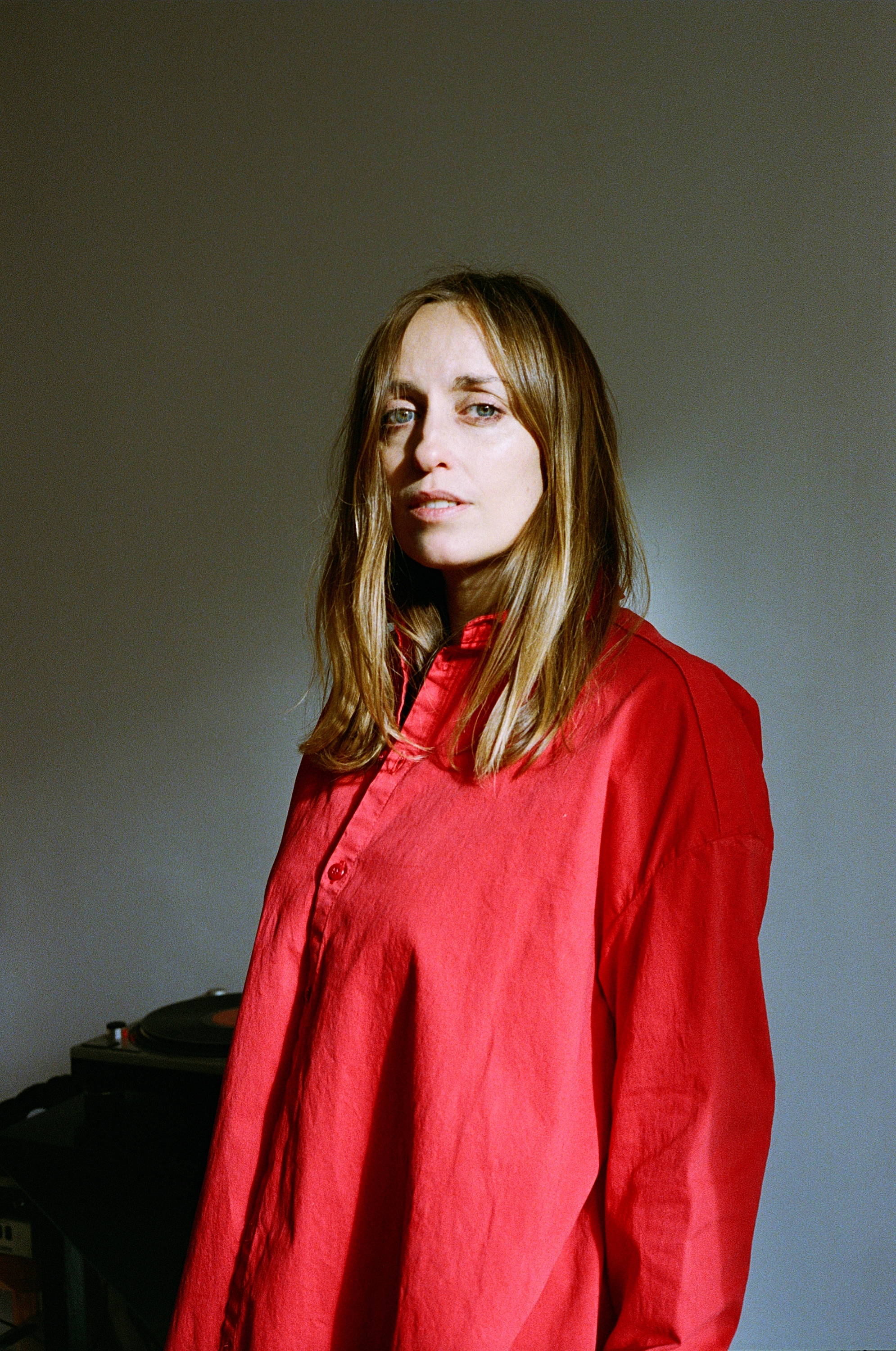 Becky wears the Draughtsman Dress

GONE POTTY
Well we have talked about pans, now Becky how about your pots?
Becky: So that was a lockdown project that got out of hand! I did a course at Turning Earth a couple of years ago as a birthday present. We did it together and then nothing really happened, and then in lockdown for a while we were really busy. People were at home, looking at their houses and wanting to buy furniture. We couldn't go out and buy anything and so after a while we ran out of stock and became really quiet. I ordered some clay and just like, you know, every day did a few hours. It quickly became more full-time! I started a bit of a self-indulgent Instagram account so I could put it out there, and then it just got really serious, with people wanting to buy them and I needed to be able to make more, more quickly. And so I ended up buying this enormous shiny kiln which is…
Barny: It's quite an amazing looking thing, it's great.
Becky: I was wondering if it was a sort of midlife crisis, like a Ferrari at The Peanut Vendor. It's really been a bit of a game-changer for me, it's so nice to have something for myself that's creative. And I just love the process. Well, it's just incredibly therapeutic. Like everybody who does ceramics says.
Barny: There was a point before Becky started selling them, where the flat was slowly filling up with pots, growing in every corner. I was loving it.
So what is next for the ceramics and The Peanut Vendor?
Becky: Well, we are currently planning a group exhibition at The Peanut Vendor for 2022.
My friends Roxy and Gus are running it, and I will be in it alongside another ceramicist and a painter. So that's quite exciting, we have never really done that there, partly because we don't generally have enough wall space. We don't have any more space, but we're gonna make some by building some walls.
Barny: You know, it's been so long since we've been really able to organise anything eventy. It will be nice to bring people together.