The Pattern Cutter: Erica Talks About Her Trade
THE PATTERN CUTTER:
ERICA TALKS ABOUT HER TRADE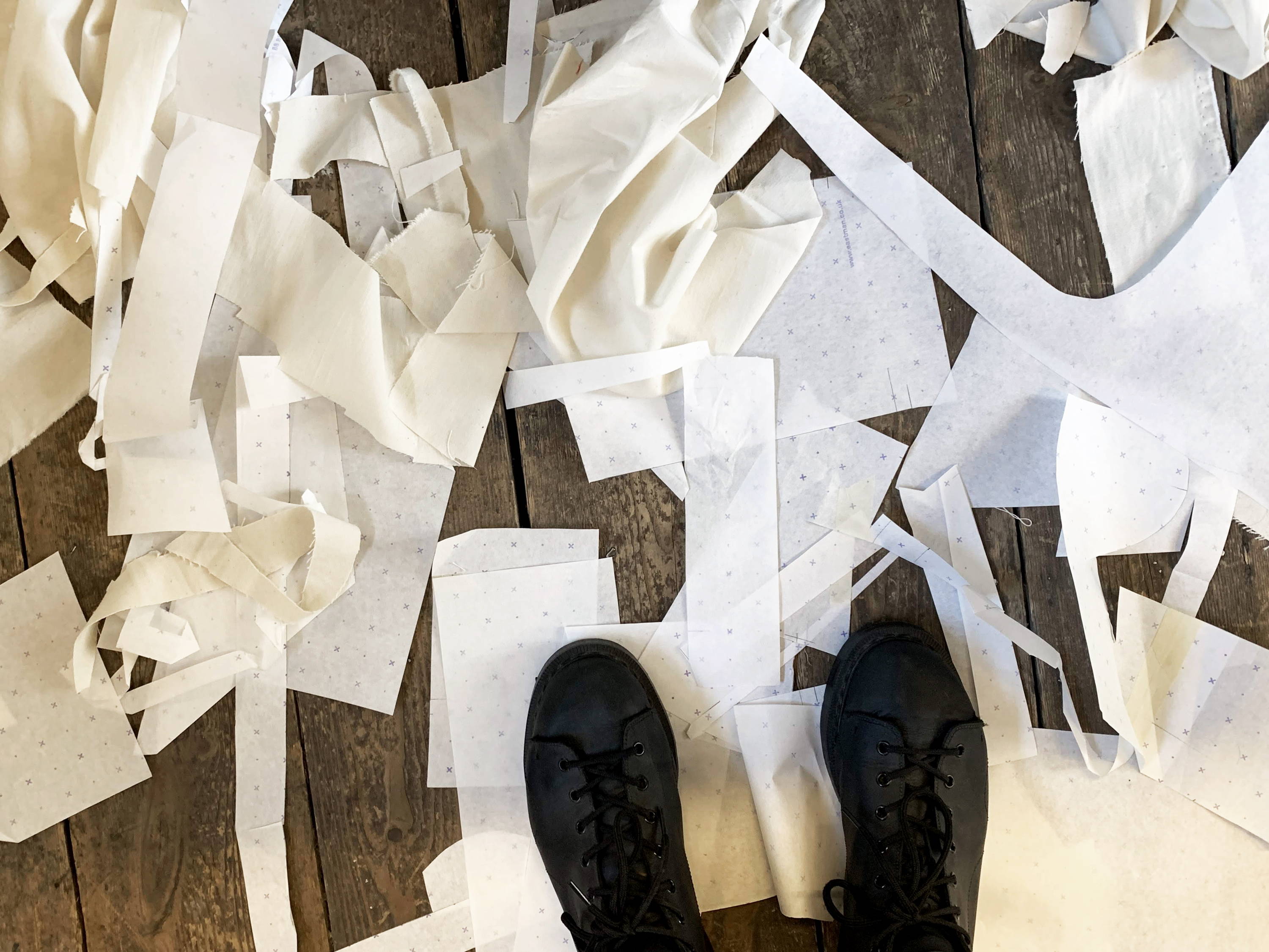 Words: Erica Toogood
Pattern cutting is a trade that is to some extent learnt on the job.
I see pattern cutting as a form of sculpture, but it's a science as well as an art-form. I work with fabric, scissors and a mannequin in a process known as draping. Without compromising on cloth or shape, I work to full-scale and like to shape the pieces on the body,

Draping often involves only one half of the body, sometimes trying two options – one left, one right.
THE HOUSEKEEPER DRESS
Collection 013 has a child-like interpretation of the forest and also hints at military references with large, playful collars that can be worn in different ways.

In keeping with this theme, for the Housekeeper Dress, I draped a clean, bold collar. Essential pockets are cut into the horizontal waist seam and a softly draped balloon sleeve with elbow tuck comes into an easy elasticated cuff. This allows the wearer to push them back.
The next step is to cut a flat pattern – a detailed jigsaw puzzle of shapes that come together to form the final garment. Using this pattern, we cut and sew a more accurate full toile. This then gets fitted on a model and instructions for alterations are drawn and written directly on to it.
THE SOLDIER JACKET
Working with the double breasted volume of the Soldier Jacket, I was aware that its different silhouettes are determined by the collar. I wanted to be able raise the collar to provide a protective cocoon for the wearer. An internal cord pull at the waist can also draw in the shape to the body for a more fitted shape.

My work as a pattern cutter is a lifetime journey that will never be fully accomplished. Chasing the next shape or form is an addictive challenge. When I see people wearing our clothes and combining them with their own wardrobes, I know they've achieved the next stage in their lifecycle.


I hope you enjoy this collection,


Love Erica